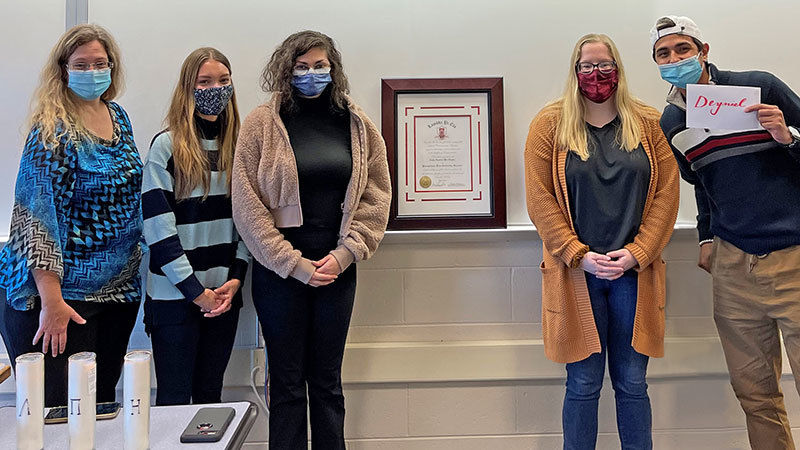 The Corporate Communications Club hosted an induction ceremony for the Lambda Pi Eta honor society on Friday, Nov. 12, for two students in the corporate communication program. 
Chapter officers Maria Veniamin, president, and Morgan Sewack, vice president, inducted upperclassmen Molly Morgan and Deyniel Desarden-Ruperto into the honor society. The new inductees were celebrated by Kim Flanders, corporate communication program coordinator, members of the corporate communication club, and Penn State Scranton faculty and staff. 
Flanders spoke highly of the students involved in the club and in the honor society and said that they were grateful to gather in person to celebrate the honor society and its members. 
"The Alpha Phi Epsilon Chapter of Lambda Pi Eta at Penn State Scranton recognizes students who excel academically and challenges students in the corporate communication major to strive for excellence," Flanders remarked. "We were excited to gather in person this year to celebrate the induction of new members!" 
Molly Morgan, one of the newest inductees, says that being inducted into the honor society means that her efforts as a Penn State student are shining through. According to Morgan, her induction "is an opportunity to look back on the collage of dedication I put into my academic experiences while inviting me to look forward at my future and all of its possibilities." 
When asked how her experiences at Penn State aided in her induction, Morgan stated that they "acted as a catalyst for becoming passionate about communications. They also lay the foundation for future opportunities and provide me with essential lessons I will need and implement when entering the workforce."  
Deyniel Desarden-Ruperto has been working to become a member of the honor society since his first year, and it means everything to him for his work to have paid off, especially during his final year as a college student. 
"Since my first year, I have always tried to exceed my expectations in school and sports," Desarden-Ruperto remarked, "Knowing that I am achieving these goals just makes me proud of myself because of all that I have gone through to get to the point that I am today, and I honestly don't regret any of it." 
Desarden-Ruperto has been very involved throughout his time at Penn State Scranton, as he is currently serving as the Student Government Association vice president, as well as working in the athletics department as an intern. When asked how these experiences have helped him in his induction into Lambda Pi Eta, he commended the faculty, staff, and advisors for pushing him to achieve this honor. 
"With the help of my advisers, professors, tutors, staff and faculty, friends and family, I am able to say that I am part of Lambda Pi Eta," he exclaimed. "They are the real reason I was able to study hard and continue doing my best in every class and push me to get more involve in my campus."  
To qualify for Lambda Pi Eta membership, undergraduate students must have declared an interest in the field of communication while also having achieved a high level of academic excellence. 
Eligible members must have completed 60 hours of undergraduate credit courses with 12 of those hours being in communication courses, while being enrolled full-time and being in good academic standing. In addition, students must have a cumulative GPA of 3.0 or higher, maintain a 3.25 GPA in their communication courses, and be in the top 35% of their graduating class. 
Lambda Pi Eta was founded by communication students within the University of Arkansas and was later endorsed by the faculty and founder Stephen A. Smith. It was named as the official national honor society for undergraduates by The Speech Communication Association in 1994. The Association of College Honor Societies inducted Lambda Pi Eta in 1996 and now there are 344 active chapters worldwide.