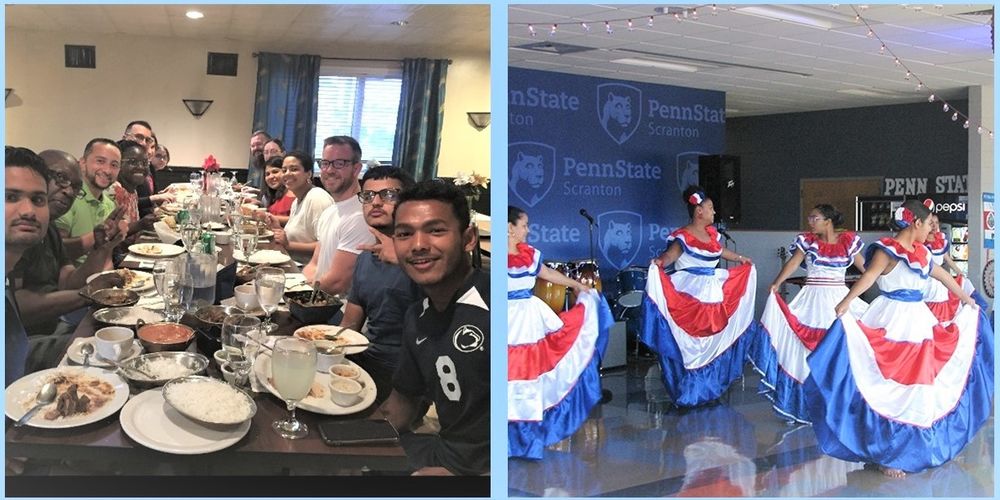 DUNMORE, Pa. – Penn State Scranton's student population continues to evolve in new and exciting ways, with recent growth coming among undergraduates from outside of Pennsylvania and the United States.
This fall's incoming first-year class includes 69 out-of-state and eight international students out of nearly 300 students — a reflection of Chancellor Marwan Wafa's ongoing mission to further diversify the campus.
About 22% of incoming admitted students are out-of-state, where typically the campus' population is about 95% to 97% local and the campus' international population has consisted of just one or two students, according to information from the campus' admissions department.
Penn State has a strong international reputation, Wafa said, which makes a huge difference. "Having that reputation globally helps us as a community to appreciate other cultures. That makes a big difference when fostering inclusion and diversity," he added. "That's the future, and with the means of technology at our disposal now, we're talking to people all over the world."
Because of the COVID-19 pandemic, the admissions staff pivoted to virtual appointments and eventually small in-person tours with prospective students and their families. That change has proved highly beneficial in terms of recruiting both out-of-state and international students, said Wafa. The virtual appointments and small campus tours have allowed the admissions staff to connect with the student and parent together for a much more personalized experience.
This year's out-of-state student enrollees include residents of New York, New Jersey, Connecticut, Maryland, Rhode Island, Massachusetts, Ohio, Illinois, Texas and Colorado. Incentive-wise, students from seven nearby states — Delaware, Maryland, New Jersey, New York, Ohio, Virginia and West Virginia — and Washington, D.C., are eligible to receive the Discover Penn State Award if they attend one of the Commonwealth Campuses. For baccalaureate students, the award carries a $26,000 value over a four-year period.
Carlos Salazar Paz is a 36-year-old adult learner who moved from Denver, Colorado, to Scranton to attend the campus and major in project and supply chain management.
Paz said he was attracted to Penn State Scranton for several reasons, among them the opportunity to earn a high-quality degree from an internationally renowned university in a small-campus setting.
"I applied to 15 schools all throughout the U.S. Penn State was the first school to send a letter of acceptance," Paz said. "And at the same time, for my major Penn State is ranked very high, so it was a no-brainer. And I chose Scranton because of the family feeling that the campus has and the people."
So far, the cross-country move has been a wise choice, said Paz, noting he's thoroughly impressed with the campus and the faculty and staff members he's met.
"It's been amazing so far, and I like that the small campus gives you the opportunity to meet people," Paz said. "Every single person that I've come across has been very helpful, but most importantly very welcoming. It is hard to be away from home, but everyone here has made sure that I do not feel that way, at least when I am around them. I'm looking forward to meeting great people and making great connections."
In 2019, Brooklyn, New York, native Melick Lubin transferred to Penn State Scranton from the State University of New York (SUNY) at Albany, attracted by the chance to play on the men's basketball team and to "attend a Penn State school and earn a Penn State degree."
At first, he said, he found the transition to the new environment a bit difficult, but after about two months things started to click into place. Lubin is now a senior corporate communication major.
"I began to go to different events on campus to familiarize myself with the staff, faculty and other students," he said. "The faculty and staff here love meeting new faces, so they are always willing to help you and provide you with the proper needs. And the campus provides many resources to help you get comfortable and acclimated to the new environment. Penn State Scranton has a ton to offer to out-of-state students, including many scholarships."
While the COVID-19 pandemic has made the campus a significantly quieter place during the past year and a half, Lubin said he still finds it to be "very open and welcoming."
"All the athletes here have built a bond, where we support and push each other regardless of the sport or activity. We also share the love with non-athletes. And the same goes for faculty and staff, who are open and loving and always have time to adhere to your needs," Lubin said. "I would recommend Penn State Scranton to other out-of-state students and to any students looking to fulfill their dreams and goals while also enjoying the small-college experience."
This fall, incoming students from India, South Africa, Jamaica, Nigeria and China will add to the campus' increasingly diverse population. Wafa attributed a lot of this recent success to the efforts of Ryan Geiger, the international student adviser and global education coordinator for the University's Northeast campuses.
Given the cultural differences they encounter upon their arrival, many international students may struggle to adjust to American collegiate life. The campus' Student Services and Engagement staff have worked hard to ease this transition for students, from helping them move into their apartments to inviting them to their homes for holiday dinners to hosting a wide variety of diversity-themed campus events like Diwali and Chinese Lunar New Year.
"The international students don't have that family support system when they come here, so it's up to the campus community to become their family in a way," added Director of Student Services and Engagement Matt Nied. "It just goes back to Dr. Wafa's goal of us being a welcoming campus. And as much as we try to do for them, the students do a lot for us, too, in terms of educating the campus community about their culture."
Xinyi Chen recently completed her first two years at the campus and will now finish her bachelor's degree in actuarial science and mathematics at University Park. She moved to the U.S. two-and-a-half years ago from China, deciding to attend Penn State based on its global reputation for first-rate academics and the fact that it offered her intended majors, she said.
"When I first came to Penn State Scranton, I found that many things were quite different. Fortunately, the campus held many introductory activities such as the open house to provide us with the resources and assistance needed to ease my introduction to American higher education," Chen said. "My adviser, Corinne Nulton, and my professors were very patient and gave me many suggestions on the course schedule. I am also very grateful to my professor, Dr. Taoye Zhang, for helping me get familiar with many things on campus. He also helped me with my undergraduate research and gave me lots of advice on my academics."
Outside the classroom, Chen found her niche as a Learning Center math tutor. And she was an avid attendee of the campus' diversity events.
"The campus did a great job promoting diversity, inclusion and equity," Chen said. "The activity that impressed me most was the Lunar New Year, which gave us the opportunity to promote Chinese traditional culture and let us feel the festive atmosphere. Diversity at a university helps us build new perspectives on different cultures. We can learn more things from people instead of just from the online resources that may make us misunderstand.
"Penn State Scranton is a very welcoming place for international students," Chen continued. "The students and faculty are great and always willing to help."