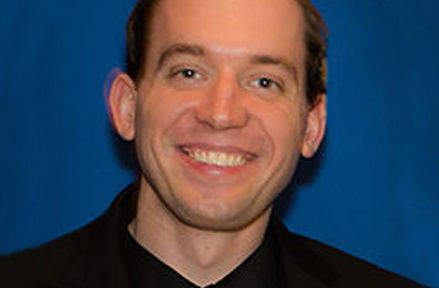 MIDDLETOWN, Pa. – The pandemic gave many of us time to binge-watch shows and movies, revert to old school board games, and even read a few books; but how about writing an award-winning screenplay? That is exactly what Penn State Harrisburg graduate student Brent Wilson did in his solitude. Originally a two-part series of shorts, Wilson went on to write a feature-length screenplay that got him selected into the Ivy Film Festival.
Wilson, a graduate student in the master of arts in communications program at Penn State Harrisburg and a part-time staff assistant at Penn State Scranton, started writing screenplays in 2018 and has since written four scripts.
"I've always loved two things -- movies and writing," Wilson said.
He decided to combine his favorite pastimes into screenwriting and now is garnering widespread attention with a second-place win at the Ivy Film Festival (IFF). The IFF is the world's largest student-run film festival, hosted annually at Brown University.
Wilson's screenplay, "Christmas Party," is a horror/thriller whodunit mystery based on four students that Wilson advises in the gaming club at Penn State Scranton. Told through flash forwards, the audience gets to see how an informal Christmas party among friends unravels.
Wilson started writing part one during winter break and the early winter months of the 2019-20 school year before revealing the work to the students.
"When it was conceived, it was only supposed to be a short screenplay, meaning only about 35 pages, not feature-length 90+ pages," Wilson said.
However, the story ended on a cliffhanger and the students wanted more. Initially, Wilson declined due to time constraints and school commitments.
Then, COVID-19 hit, and Wilson found time to continue writing.
"Then I just sat on it for a while because originally it wasn't intended to be distributed to anyone else other than that core group," Wilson said, "But last spring -- I was online scrolling through screenplay contests...I stumbled across this one for the Ivy Film Festival."
"I never anticipated it to gather any kind of attention at the festival, so you can imagine what happened when I got the email a few weeks later saying that I was one of the top three finalists in that category," Wilson said.
Although the festival is usually held in-person, it was held virtually this year because of COVID-19. Throughout the week, the website remained open for events like guest speakers. One notable speaker at the event was Sacha Baron Cohen, who is famous for roles such as "Borat" and "The Dictator."
Wilson said he had a lot of support within the Penn State family to make this dream come true. He credits Paul Perrone, assistant teaching professor of English at Penn State Scranton, with providing him his first taste of writing creatively.
It was Nakho Kim, assistant professor of communications at Penn State Harrisburg, Wilson said, that helped him grow his passion for screenwriting.
In 2019, Wilson took an independent study course with Kim. Meeting one night a week, the two were able to work very closely to hone Wilson's craft. Because the course was highly personalized, Wilson decided to focus on writing screenplays with Kim guiding him along the way.
"I tried to focus him into the direction of understanding the genre and how to position the genre in the context of the industries of society and things like that," Kim said.
Thanks to Perrone and Kim's tutelage, Wilson was able to snag second place in the screenwriting portion of the Ivy Film Festival.
Kim heard about Wilson's success right before their graduate seminar for the independent study course. He said that he will be telling future students this story for decades because it is a testament to having something you're passionate about be "tested in the real world" and succeed.
"It was a really exciting thing to hear," Kim said, "I mean, all the more because I already knew that script writing was his passion, and he did enter the communications master's program exactly to do that."