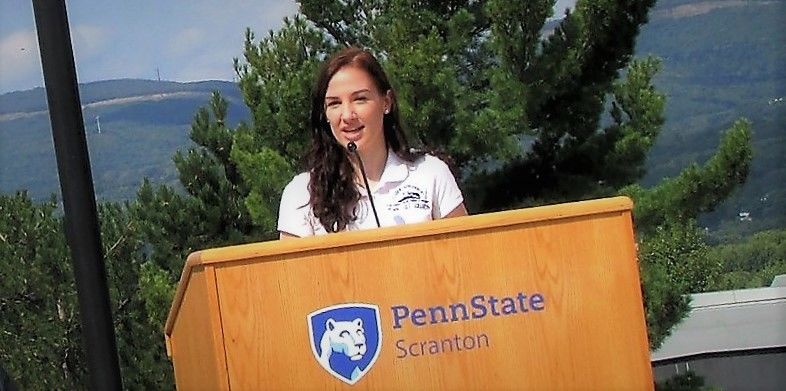 DUNMORE, Pa. — While working recently in a local hospital's emergency room, Penn State Scranton nursing student Emily Scarfo became acquainted with the work of a sexual assault nurse examiner, or SANE for short.
It didn't take long for Scarfo to become fascinated by this growing nursing specialization, so much so that she made it the focus of an in-depth research project.
The resulting study, "The Effectiveness of a Sexual Assault Nurse Examiner," recently took first place in the biological sciences and health category at the annual Penn State Eastern Regional Undergraduate Research Symposium. The fair included entries from students at six Penn State campuses, as well as the University of Scranton, Marywood University and Keystone College.
And, prior to the regional symposium, Scarfo's project took second place at the campus' Undergraduate Research Web Showcase.
The strong showings were a happy surprise for Scarfo, a former Student Government Association (SGA) president who will begin her senior year in the fall.
"I really didn't think I was going to win at any level," she said. "When I won second place at the Scranton fair, I was happy and surprised. And I was even more grateful to present my research at a different level. I never would've thought that I would have won at the regional research symposium. I was thrilled and absolutely shocked. After my mom, the first person I told was my nursing mentor at work, and she was ecstatic and told me how proud she was. I think that was more satisfying than winning the fair."
Besides majoring in nursing, Scarfo is minoring in child maltreatment and advocacy studies and pursuing her forensic nursing certificate. In those courses, she learned about the role of SANEs. However, it was during her hospital rounds that she really got to see the importance of the job up close.
"One of the nurses who quickly became one of my mentors is a SANE nurse, so I started to pick her brain about her role and job duties," Scarfo said. "When my research class came along, I knew I had to do a project I was interested in if I was going to make it through the semester. I knew that this is a newer nursing field, so I thought I would explore the effectiveness of the role to provide education on why this nursing role is essential in emergency rooms."
SANEs provide sexual assault victims with a comforting, safe place to heal and rest while also collecting and preserving evidence that allow for stronger court cases and, ultimately, justice for patients. In addition, they provide patients with critical resources needed to process and heal from the trauma of their experience.
While the current body of research on SANEs is light given the field's relative newness, Scarfo did find several articles — case studies, qualitative interviews, etc. — that provided some substantive information on the job.
Through her data collection, Scarfo concluded that SANEs provide patients with better overall outcomes than emergency room nurses who don't possess the same specialized training.
"I wasn't surprised that the role was effective, but I was surprised by the different benefits that a SANE nurse has on a patient," Scarfo said. "Specifically, I found that victims were more likely to press charges and that a SANE testimonial was key in convictions. The other finding I was surprised by was that victims get back to their 'normal life' faster when cared for by a SANE."
Thanks to the project, Scarfo discovered a love of research that she didn't know she had. It's something she said she'll continue to pursue even after she settles into her nursing career.
"I'm grateful for the opportunity to present my research, because I know that not everyone has that opportunity at their school," Scarfo said. "And I'm even more grateful for how encouraging my professors were and how each of my professors took the time to read each and every one of our research projects. That shows their dedication to us.
"This was definitely a passion project and a career I will be pursuing," she continued. "After all, the reason I chose nursing was to take care of and advocate for people who can't do that for themselves."