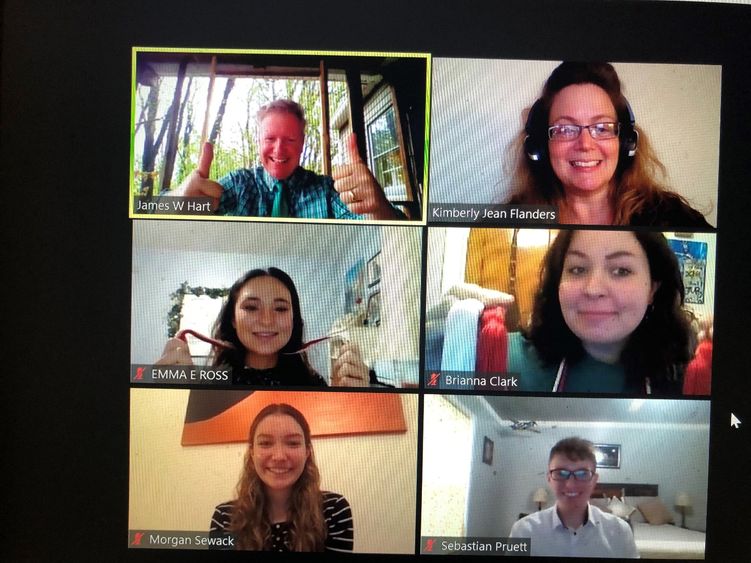 DUNMORE, Pa. — Graduating members of Penn State Scranton's Lambda Pi Eta Alpha Epsilon Pi chapter received their honor cords recently during a virtual celebration.
Lambda Pi Eta is the official honor society of the National Communication Association and currently the only academic honor society at Penn State Scranton.
It is an annual tradition for graduating members of the society to receive colored cords, which they wear at commencement, identifying them as Lamda Pi Eta members. The celebration typically takes place on campus, where family members can also attend to watch their loved ones receive their cords.
However, due to the current COVID-19 pandemic, members were unable to have a traditional celebration and receive their cords in person. Instead, a special virtual event was held so they could put on their cords and celebrate with other society members and campus faculty.
Hosting the virtual ceremony for the graduating members were Kim Flanders, assistant teaching professor of corporate communication and corporate communication program coordinator, and Jim Hart, assistant teaching professor of communication arts and sciences and the corporate communication internship coordinator.
Receiving cords were Lambda Pi Eta graduating officers Brianna Clark, outgoing president, and Emma Ross, outgoing vice president.
New society officers announced during the ceremony were Maria Veniamin, president, and Morgan Sewack, vice president.
"The Lambda Pi Eta Cording Ceremony was a momentous milestone that captured all of the hard work, dedication and perseverance each one of these soon-to-be graduates have accomplished within their four years at Penn State Scranton," Sewack said.
"It is an honor to not only have had the opportunity to create such remarkable friendships with my peers, but to also follow within their footsteps after they leave. I enjoyed hearing my peers discuss their future plans for life after graduation at Penn State Scranton, and wish them all the best of luck in all of their future endeavors."