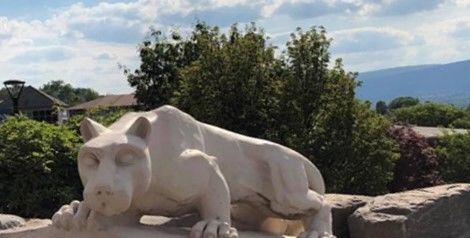 DUNMORE, Pa. — Observing a time-honored tradition, the Penn State Scranton campus community gathered virtually on April 29 to hold its annual Student, Faculty and Staff Awards presentation.
About 80 people turned out on Zoom for the program, which recognizes student academic excellence and faculty and staff service and scholarship for the 2020-21 academic year.
Assistant Professor of Philosophy and Honors Program Co-Coordinator Todd Adams served his customary role as event emcee, while Chancellor Marwan Wafa offered opening remarks.
"I am delighted to see so many family members and supporters of our student honorees. Your presence in support of your student is important and much appreciated," Wafa said. "Today's ceremony provides our faculty and staff the opportunity to recognize and applaud the achievements that our students have made in their University studies. Also, this convocation allows our faculty and staff to tell you how much we value and enjoy your presence. Through your academic excellence and scholarly achievements, you have helped set higher standards for the campus, which continues to positively impact the campus' image and reputation."
The evening's award recipients were:
Student Awards
President's Freshman Award — recognizes University students carrying a 4.0 grade-point average for the first semester of their freshman year: Huiting Nicole Chen, Samantha Shygelski, Marie Anne LaRosa, Rashel Swanson, Michael L. Ng, Matthew Traverse, Aryan Jignesh Kumar Patel, Elizabeth G. Trojan, Noah Salvatore Petrucci, Grace Corrine Ursich, Jacquelyn M. Scherer and Kelly Marie Varcoe
"You've all done a marvelous job this year. Keep up the good work," Adams said to the student honorees.
President Sparks Award — recognizes University students carrying a 4.0 grade-point average through the first semester of their sophomore year: Markuss Bruveris, Gauri Gurumurthy, Xinyi Chen, Kaylee Salony, Alexandria DeWolfe and Madison Tricarico
Evan Pugh Scholar Award – recognizes University juniors and seniors who are in the upper 0.5 percent of their respective classes and have completed at least 48 graded Penn State credits at the end of the fall semester of the academic year in which the award is given: junior recipient, Megan Lucey; senior recipient, Daniel York
Outstanding Peer Tutor Award – recognizes student peer tutors committed to providing extraordinary service to students and the campus community in support of student success: Adriana Modesto
"Adriana has served as a mentor to her peers, providing thorough and thoughtful guidance on working as a tutor," Adams said. "Her faculty describe her as eager to help. Students describe her as helpful and personable and often comment on their increased understanding of complex course material after meeting with Adriana. Students have also commented that Adriana's guidance has increased their confidence, improved their problem-solving skills and even describe leaving sessions excited to apply principles learned in the tutoring session."
Outstanding Research Scholar of the Year Award – given to a student who has engaged in independent research scholarship supervised by a faculty member: Blair Hecker, recognized for her research project, "The Myth of Spaghettification by Black Hole."
Outstanding Creative Accomplishment Scholar of the Year Award: given to a student engaged in independent creative accomplishment scholarship supervised by a faculty member: Lauren Sciabbarrasi, for her photo essay project, "Capturing COVID: Penn State Scranton Softball."
Walter Weber Memorial Award in Theatre and Speech Communications — named in honor of the late campus faculty member to recognize an outstanding student with an overall grade-point average of 3.0 or higher who has excelled in theatre or speech communications courses: Lauren Sciabbarrasi​
Patrick J. and Mary Jane Sheridan Award for Excellence in Business — recognizes outstanding achievement by a student enrolled in the bachelor of science program in business who obtains the highest grade-point average at the end of his/her junior year: Markuss Bruveris​
Michael and Stephanie Evans Nursing Grant — established by campus alumnus and current Assistant Dean for Undergraduate Nursing Education at the Commonwealth Campuses and Associate Teaching Professor of Nursing Michael Evans and his wife, Stephanie, to assist nursing students with a GPA of 3.0 or higher who have a demonstrated financial need: Kelly Fromert​
Morgan and Ann Marie Evans Award in Nursing — reserved for a nursing student who has completed between 70 and 100 credits, is enrolled for a minimum of six credits, has a GPA of 3.0 or higher, and has a proven financial need: Liliana Kettenburg​
Richard and Lois Ostroski Family Award for Adult Learners — established by the in-laws of Director of Development Christine Ostroski to recognize outstanding achievement by an adult learner who has the highest grade-point average upon completion of his/her freshman year: Jacquelyn Scherer​
Richard F. Dempsey Award in Information Sciences and Technology — established by campus alumnus Ed Lucy Jr. in honor of Richard F. Dempsey, former assistant professor of computer science, to recognize student excellence in the IST major: Alexander Hamilton​
Mary-Beth Krogh-Jespersen Science Award — named for the late former campus chancellor to recognize outstanding achievement by a junior student majoring in science: Marston Jamieson​
Tabatabaie Family Award for Math and Science: recognizes full-time students majoring in a math or science degree program who are at least second-semester freshman and have a minimum grade-point average of 3.2: Jared Griffin​ and Jordan Symonies ​
Academic Excellence Awards:
Art: Ava Jones
Biological Science: Adriana Modesto
Business: Lauren Sciabbarrasi
Communication Arts and Sciences: Luke Bender
Corporate Communication: Emma Ross​ and Morgan Sewack
Creative Writing: Rachel Veniamin and Olivia Maikranz
Engineering: Nicholas Drago ​
English: Julia Fessenden
History: Nicholas Santos
Human Development and Family Studies: Alexis Karayanis​
Information Sciences and Technology: Cameron Knickerbocker
Mathematics: Xinyi Chen​
Music: Micah Cameron​
Nursing: Kellen Kraky
Philosophy: Amanda Brundage​
Physical Sciences: Adriana Modesto​
Psychology: Jason Chumard​
Outstanding Scholar Award — sponsored by the Penn State Scranton Alumni Society to recognize students achieving the highest grade-point average in the associate and baccalaureate curricula:
Second year: Markuss Bruveris, Xinyi Chen, Alexandria DeWolfe, Gauri Gurumurthy, Kaylee Salony and Madison Tricarico,
Third year: Daniel York
Fourth year: Lauren Sciabbarrasi ​
Honors Program Certificates — recognizes student members of the campus Honors Program, which was established to broaden and enrich the education of outstanding students through offering a wide range of academic, social and cultural activities:
First year: Aless Agojo​, Humza Ahmed, Alvin Binu, Tabitha Boyd, Taylor Burdick, Xinyi Chen, Nicholas Drago, Ashley Earyes, Connor Eisele, Nikhita Gurukula, Isabella Jean Philippe​, Ava Jones, Marie LaRosa, Caelin Logar, Ella Maquito, Sarah Marble, Aryan Patel, Therese Reilly, Kaylee Salony, Samantha Shygelski, Christabel Silitonga, Ashley Stangline, Ian Stanton, Nicole Swanson, Marceia Tanzini, Ashley Torres, Shea Tyler, Emily Van Wert, Kelly Varcoe, Garrett Walsh, Kaizheng Wang and Beau Winchester
Second year: Debbie Acosta, Mindy Biren, Amanda Brundage, Johnnah Carr, Nimrod Chapo, Gauri Gurumurthy, Daniel Grant, Eva Hrissohoidis, Alyssa Kelly, Haley Leonard, Megan Lucey, Krina Patel, Mariah Petrucci, Sophia Saavedra, Jamise Sealey, Madison Tricarico, Courtney Varcoe and Cory Walsh​
Third year: Lucy Adams, Juliana Aulisio, Summer Czekaj, Logan Desanto, Gabrielle McFey, Lauren Owens, Britney Reinhart and Rachel Veniamin ​
Fourth year: Lauren Sciabbarrasi ​
Faculty/Staff Awards
Advisory Board Award for Excellence in Teaching: Corianne Thompson, lecturer in art, for her exceptional efforts in converting in-person studio art courses to fit with remote delivery, and creating a supportive and creative classroom environment that encourages free thinking in regards to artistic expression
Excellence in Teaching and Service Award for Part-Time Faculty: Michael Senyk, adjunct assistant teaching professor of biology, for supporting the transition to remote instruction in Spring 2020 and for his integral role in collaborating with the biology faculty on developing in-person anatomy and physiology lab instruction in Fall 2020
Excellence in Academic Advising Award: Kelley Wagers, associate professor of English, for her commitment to her student advisees and for her fundamental understanding of the importance of advising on students' overall academic experience and career outlook
Gertrude Hawk Chocolates Service Award: David Bichler, supervisor of maintenance, for his tireless commitment to maintaining the campus' cleaning and safety protocols since the outset of the COVID-19 pandemic
David and Joyce Mack Tressler Fund for Professional Development recipient: Jo Ann Durdan, education program specialist in the Center for Business Development and Community Outreach, and Mar Tsakonas, administrative support assistant for the Athletics department, who through the funding will be able to participate in the Leadership Lackawanna Core Program
Excellence in Administrative Services Award: Meghan Cruciani, associate director of academic advising, for her expertise in University policies and guidelines associated with the ever-changing circumstances of 2020, and her dedicated student-centered approach to academic advising
Excellence in Support Services Award: Suzanne Morgan, Academic Affairs administrative support assistant, for her dedication to the campus faculty and integral role in planning the annual Undergraduate Research Fair & Exhibition
K. Bruce Sherbine Penn State Proud Award: Stacy Shattuck, admissions enrollment specialist, acknowledged for enhancing campus life in various ways, from her work with the veteran student population, to her duties as the cheerleading coach, to her fundraising activities on behalf of the American Heart Association
Dr. Richard J. & Sally Matthews Award for Scholarly Activity: Jody Griffith, assistant teaching professor of English, for the scholarly rigor she brought to her 2020 book, "Victorian Structures: Architecture, Society, and Narrative," a significant contribution to the research and scholarship of 19th century British literature