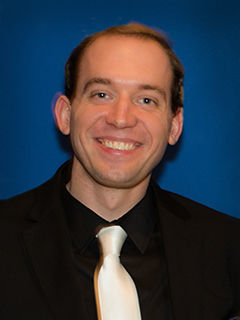 DUNMORE, Pa. – Penn State Scranton print center staff assistant and campus alumnus Brent Wilson has been honing his screenwriting skills for the past several years. Now, all of that hard work is starting to pay some real dividends.
Wilson's feature-length screenplay, "Christmas Party," was recently accepted for competition in the "Graduate Feature" category at the Ivy Film Festival (IFF). Run by students at Brown University and Rhode Island School of Design, the week-long event bills itself the largest student-run film festival in the world, and through the years has featured appearances by a number of film luminaries, including Jack Nicholson and Aaron Sorkin.
Taking place now through April 6, the festival is typically held on Brown's Providence, Rhode Island, campus. This year, though, it's entirely virtual on account of COVID-19. Featured speakers include actor/comedian Sacha Baron Cohen and writer/actress Mindy Kaling, formerly of the Scranton-set NBC sitcom, "The Office."
Various festival events can be accessed by the general public by registering through Eventbrite, and excerpts from the selected screenplays will be available for viewing April 1-4 on the festival website's "Screenplay" page. For more information, visit: ivyfilmfestival.org/events
While it would have been great to attend the festival in person, Wilson is nonetheless thrilled to be taking part in such a marquee event for budding screenwriters.
"You cannot imagine the shock that coursed through my body when I received the news that I was one of three finalists in my category. Once I realized the prestigiousness of the festival, the excitement became even more surreal," said Wilson, who received his bachelor's degree in English from the campus and is now pursuing his master's degree in communications from Penn State Harrisburg. "I honestly never – for even a moment – thought that the screenplay would catch attention of this magnitude. Just goes to show you that life is unpredictable, I suppose."
The "Christmas Party" script is your classic suspense thriller – Wilson's preferred genre -- with some horror elements thrown in for good measure. He began work on the screenplay last winter, mostly as "an exercise in personal amusement," he said.
As it happens, the screenplay's origins came out of Wilson's downtime spent hanging out with the student denizens of the campus game room located in the Study Learning Center.
"I find the students' energy and personalities refreshing and entertaining. Plus, let's be honest here, I relate more to them than to most of my co-workers because we're closer in age," Wilson said.
Four of those game room regulars – campus alumna Kelly Arnold, and current students Matt Palmer, Quinn Speckhardt and Thaddeus Romance – became casual friends of Wilson, who then decided to make them the central characters of "Christmas Party."
He started outlining the plot in January 2020, eventually producing a neat and tidy script that he thought would be perfect for a short film.
The game room crew loved it, to the point where the students were writing lines of dialogue from the script on the room's blackboard.
"Christmas Party's" plot revolves around an informal end-of-semester party held at Palmer's (fictional) house, where "through an interspersed series of flashbacks and flashforwards, we glimpse the terrible aftermath of some kind of altercation that has transpired at some point during the evening – an event that has left most of the attendees either dead or injured," Wilson explained.
"I know that that sounds rather opaque, so I'll provide the logline that is being used for the screenplay during the festival: 'A casual evening turns into a night of terror for four Pennsylvania college students after an unexpected encounter unearths deep-buried secrets,'" Wilson said.
The screenplay ended with a cliffhanger, which led the students to request a sequel. At first, Wilson resisted, but after suddenly finding himself with a lot more free time on his hands at the start of the pandemic, he decided to go for it.
Completed in May, the sequel was likewise well-received. So, Wilson used the summer months to merge the two scripts into one cohesive, feature-length screenplay.
He wasn't sure what to do with it from there, until one day back in February, when he stumbled across the Ivy Film Festival while browsing Film Freeway, an online repository of screenplay competitions.
Coincidentally, that day was the festival's deadline for submissions.
"I wasn't going to submit anything at such a late stage, but after a brief period of contemplation, plus the fact that the submission fee was a measly $30 -- relatively low for festivals of this type -- I decided, on nothing more than a pure whim, to send it in," Wilson said. "Following submission, I forgot about the festival for nearly a month – that is, until I got the email on Sunday, March 14, with the news that I had been selected. I never in my wildest dreams expected it to be selected as a finalist."
Wilson traces his interest in film back to about age eight or nine, when he was first enthralled by director James Cameron's epic blockbuster, "Titanic."
By his teens, he had gravitated to horror films because they were considered "cool" at the time.
"As my emotional maturity improved, however, I realized that there were so many other genres out there, and ever since then, I consider myself pretty versatile when it comes to film genres," Wilson said. "I'll give just about anything a watch nowadays."
Long passionate about books and writing in general, Wilson got serious about screenwriting about three years ago. The film that largely inspired his passion was "The Hitcher," the 1986 cult thriller in which a young man played by '80s teen icon C. Thomas Howell is terrorized by a murderous hitchhiker portrayed by the late Dutch actor Rutger Hauer.
"It's difficult to explain exactly why it was this film more than any other that jumpstarted this pastime," Wilson said. "I would posit that it was a combination of the enigmatic and extremely relatable – at least in the case of the protagonist -- characters, and more importantly, the almost-nonstop suspense that runs throughout the film."
Wilson became so fascinated with "The Hitcher" that the first two screenplays he wrote were direct sequels to the film. He even made the Howell character, Jim Halsey, a Penn State student.
Somewhere along the way, he also sought out and established an acquaintanceship with both Hauer and Howell. He met the latter on two separate occasions, and although Howell declined to pursue either script project, he did encourage Wilson to continue pursuing the craft.
"I took his advice to heart, and well, here we are," Wilson said.
Of course, Wilson has had numerous other champions of his work through the years, including his former professors in the campus English program, particularly Assistant Teaching Professor and Program Coordinator Paul Perrone, who has provided plenty of highly valued feedback, and Distinguished Professor Emeritus Philip Mosley, "whose breadth of knowledge of all things film-related continues to astound me to this day," Wilson said.
Now, as a graduate student at Harrisburg, Wilson has found another great place to develop his chops. In fact, he chose its communications program because it will allow him to produce a screenplay for his final project instead of the traditional thesis.
And he's thrilled to be competing with the other young scribes selected for the Ivy Film Festival. Whether "Christmas Party" prevails or not there, the experience has given Wilson the confidence to keep pursuing his dream of one day making a career in show business.
"It's surely going to take some hard work and perseverance to catch anyone's attention in Hollywood, and I don't delude myself into thinking that it'll happen quickly, if at all," Wilson said. "Then again, this news out of IFF is a great start, and hopefully it'll go a long way in publicizing my work to those who matter."
The Ivy Film Festival is highlighting its official selection of short films, screenplays and virtual reality experiences through Tuesday, April 6. To visit the festival website, click here.