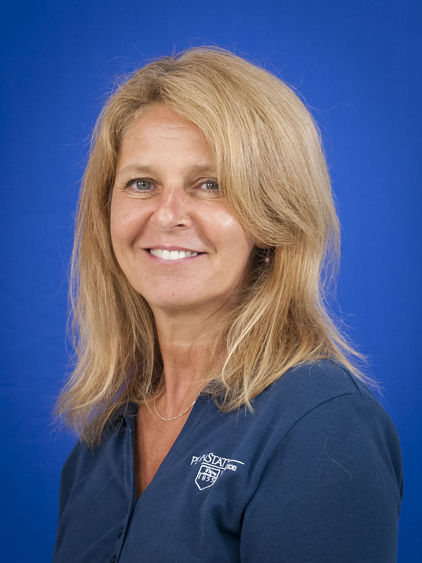 Student Services Staff Assistant Michele Nicoteri has been named the April Employee of the Month at Penn State Scranton by Chancellor Marwan Wafa.
Campus Financial Officer Kim Bogdan wrote in her nomination: "Michele was so proactive during the SIMBA transition. In addition to taking all of the trainings that were required she took the initiative to really explore the SIMBA software. She was one of the first staff to really master tasks in SIMBA. When she needed assistance, she was patient and always so appreciative."
Kathy Stefanelli, campus counselor, stated: "Michele really lives and promotes the saying, 'there are no problems, only solutions.' She is always willing and able to help problem solve, and I appreciate the fact, she is the first one to volunteer for anything of service or assistance."
Coordinator of Student Activities Julie Gilpatrick wrote: "Whenever you are struggling to find a solution to a problem, Michele will say, 'Just think about it, there are no problems that don't have a solution'."
Jill Thoman, campus nurse said: "Michele is always willing to lend an ear, and when you're distracted by the doldrums of work, she has this amazing ability to help you redirect your thoughts. Sometimes, when you least expect it you will receive the most hilarious thing from her and it just makes your day!"
Matt Nied, assistant director of student services and engagement, wrote: "There's no problem too big or too small for Michele to solve, and she does it with a smile!"
And, Henry Matute, former coordinator of co-curricular programs, wrote: "Michele is always willing to lend a hand. Having her on the team it's incredible how often she goes above and beyond. There's no other way to say it, "We'd be lost without Michele."
Congratulations, Michele!
The Employee of the Month recognition was initiated in 2016 by Wafa as a way of distinguishing staff members who "go above and beyond the call of duty" in serving Penn State Scranton.
Campus staff, faculty and students are encouraged to nominate staff members that deserve to be recognized for "going above and beyond." The link for nominations is: https://scranton.psu.edu/form/employee-month-nomination-form.