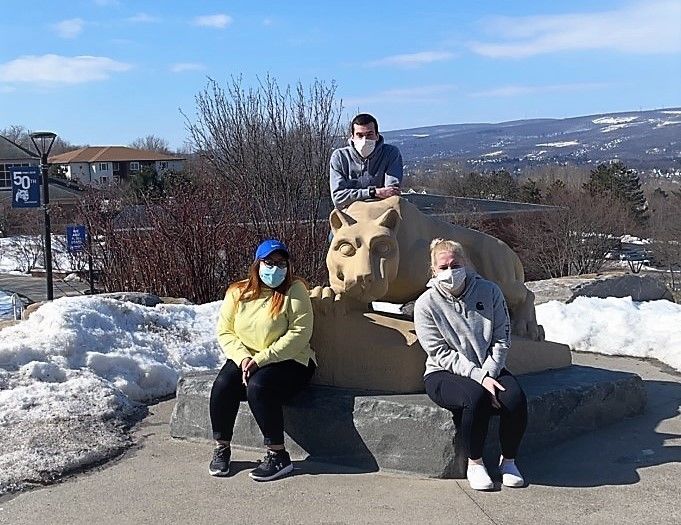 DUNMORE, Pa. — Sabrina Gray didn't have much interest in serving as a Lion Ambassador upon arriving at Penn State Scranton in the fall of 2015.
However, she said, one meeting was enough to change her mind.
"I just loved the idea of the organization," said Gray, a 2019 graduate of the corporate communication program. "For me, it was the embodiment of campus pride and the chance to show prospective and accepted students what Penn State Scranton is like. I couldn't turn that down."
Now an admissions recruiter, Gray said she feels as strongly as ever about the group's indispensable role in campus life, and she's sharing that passion with a new crop of student leaders as the current Lion Ambassador adviser.
Earlier this semester, 10 campus students were inducted as new Lion Ambassadors: Giana Krehel, Marie LaRosa, Sarah Marble, Jordan McAndrew, Parkston Myers, Chloe Quaye, Jenna Scarfo, Nicholas Sherman, Patrick Thrope and Zachary Zazzi. At the virtual ceremony, the group received their Code of Conduct certificates as well as some words of wisdom from campus alumnus and former Lion Ambassador Matt Mastrelli.
The students join a committed group of veteran Lion Ambassadors tasked with promoting the mission and values of Penn State Scranton to prospective and incoming students in various ways, from conducting campus tours, to answering important questions, to making the often uneasy transition to college life as seamless as possible.
Of course, the ambassadors' activities have evolved significantly since the start of the COVID-19 pandemic, with the group conducting most of its functions virtually.
"Usually during a normal year, we would have all 40 students at larger events such as open houses, but with virtual we only need about three to four students — almost 10 times less than we would usually have," Gray said. "This has decreased the current numbers of the organization from 40 to 24 students."
Nonetheless, the ambassadors played a crucial role during the campus' March 28 virtual open house, as well as the March 18 Student Leader Q&A. On April 19, they'll participate in the Accepted Student Program.
Meanwhile, the group takes part in weekly virtual appointments and assists with athletics virtual events. And, beginning April 5, the ambassadors will resume on-campus tours for the first time in over a year. For safety reasons, the tours will be conducted on a per-family rather than large-group basis.
Despite the adjustments of the past year, Gray said she is thoroughly enjoying her role as group adviser.
"For me, the transition from student leader to adviser was challenging in the beginning, however it was easily overcome," she said. "I was able to work closely with the students and have a better understanding of what they were going through since there was little time between college and my current role. I think this perspective has allowed me to make sure that the students don't burn out or overcommit themselves."
Of course, Gray can also draw heavily upon her time as an ambassador. She served as a chairperson, then was instrumental in converting the organization's hierarchy into more of a traditional executive board comprised of a president, membership coordinator, event and tour coordinator, social media coordinator and chief entertainment officer.
As a junior and senior, Gray served as Lion Ambassador president. During that period, she said, she had the chance to empower and mentor numerous students, while also receiving great guidance herself from the admissions staff.
"My experience with the organization when I was an undergrad was very positive. I always enjoyed adding new ideas, meeting new people and speaking about how Penn State has helped me during my schooling," Gray said. "Seeing all the behind-the-scenes work as a student leader just proved my love for admissions and student involvement."
Lion Ambassadors had a similar positive effect on senior business marketing/management major Lauren Sciabbarrasi.
Having moved a lot while growing up, Sciabbarrasi said she was familiar with the challenges that come with entering a new environment like college. For her, serving as a Lion Ambassador was a terrific way for her to assist incoming students in better navigating the exciting yet intimidating transition to college life and make it "as clean and comfortable as possible," she said.
Beyond that, the organization also allowed Sciabbarrasi to nurture skills that will prove highly beneficial in the professional world.
"Lion Ambassadors really helped me develop various soft stills, such as communication, leadership, listening, creativity, adaptability, and compassion in helping others achieve their goals," she said. "These skills will serve me very well in my desired profession, because within the marketing and management fields being able to listen, understand, and clearly communicate with others with various opinions and outlooks is vital."
When Amanda Moody was a freshman, she was introverted and nervous about joining new clubs, she said. But, when she received a letter inviting her to join Lion Ambassadors, she decided to "swallow my nervousness and go for it."
It turned out to be a great decision, said Moody, now the group's incoming president.
"I've been afforded nothing but amazing opportunities, and I have my fellow Lion Ambassadors, executive board and staff to thank for it all," said Moody, a sophomore psychology major. "Lion Ambassadors has benefited me in terms of being more team-oriented, organized and just a better leader overall. It's encouraged me to always think outside the box, and I've become a more confident speaker and person because of it."
Among the former Lion Ambassadors who can vouch for that is Mastrelli, who attended the campus for two years before completing his mechanical engineering degree at Penn State Harrisburg. The leadership and teamwork skills he gained through the group are now serving him well in his career, said Mastrelli.
"The tours taught me to be a better speaker in front of crowds and to relate to an audience, which are very valuable skills," he added.
This year's crop of new Lion Ambassadors is already demonstrating a firm commitment to the group and its ideals, said Gray.
"They're a diverse group of students, and they're all showing enthusiasm and engaging in the virtual events, the newly implemented Canvas portal and attending monthly meetings," she said.
Freshman secondary education major Nick Sherman said he joined Lion Ambassadors because its mission meshes well with his commitment to community service and helping others.
"I believe being involved in the organization will help me develop different perspectives on people and their situations, as well as how to be a better leader and person."

— Nick Sherman, secondary education major
Sherman has quickly taken on leadership roles within the group, serving as membership coordinator and temporary event and tour coordinator.
"I one-hundred percent take my role seriously because we're the first people that prospective students see when they go on a campus tour or go to an on-campus event. So, I always want to be at the top of my game," Sherman said. "I believe being involved in the organization will help me develop different perspectives on people and their situations, as well as how to be a better leader and person."
It helps to have Gray as a role model, Sherman noted.
"Sabrina has been amazing to work with as an adviser," he said. "She knows the ins and outs of the organization because she was once a part of it, so she leads with personal experience. If I have a question I can always go to Sabrina because she knows everything about the organization and is good with making decisions quickly."
For freshman nursing student Sarah Marble, the Lion Ambassadors were among the first campus community members she encountered as a prospective student.
"They offered invaluable insight into all things Penn State Scranton when I was challenged with making the decision of where to attend college, and heavily influenced my decision to commit to Penn State Scranton," she said. "They made me feel like this was my home."
As a result, joining Lion Ambassadors was pretty much a no-brainer for Marble, who said she can't wait to give in-person tours to prospective students and their families.
"I hope that by sharing my Penn State story and focusing on the positive outcomes and life lessons learned in the midst of this pandemic will serve to empower others and only make us stronger," she said. "I believe that being a part of this organization will allow me to grow as an individual, learn from others, be able to positively influence those around me and make invaluable memories as a Nittany Lion. I haven't been a member for a full year yet, but I'm already loving being a part of this organization."
While Marble's Lion Ambassadors tenure is just beginning, Sciabbarrasi's is drawing down. As she reflects on the experience, she said, she can't help but feel an enormous amount of gratitude.
"I'm honored to be part of the Penn State and Lion Ambassador families," Sciabbarrasi said. "I made so many new friends and had the opportunity to partake in some amazing events. Getting the opportunity to be part of someone else's Penn State journey is very rewarding, and I encourage all of our new Lion Ambassadors to continue with the program, learn new things and step outside of their comfort zone. I also encourage anyone who is interested in being that 'stepping stone' for prospective students in their educational journey to look into joining our team."
For more information on Lion Ambassadors, visit https://scranton.psu.edu/lion-ambassador-organization or email Gray at [email protected].