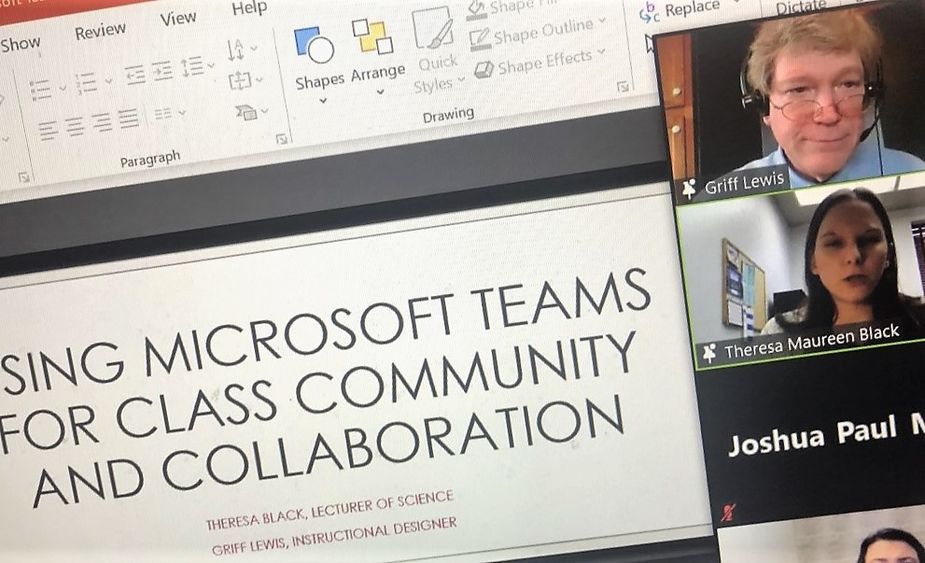 DUNMORE, Pa. – Before embarking on another semester of at least partial remote instruction, Penn State faculty from the Scranton campus and across the commonwealth received a handy tutorial on how to more effectively use technology in their virtual classrooms.
On Tuesday, Jan. 12, Penn State Scranton Instructional Designer Griff Lewis and colleagues from other campuses held Commonwealth Connections: Instructor Day, an all-day virtual faculty development event featuring engaging Zoom sessions devoted to various facets of online course delivery.
In addition to Lewis, the event featured presentations by two other campus community members – Lecturer in Chemistry Theresa Black and Assistant Professor of Finance Nonna Sorokina.
Lewis planned the event with fellow instructional designers Eileen Grodziak (Lehigh Valley), Jon Gunnell (Behrend), Liz Huck (Hazleton), Kate Morgan (World Campus), Amanda Price (Harrisburg), Joe Scott (Altoona) and Lindsay Wood (Abington), while all campus instructional designers participated with coordinating and facilitating the day's sessions.
All told, the day included more than 50 faculty members from the across the campuses presenting 25 separate hour-long sessions – four each hour -- geared around preserving and promoting faculty well-being, invigorating teaching practice, and supporting and engaging students in new and innovative ways. In addition, attendees had the chance to share their own anecdotes and best practices.
"I thought it went very well. We had approximately 100 attendees for each hour block of four simultaneous presentations. According to Zoom reports, there were 372 unique attendees, though many attended more than one session," Lewis said. "We were very happy to have every Commonwealth Campus represented -- there were faculty from all the campuses presenting! I hope that each attendee learned at least one thing that will benefit their students' learning."
"Griff Lewis has a commitment to helping faculty, and he's offered a faculty development day at our location since 2015," said campus Director of Information Technology Marilee Mulvey. "This year's collaboration across the Commonwealth Campuses was a tremendous success with faculty sharing a wealth of ideas to engage with students, whether in person or virtual."
Sorokina was part of a morning presentation on fostering engagement in asynchronous courses, which unlike the synchronous courses do not meet at a specific time. During her asynchronous courses last semester, she broke up the schedule into specific phases – an early-semester "warm-up," a heavily "active" middle period, and a low-stress "reinforcement" stage in the final weeks of the course where students had the opportunity to work on creative group projects.
"The groups are designed so that students can show their knowledge of the material, but in a way that reduces their stress level because it's a shared responsibility," Sorokina said.
Another morning session, which drew more than 140 attendees, focused on a common issue faced by faculty in this new era of remote delivery – encouraging students to turn on their cameras when on Zoom. Pepsi Umberger, assistant teaching professor of health and human development at the New Kensington campus, said she's used virtual backgrounds of the campus' gym and her own office as a fun way to mimic the in-person experience, and has encouraged her students to do their own creative backgrounds. Another presenter, Renee Flasher, assistant professor of accounting at Penn State Harrisburg, said she makes it clear to students that camera usage will be required once they go into the professional world, so it's best that they get acclimated to it now.
During a presentation on fake news and digital literacy, Brendan Johnson and Katie Odhner, Penn State Abington reference and instruction librarians, and Associate Teaching Professor of Communications Bella Friesel discussed a project they oversaw that gave students the chance to better train themselves to spot misinformation on the web. Meanwhile, in another Zoom at the same time, Lehigh Valley English faculty members Margaret Christian and Michelle Kaschak and Penn State Harrisburg Associate Teaching Professor of Sociology J. Scott Lewis shared insights on providing more useful feedback to students, whether using grading tools on Canvas or more traditional methods.
The afternoon's highlights included Black and Lewis' presentation on how faculty can use Microsoft Teams as an alternative to Zoom and Canvas. Black used Teams for her fall courses after realizing how convenient and effective it is for everything from putting students in groups to recording videos to storing large files to conducting polls.
"Teams is a great collaborative tool," Black said.
"Thanks to Theresa, we're now able to show this to a much larger audience," Lewis added.
Following the presentations, the event concluded with participants having the chance to become part of a Community of Practice (CoP) as a way to continue sharing ideas and learning from each other throughout the spring semester and beyond. Meanwhile, recordings for all Commonwealth Connections: Instructor Day sessions can be accessed at: https://sites.psu.edu/commonwealthfacultydevelopment/category/format/webinars-and-recordings.