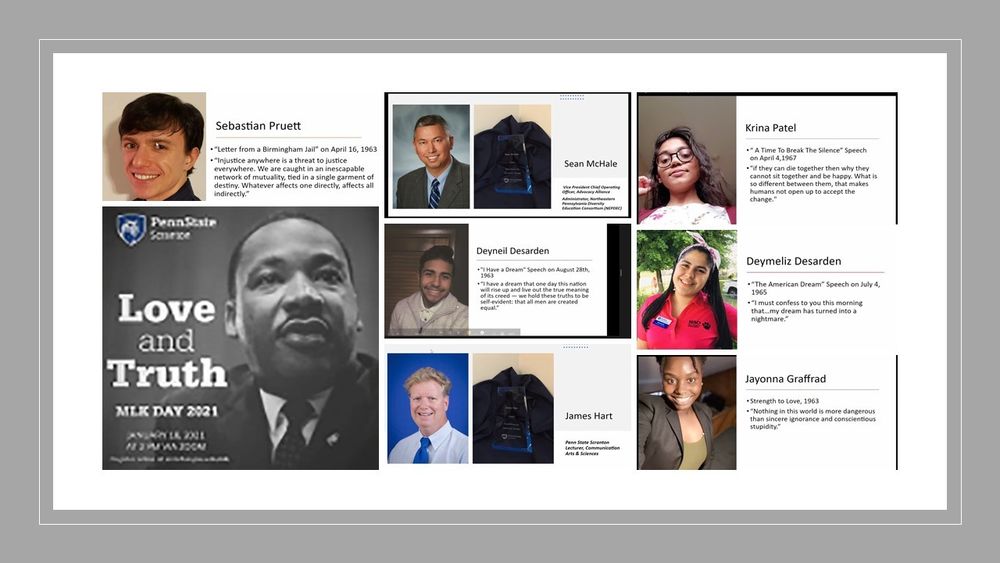 DUNMORE, Pa. – On Monday, Jan. 18, Penn State Scranton honored the monumental legacy of the late Martin Luther King Jr. and furthered its own diversity, equity and inclusion efforts at its sixth annual MLK Day Celebration.
Due to the COVID-19 pandemic, this year's observance was held on Zoom, and drew a large crowd of campus students, faculty and staff, as well as members of the general public. The event's theme was "Love and Truth," which was inspired by King's quote from his 1964 Nobel Peace Prize acceptance speech: "I believe that unarmed truth and unconditional love will have the final word in reality. This is why right temporarily defeated is stronger than evil triumphant."
Earlier in the day, the campus was among the community partners for the Greater Scranton MLK Commission's annual MLK Day Community Event. Also taking place on Zoom and open to the public, the event featured a talk by Penn State alumnus and former National Basketball Association player John Amaechi, now an organizational psychologist, internationally known public speaker and bestselling author.
The campus event opened with remarks by Coordinator of Diversity, Equity and Inclusion Dharti Ray and Chancellor Marwan Wafa.
"This is a day of service and a time to reflect on Dr. King's work for racial equality. Now more than ever, that work is so important," said Ray, mentioning some of the campus' diversity and inclusion efforts in 2020, from the continuation of the popular Diversity Circles to a series of special events held virtually during the fall months.
In 2021, those efforts will continue to expand when the campus begins its BLUE training program for local law enforcement officers. The pilot program, which stands for "Bias Limits Unlocking Empathy," will focus on helping police officers bring a more empathetic approach to their interactions with minority residents, said John Drake, director of the Center for Business Development and Community Outreach.
Wafa opened his remarks by noting that King "accomplished more in his 39 years than most people do in a century." Nonetheless, much work remains in order for the United States to truly become the inclusive and racially harmonious place that King envisioned in his famous "I Have a Dream" speech, as recent events like the George Floyd killing and the Jan. 6 attack on the U.S. Capitol building clearly indicate, Wafa said.
"This is a day for us to reflect on Dr. King's teachings and bring them to life in our own community," Wafa said. "We have a lot of work to do. … It is action time."
As always, the campus presented its Excellence in Diversity Award to a campus community member and a local resident who have demonstrated a genuine commitment to making the world a more diverse and inclusive place. This year's award recipients were James Hart, lecturer in communication arts and sciences, and Sean McHale, vice president and chief operating officer of the Advocacy Alliance and administrator of the Northeastern Pennsylvania Diversity Education Consortium (NEPDEC).
Since joining the Scranton faculty in 2007, Hart has been among the leaders of the campus' diversity efforts. He has been extensively involved with the Diversity Committee and Diversity Council, and has worked closely with student members of the LGBTQA Club. Hart's nominator wrote, "To support the students, in my opinion, is the highest calling of faculty and staff on the campus and he puts into action what we decide the campus should be from a strategic perspective."
Hart said he was "humbled" to receive the award.
"I believe what is most rewarding about being involved with diversity occurs behind the scenes," Hart said. "Being a teacher allows me to promote the committees but also opens a dialogue with the students in and out of the classroom. There are so many stories, successful and tragic, that the students need a platform to speak. I am proud to give them that opportunity. It has been a pleasure serving on these committees and I am grateful for the relationships that I have with the members of these groups."
McHale was nominated for his work with the Advocacy Alliance and NEPDEC. The Advocacy Alliance provides an array of services to adults with mental health issues, children and adolescents with emotional/behavioral disorders, individuals with developmental disabilities, and older adults and individuals with physical disabilities. NEPDEC, of which Penn State Scranton is a member institution, seeks "to create a more inclusive, dynamic culture and to prepare for increasingly complex and diverse workplaces" by "breaking down barriers of inequities and exclusion by recognizing the unique traits and characteristics" of its constituents. Throughout the year, the organization hosts educational programs, organizes networking events, supports members' diversity initiatives, and builds alliances with historically isolated groups.
"I want to thank Penn State Scranton for having this great program. … We're very glad and very honored to receive this award," McHale said.
Later in the program, campus Multicultural Council members and students Jayonna Geffrand, Kunj Patel, Deyniel Desarden, Krina Patel, Deymeliz Desarden and Sebastian Pruett took turns reading and reflecting on excerpts from some of King's most powerful speeches.
"In 2021, I'm going to charge myself to fight against bigotry and social inequality," said Geffrand, who chose some prophetic words from King's 1963 book of sermons, "Strength to Love": "Nothing in this world is more dangerous than sincere ignorance and conscientious stupidity."
"We need to do all we can to effect change. I look at my role as a support role – I want to help in any way that I can," added Pruett, who chose King's 1963 "Letter from Birmingham Jail."
At the MLK Commission event, Amaechi, the NBA's first openly gay player, delivered an eloquent, passionate speech on King's concept of "unarmed truth," which Amaechi views as a gateway to social justice during these tumultuous times.
Speaking from his home in London, Amaechi said that in order for society to survive and thrive, people need to care about each other. Part of that care comes through addressing one another with unarmed truth – i.e., "telling it like it is, but without malice," he said. That means that bad behavior, like systemic racism, has to be called out for what it is, and that those who seek to be allies in the cause for civil rights need to demonstrate their words through action.
"Unconditional love can't exist without accountability and impact. Just wishing something so doesn't make it so," Amaechi said. "I encourage people to stand and speak up, and at least make their position known."
The MLK Commission invited attendees to continue the conversation on these important topics during dialogue sessions scheduled for Jan. 25 and 27. For more information, visit https://www.scranton.edu/equity-diversity/mlkcommission.shtml.
To view the presentation, register now: scranton.psu.edu/webform/dr_john_amaechi_mlk_presentation
For more information on Penn State Scranton's diversity and inclusion efforts, visit https://scranton.psu.edu/diversity-and-inclusion.