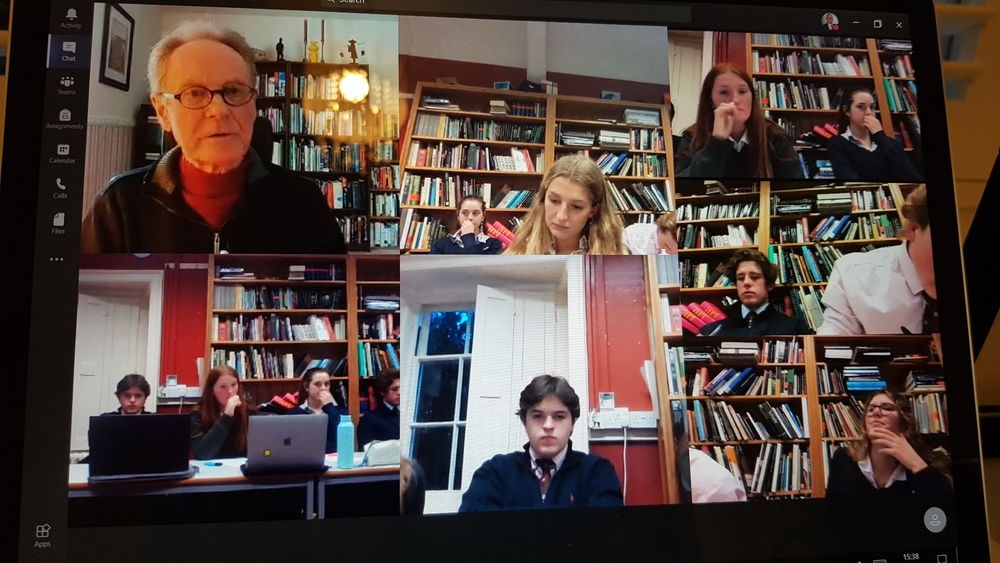 DUNMORE, Pa. – Since retiring from Penn State Scranton in 2017, Distinguished Professor Emeritus of English and Comparative Literature Philip Mosley has maintained a busy schedule of research, writing and service to the campus via occasional event programming.
Now, thanks to his former high school in Norwich, England, he recently had the chance to return to the classroom -- virtually speaking, of course.
Earlier this month, Mosley held a virtual class with college-entry-level literature students at Norwich School, which he attended from 1957 to 1965. Connected to the class through Microsoft Teams videoconferencing, Mosley led the students in reading and discussing an extract from Daphne du Maurier's 1938 novel, "Rebecca."
"I was transported back to the school library, while the students visited with me in the Poconos. Amazing!" Mosley said of the experience. "The small group included boys and girls, which was interesting, as in my day it was a boys' school and only became coeducational in 1994. The session took me back to my own A-level studies in 1964, and I told the students that I understood if they considered me therefore to be a prehistoric specimen of a Norwich School student."
Mosley's guest lecture came through his involvement with the school's alumni association, the Old Norvicensian (ON) Society. The group has an American branch that occasionally holds social gatherings in New York City, although those events are now taking place on Zoom due to the COVID-19 pandemic.
At one recent virtual gathering, Jonathan Pearson, Norwich School's fundraising campaign director and an ON himself, asked Mosley if he would be interested in teaching an 80-minute session of an English literature class made up of students preparing for their A-level examinations (the British equivalent of American college-entrance exams). From there, John Douglas-Field, head of English at the school, sent a formal invitation, which Mosley "eagerly accepted."
Located in the precincts of Norwich Cathedral, Norwich School is one of the oldest schools in the United Kingdom, having been founded in 1096 by the first Bishop of Norwich, Herbert de Losinga. In 1547, the school received a Royal Charter and became King Edward VI Grammar School. Its notable alumni include the revered British naval commander Horatio, Admiral Lord Nelson, national hero of the Battle of Trafalgar in 1805.
"Returning quite often to Norwich, I have revisited the school on a number of occasions," Mosley said. "Set in a medieval part of the city, its physical aspect hasn't changed much at all, though its routine doubtless is less traditional and formal today."
Going into his virtual session with the class, Mosley was tasked with picking an appropriate topic for discussion. With the students currently studying Gothic literature, he chose du Maurier's "Rebecca," which in addition to being a modern example of the genre is also a classic piece of psychological fiction. Alfred Hitchcock directed the famous film adaptation of the novel in 1940, while Netflix released its own version in 2020.
The session's 80 minutes "shot by," according to Mosley.
"We did a close reading of an excerpt from the novel where the first-person narrator, an insecure young woman, finds herself lost in a haunted wing of an old country house, a typical Gothic element. I posed questions to the students, who responded in thoughtful and perceptive ways. It was nice to hear British accents again!" Mosley said. "Following the close analysis, I opened up a discussion both on the female Gothic, broadly understood as the saga of vulnerable women subject to mental and physical manipulation, and on the relationship of Rebecca to other literary texts, notably 'Jane Eyre' by Charlotte Brontë."
The session went so well that Mosley would happily do it again, be it virtually or even in person during his next visit home.
"It was particularly pleasing to reconnect with an aspect of the school's academic life after so many years," he said. "I enjoyed the experience greatly."