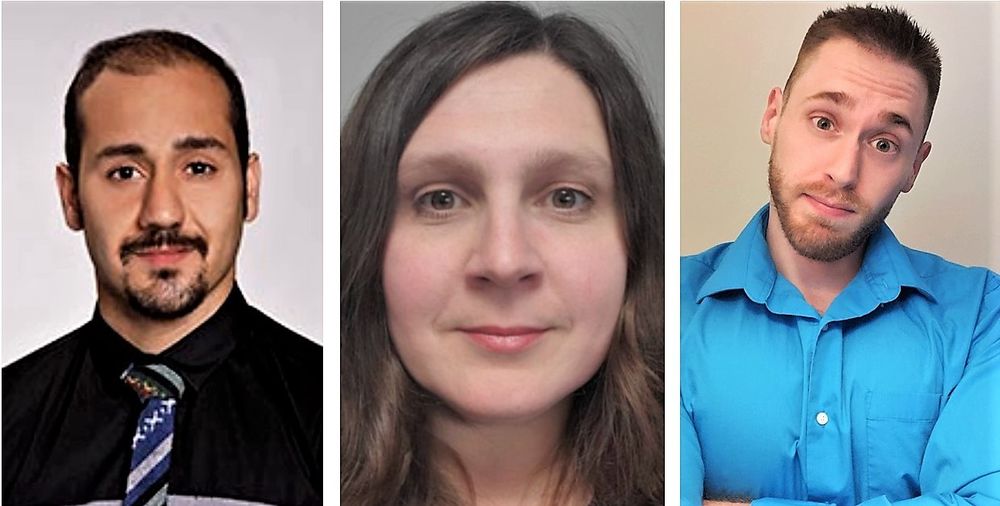 DUNMORE, Pa. – Penn State Scranton welcomed three new tenure-track faculty members to the campus community this fall.
The new faculty members are: Farid Jahantab, assistant professor of management; Nonna Sorokina, assistant professor of finance; and Doyle Tate, assistant professor of psychology.
All three faculty members bring a wide range of professional and educational experience to their positions.
Farid Jahantab, assistant professor of management
Jahantab comes to the campus from the University of Texas at El Paso, where he received his doctorate in business administration-management and served as an assistant instructor of management.
Prior to furthering his education, he worked at a manufacturing company for four years.
"Ever since I was a child, my passion was to become a scholar who makes important contributions to the world of science. Eventually, I answered the call to pursue my Ph.D. in business as a social science," Jahantab said.
Jahantab was very excited about the opportunity to join the business faculty. The campus appealed to him because it combines a "small, warm and friendly environment with the resources of a large, prestigious university," he said.
This semester, Jahantab is teaching two sections of Management Basics, one in-person and the other delivered in the mixed-mode option combining in-person and remote instruction.
He describes his lecturing style as "interactive."
"I want all my students to participate in the class discussions. My classes are discussion based, and it is important to me to know my students by their first name," Jahantab said. "I also want my students to be able to apply the concepts that they learn in class to the real business world. That is why I provide them with some business scenarios where they can apply the concepts."
Meanwhile, Jahantab's research focuses on individual, group and social network examinations of employment relationships, specifically the topics of overqualification, leader-member-exchange theory of leadership, and newcomer socialization. He's currently working on several projects, most of which are focused on overqualification and employment arrangements.
A Scranton resident, Jahantab said he's thoroughly enjoying his new surroundings and the campus community as a whole.
"People are very friendly here -- everyone has been kind and supportive," he said. "The interactions made me feel welcome in this new environment. I have had a very smooth socialization process and I appreciate that. I am very fortunate to have the opportunity to work for Penn State Scranton."
Nonna Sorokina, assistant professor of finance
Before arriving at the campus, Sorokina spent four years as an assistant professor of finance at The College of New Jersey, and prior to that, two years as a visiting professor at Wake Forest University in North Carolina.
Sorokina has over two decades of experience working in the banking industry, particularly in the area of mortgage securitization. But, having grown up surrounded by family members and friends with doctoral degrees, she was eventually inspired to pursue her Ph.D. in finance with a minor in applied statistics at Kent State University, completing her dissertation in 2014.
"I realized that the most interesting analytical work in the financial industry is performed by Ph.D.s," she said. "When I got into a doctoral program, after more than 10 years in the industry, I realized that I liked academia better, thus it became my full-time professional area."
Sorokina decided to apply for the position at Penn State Scranton because it seemed to offer a perfect combination of "manageable-size classrooms that allow personalized attention to students' needs and access to the research resources of a large academic institution."
This semester, Sorokina is teaching her Corporation Finance and Retirement Planning courses remotely via Zoom. Moving forward, she plans to offer a variety of finance courses tailored to students' specific needs and interests.
As a researcher, Sorokina has developed a keen interest in banking stability.
"Having lived through the financial crisis of 2007-2009 within one of the most affected sectors, I have seen how the broad economy and people's lives were affected," she said. "My most active current research is about risk taking of publicly traded vs privately held banks, and about the impact of the opioid epidemic on banks' lending."
Long term, Sorokina has a number of goals, including developing new lines of research related to financial distress and real estate, writing a textbook and attaining her Chartered Financial Analyst (CFA) designation.
Sorokina recently relocated to Pennsylvania from Princeton Junction, New Jersey, with her husband, their five children and pet German shepherd, Franz. With hobbies that include cycling, swimming, kayaking and camping, she's looking forward to enjoying the state's "beautiful nature with all its hills, rivers and forests."
Meanwhile, she couldn't be happier with her new academic home, and thanked the business faculty and academic Affairs staff for making the transition a seamless one.
"Durell Johnson [chief academic officer], Jim Wilkerson [businss program coordinator], Frank Sorokach and Angela Bassani [business faculty members] were all very friendly, welcoming and helpful. And I must mention Suzanne Morgan [academic affairs administrative support assistant], who helped with my transition tremendously," Sorokina said. "Since my campus visit, I have felt right at home. I'm happy to join the faculty and look forward to this new step in my career."
Doyle Tate, assistant professor of psychology
The colorful story behind Tate's hiring is reflective of the resourcefulness that has dominated campus life this year.
On the day Tate arrived on campus in early February for his interview, the region was hit by a snowstorm that forced the campus to close. So, Director of Academic Affairs H. Durell Johnson took him to lunch at a restaurant in Clarks Summit, where Tate pulled out his laptop and proceeded to do his presentation for Johnson and various assembled waitstaff.
From there, Tate emailed his presentation to the other members of the search committee, then met Assistant Teaching Professor of Psychology and Program Coordinator Renae McNair the following day.
"I think all of that helped to make up for the 'lost' presentation. I was very excited to be offered the position, and I'm happy with how this all worked out," Tate said. "I loved that Penn State Scranton was a smaller campus connected to a larger research system. Academic jobs usually have one or the other, but rarely both. I love working with students, and I felt that the smaller class sizes and more personal classroom connections would be my perfect working environment. I was also intrigued by the opportunity to be a part of the growth that has been happening at Penn State Scranton."
This past spring, Tate completed his doctorate in developmental and community psychology from the University of Virginia, where he also received his master's degree.
Tate's interest in psychology as a potential career came as an undergraduate at the University of South Carolina, where, he joked, "I was known for changing my major and career decisions almost every semester."
"I began as a nursing major, and one of the faculty members strongly encouraged me to stay in nursing solely to go the academic route. But, I didn't have the stomach for nursing, so I ditched that major," Tate said. "I finally settled on psychology because it would allow me to teach while contributing to meaningful research."
Over time, Tate has developed research interests geared around LGBTQ+ family formation, future aspirations, and health disparities as a function of sexual orientation.
The subject of family formation has a real personal resonance, considering his mother had such a strong desire to become a parent that she used artificial insemination to have Tate and his fraternal twin brother, whom she raised as a single woman.
"I inherited that same intense desire to become a parent, and I was interested in delving into why I, as a single gay man, would have such an intense desire to become a parent, but my heterosexual brother did not," Tate said. "Thus, I started researching LGBTQ+ family formation, and I am particularly excited to research routes to parenthood using assisted reproductive technology."
Out of that grew his work examining future aspirations. Among other things, he's found that aspects of family formation, such as marriage and parenthood, are the aspirations that have the largest and most disparities as a function of sexual orientation.
"My recent work found that around three percent of heterosexual ('straight') people in an online sample desired parenthood, but did not expect to achieve it. That number for lesbian and gay people was around 20 percent," he said. "Similarly, around three percent of heterosexual people desired marriage, but did not expect to get married, compared to around 26 percent of lesbian and gay people."
Currently, Tate is researching norms surrounding lesbian and gay parenthood in the U.S. as a function of sexual orientation, gender and age. He brought two datasets completed during his graduate studies to the campus, but hopes to gather new data throughout this academic year.
With that data, he intends to start a project examining "Baby Fever," i.e. people's intense desire to become a parent when exposed to situations involving babies and children.
"I also am in the process of doing some COVID-19 work with colleagues from the University of Virginia," he said. "And I'm excited to work with students, but sadly COVID-19 has slowed this process."
For his first semester at the campus, Tate is teaching two courses – Adolescence, which is entirely online, and Community Psychology, a hybrid course that meets in-person on Fridays for group work.
Tate brings what he calls a student-centered and inclusive philosophy to his teaching.
"I tend to take an empowerment-based approach that seeks to build what students already bring to the table. This unfortunately involves more grading because I tend to prioritize projects, assignments and papers that have students synthesize course material with their real lives, and I tend to use multiple-choice evaluations only as low-stakes retention assessments," he said. "In addition, I integrate diversity issues within every single course I teach. I feel that this both expands the horizons of students who do not come from historically marginalized backgrounds and increases the sense of belonging among students who do."
As a native Southerner, Tate isn't especially looking forward to northeast Pennsylvania's winter weather, yet nonetheless is happy to be making a new home here. The South Abington Twp. resident's hobbies include weightlifting, watching video streaming services and playing video games. Once the pandemic subsides, he plans to volunteer with various local LGBT groups.
And, while the pandemic has made campus life significantly quieter, Tate has found the community to be extremely welcoming thus far.
"Everyone has been so kind. When I go to campus, I always find someone to talk to. And I'm very much looking forward to working with Dr. McNair. She is an amazing person and has helped to make this transition as smooth as possible during this global pandemic," he said. "I'm excited for this opportunity, and I hope that my snowstorm interview and COVID-19 first semesters are indicative of a more positive future trajectory."