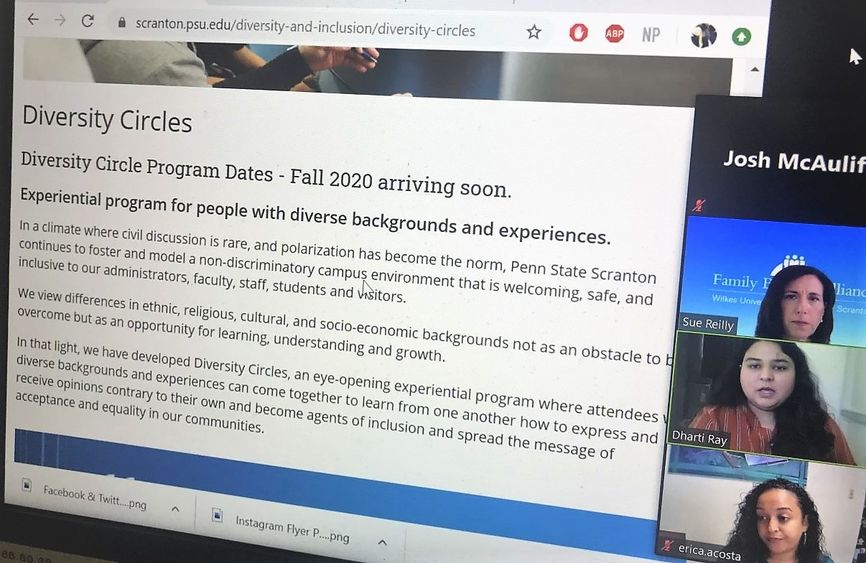 DUNMORE, Pa. – Since the start of the COVID-19 pandemic, Penn State Scranton and Wilkes University's collaborative Family Business Alliance (FBA) has continued to offer engaging and enlightening online programming on a range of issues relevant to the workplace. For its first event of the fall 2020 semester, it examined the especially timely issue of diversity and inclusion in the workplace and on college campuses.
On Thursday, Sept. 3, the FBA hosted the webinar, "Diversity Initiatives." Moderated by FBA Executive Director Susan Reilly, the panel discussion featured remarks by Dharti Ray, coordinator of diversity at Penn State Scranton; Erica Acosta, associate director of diversity affairs at Wilkes University; and FBA board member Kim Wylam, president of Baker Tilly Vantagen.
​Among other topics, webinar attendees learned about steps universities are taking to nurture increasingly diverse and inclusive environments, the ways businesses are adapting to meet employee and client needs in a changing world, and what Generation Z expects from a workplace's culture.
Acosta started the discussion by listing a number of ways in which Wilkes University is addressing issues of diversity, systemic racism and social justice -- from hosting a more diverse array of campus speakers, to engaging in an open dialogue with faculty and staff, to establishing a racial justice scholarship.
"These are continuous conversations we're having. It's not just a one-and-done thing," Acosta said.
From there, Ray discussed the litany of initiatives taken by Penn State Scranton during the past few years to create a more diverse and inclusive environment that is reflective of its "Welcoming Campus" motto.
"There's now someone like me at just about every Penn State campus," said Ray, who has been in her position since 2019.
A Scranton alumna and Smeal College of Business graduate, Ray has overseen a host of multicultural campus programming over the past year, including the International Bazaar, MLK Day Luncheon and Excellence in Diversity Awards, Diwali, Holidays Around the World, Women's Equality Day, and the Diversity and Inclusion Forum. She also works closely with the campus' Diversity Council and the various multicultural student groups.
In addition, Ray discussed her work coordinating the campus' innovative and well-regarded Diversity Circles, which bring together a diverse group of campus students, faculty and staff members, along with members of the community, in a welcoming, safe environment where they can exchange individual life experiences and perspectives as a way to expand their world views and become better promoters of diversity and inclusion.
A new round of virtual Diversity Circles will take place this fall, and Ray encouraged the webinar's attendees to consider taking part, noting Acosta was a past participant.
"We've had police officers and a lot of different community members participate. We really try to get a diverse turnout," Ray said. "We really go deep into exploring people's personal experiences, and why it's so important to be mindful of people's differences."
Wylam focused on the recent strides Baker Tilly Vantagen and its clients have made to become more inclusive and diverse work environments.
"I've never had a client who didn't have some sort of diversity or inclusion statement. What we've seen in the last six months are more action-based initiatives, not just words on paper," Wylam said. "People are looking to put action plans into place because their employees are demanding it. … It's very important to have open conversations like these."
Wylam said local businesses can attract a more diverse range of employees by expanding its recruitment efforts to a wider part of the country, and by trying to find job candidates from colleges with more diverse student populations. The increasing prevalence of telework in the wake of the COVID-19 pandemic will only make these efforts easier, she said.
Meanwhile, studies are showing that corporate boards that strive for better diversity among its members are more productive and effective, Wylam said.
"When you're involving that kind of diversity, it's not just a diversity of creed or color, but of thought," she said.
This same approach extends to companies' relationships with their clients and customers, Wylam noted.
"Businesses have to serve their clients, and clients are becoming more savvy," she said. "Just look at TV commercials now. They're much more diverse than they previously had been."
As far as today's college students go, they're looking for jobs that "speak to their mission and values," according to Acosta.
Ray agreed with that assessment.
"I know the students I work with will want the same sort of inclusive environment in the workplace that they're getting on campus," Ray said.
Moving forward, local businesses would no doubt benefit greatly from proactively addressing these issues, Reilly said.
"So many businesses are caught up in the day to day, but they really need to be focused on their long-term health," she said.
For more information on the FBA and its fall programming, visit https://www.fballiance.org.
For further information on diversity and inclusion at Penn State Scranton, visit scranton.psu.edu/diversity-and-inclusion.