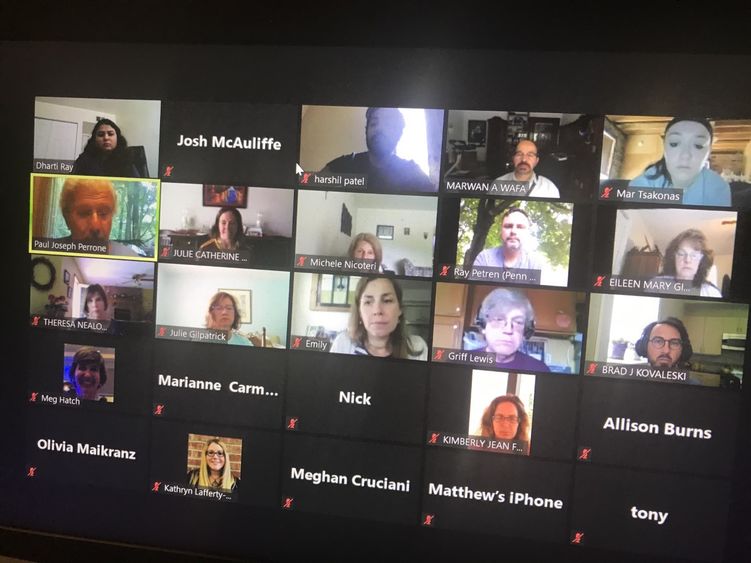 DUNMORE, Pa. — The Penn State Scranton community recently came together in a show of support for a more just and equitable society for African Americans and People of Color.
On June 19, the campus Student Government Association (SGA) hosted an observance of Juneteenth on ZOOM. The event, attended by students, faculty and staff, included a presentation on both the holiday and the Black Lives Matter movement, as well as reflections on how the campus can become an even bigger advocate for racial diversity and social justice in the wake of the recent nationwide demonstrations protesting police brutality and systemic racism.
SGA President Harshil Patel used the occasion to discuss a letter crafted by the group's officers condemning the brutal killing of George Floyd, as well as "any act of racism, prejudice, or mistreatment against anybody." In addition, the group vowed to promote equality, "not just on campus, but everywhere."
"Penn State Scranton is an incredibly diverse and inclusive campus. Students from all over the country, state and world are attracted to our campus of love, responsibility, dignity and safety," the SGA officers wrote. "We present this call to action and ask for you to join us as we engage as a collective with the Diversity Council and Campus Allies, partnering with student diversity organizations to bring in systemic reform that promotes equality and representation of people from all the communities on our campus. … These current developments call for a sense of urgency and action. Not to respond with focus on this issue is, indeed, a response that would condone the injustice that has carried on for too long."
Among those attending the event was Raymond Petren, assistant professor of human development and family studies, (HDFS), who praised SGA's efforts.
"I appreciate the great job SGA is doing in this area. A lot of this type of work is personal. We all need to work through our own biases," said Petren.
"It shouldn't be a political hot topic, but it is," added Director of Student Services and Engagement Brad Kovaleski, who co-chairs the campus Diversity Council with Petren. "And, until we normalize the conversation, it's going to be uncomfortable."
In their presentation, Patel and Coordinator of Diversity and Inclusion Dharti Ray provided important context on Juneteenth. The holiday, which incorporates the words "June" and "nineteenth," commemorates June 19, 1865, the day Union soldiers arrived in Galveston, Texas, to announce the liberation of the enslaved people there, more than two years after President Abraham Lincoln issued the Emancipation Proclamation during the height of the Civil War.
Ray and Patel also provided an overview on the origins of the Black Lives Matter movement, which began in 2013 after the acquittal of George Zimmerman in the shooting death of African American teenager Trayvon Martin.
"Juneteenth is not yet recognized as a national holiday, which is very surprising. We're still not recognizing it as much as we should be," Ray said. "In just the past two years, I've learned about the significance of the holiday. It's all about recognizing the idea of freedom. Celebration is a big part of this holiday, but it's also the awareness piece, too."
From there, Ray, Patel, campus Chancellor Marwan Wafa and other event attendees discussed ways that Penn State Scranton can be a local leader in the fight against racism.
The campus has made some significant strides in recent years, from the numerous events celebrating multiculturalism, to the establishment of the Diversity Council, to the popular Diversity Circles, where students, faculty, staff and members of the community can come together to engage in meaningful dialogue about their individual perspectives.
"During my sophomore year, I did the Diversity Circles and it did so much for me," Patel said.
"The Diversity Circles are great, because they're a listening opportunity," Wafa said. "I'm always open to new ideas and suggestions as we move forward. … We must remember that every moment of life is valuable for all living beings."
Paul Perrone, assistant teaching professor in English, and English and Letters, Arts and Sciences programs coordinator, said the campus has come a long way in terms of promoting diversity. He sees it every day in the classroom, especially in his African American Literature and Alternative Voices in American Literature courses.
"We go into race, ethnicity, sexual orientation — we cover the gamut. And the students are just fantastic," Perrone said. "And there's such a range of different students, but we are all one people."
SGA Chief of Staff Olivia Maikranz praised Perrone and other faculty members for providing an inclusive environment for students.
African American HDFS student Tony Keith said he's "never felt discriminated against or uncomfortable," during his years on campus. "That means a lot to me," Keith said.
Despite these positive strides, the campus should continue to strive to do better, Ray said.
"There's still more we can do," Ray said. "It's really important for us to share those spaces for students to talk about these issues."