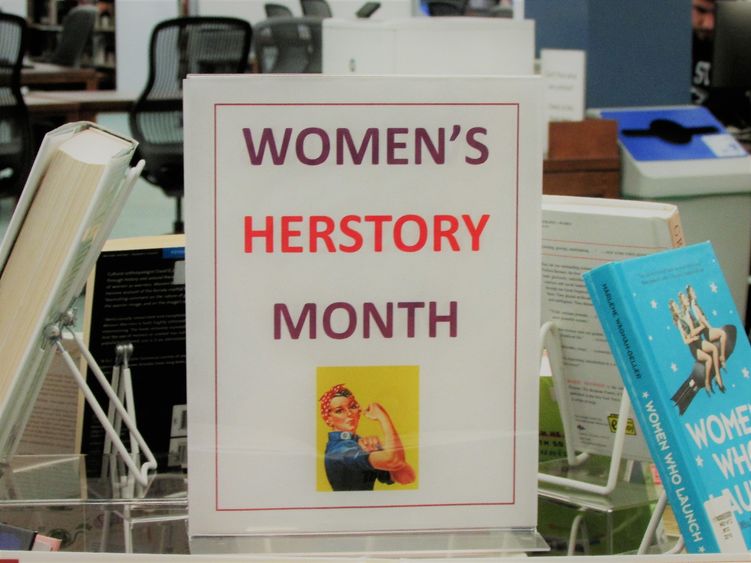 Editor's note: See below for events March 16-April 6 that have been canceled. The cancellation is due to Penn State's move to remote instruction beginning March 16.
DUNMORE, Pa. — March has been designated Women's History Month and is the month to celebrate the accomplishments women have made over the years. From scientist Marie Curie to former first lady and senator Hillary Clinton, these women have inspired the minds of young girls and helped to teach them to never give up on what they want to be.
This year, Penn State Scranton will celebrate Women's "Herstory" Month with many events throughout March — from the fun and light-hearted, to more academic-focused events.
On Tuesday, March 3, The View Café hosted Women's Health Trivia, with Jill Thoman, campus nurse, answering questions on women's health and handing out prizes.
On Thursday, March 5, at noon, students can participate in a Women's History Game Show. Crazy Bob, a local entertainer, will do a segment called "Are you smarter than a..." and he will ask questions about women's suffrage and women's history.
There will be a special Women's Kahoot at noon on Tuesday, March 17, in The View Café. Kahoot is a unique, interactive, game-based learning platform that has become popular with campus students. Penn State Scranton Coordinator of Diversity and Inclusion Dharti Ray will host and have trivia questions for students to answer. Prizes, including Penn State goodies and women's self-care products, will be given to the winners. This event has been canceled.
Kathy Stefanelli, campus counselor, will host a Women's Self-Care booth in the Study Learning Center's front lobby at noon on Thursday, March 19, with informational facts and tips for women on how to take better care of themselves. This event has been canceled.
Penn State Women's Day, an event that celebrates the achievements and feats women have accomplished throughout history will take place at noon on Wednesday, March 25, in Dawson 10. This event has been canceled.
"We have created a Women's History Month campaign on our Instagram page (psuscrantonlife)," Ray said, "Everyone is able to nominate women who have served as an inspiration for them. Once we have collected all the nominees, we will invite them to Penn State Women's Day and recognize them on that Instagram page. We'll have roundtable discussions, food, and giveaways."
And from 10 a.m to 2 p.m. on Thursday, March 26, the campus Library will host a Wikipedia Edit-a-Thon in Dawson 10. This event has been canceled.
"You have probably used Wikipedia, but did you know that anyone can edit entries or create new entries? Part of what makes Wikipedia a useful resource is the crowdsourced nature of the content, with lots of people fact-checking information," said campus Head Librarian Jennie Kneis.
"The goal of this edit-a-thon is to celebrate Women's History Month by editing Wikipedia pages for important women in history. Here at Penn State Scranton, we will be focusing on creating and editing entries related to local Northern Pennsylvania women," said Kneis. "No prior experience needed, just drop in for as long as you'd like. We just want your enthusiasm!"
The library also has created a display featuring books and DVDs from inspirational and beloved women authors, including Mary Shelley, Maya Angelou, and more.
This display covers women in history from the early part of the century, such as the suffragettes who helped women gain the right to vote, into the middle of the century and World War II, such as Anne Frank. It continues right up to modern times, with titles like, "Women Who Launch: Women Who Shattered Glass Ceilings" and "Women Who Rock: from Bessie to Beyoncé."
Information Resources and Services Support Specialist Mary Ann Joyce created the display. "I tried to include women who were notable or famous for a variety of reasons and in many different fields," she said. "Some have made great strides in politics, others are known for their scientific discoveries, and others are great artists, entertainers and athletes."
The books "Women in Space" and "Sally Ride," and the movie "Hidden Figures," all tell the stories of women who were vital to the space program.
There are also books about women scientists, like "Forgotten Women," and "The Jane Effect," about Jane Goodall, the famous chimpanzee researcher.
If you like rebels and strong-willed women, there is "Forward," about Abby Wambaugh, the Olympic soccer player; and a book about comedienne Joan Rivers called "Last Girl Before Freeway." There is also the DVD about Supreme Court Justice, Ruth Bader Ginsburg, simply titled, "RGB," and another about her early career titled, "On the Basis of Sex."
Joyce said her favorite novels from women authors are based "on a variety of things, depending on my mood, if I'm traveling, or trying to research something. Lately, I've been enjoying really easy, fun reads like romantic comedies written by women; and growing up, I loved Judy Blume. Mary Shelley's "Frankenstein" is a masterpiece, and some all-time favorites are Margaret Mitchell's "Gone with the Wind," and all of Nora Ephron's films and non-fiction books.
"The books I like best in this display are the ones that are collections," Joyce added. "They have photos and quotes and give you a short description on many women who made historical contributions. For instance, you can leaf through "Bygone Badass Broads, 52 Forgotten Women Who Changed the World," and learn about women you might have heard about and others you just discovered.
"There is a fun pocket-sized book called 'That's What She Said,' with famous quotes by women, and a beautifully illustrated table-top book called, 'Drawn to Purpose: American Women Illustrators and Cartoonists,' and one called 'In Praise of Difficult Women: Life Lessons from 29 Heroines Who Dared to Break the Rules.' I like these types of books because you don't have to commit to reading one long text, and you can learn as you go, finding what interests you. Then you can always indulge in longer books on the women or subjects you really enjoyed."
Women's History Month is important because there are still many people who do not appreciate or realize contribution and discoveries that women have made in the world, Joyce explained. "Although there are more women in the United States than men, we still have to struggle to have just as important a role in fields like film, politics, and business."
In a smaller glass library case, Joyce has displayed books about women suffragettes and women's voting rights. "It seems crazy, but women didn't have the right to vote in this country since 1930. Many determined, rebellious women made it happen and we should remember them," Joyce stated.
These displays not only play a role in honoring significant women in history, they also highlight the need for libraries in our society throughout the years and the important role they have in providing access to free reading and reference material to communities across the country, said Joyce.
Women also ensured that Americans living in poor, remote regions across the United States had access to books and library materials during the Great Depression, added Joyce.
According to Wikipedia, due to the Great Depression and lack of funding, the American Library Association estimated in May 1936 that around a third of all Americans no longer had reasonable access to public library materials.
To remedy that situation, the Works Progress Administration created the Pack Horse Library Project. In this program, women riding on horseback delivered books to remote regions in the Appalachian Mountains, in the years between 1935 to 1943. It helped employ around 200 people and reached around 100,000 residents in rural Kentucky.
For more information on Women's History Month events, contact Dharti Ray at 570-963-2685 or at [email protected].