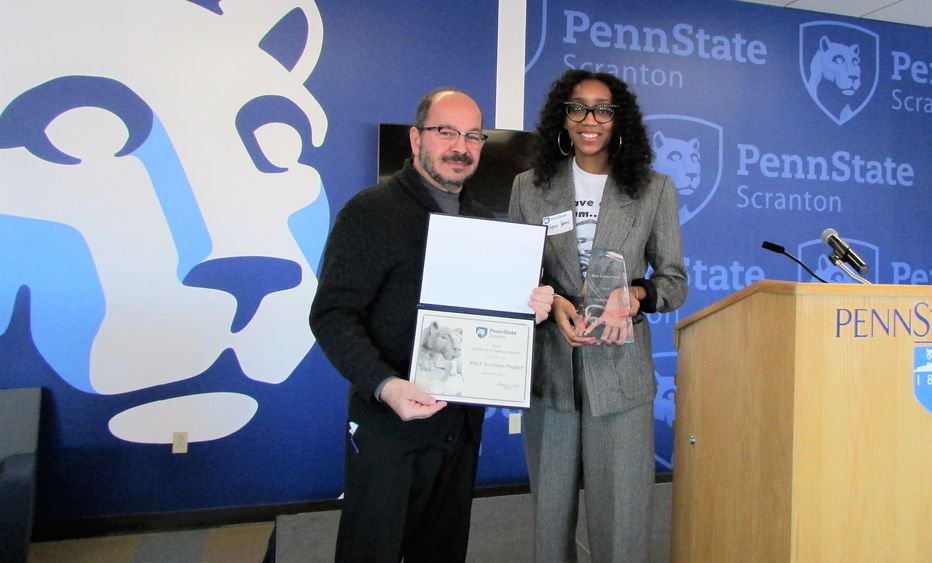 DUNMORE, Pa. — Penn State Scranton's students, faculty and staff came together on Martin Luther King Jr. Day to honor the life of the civil-rights icon, assassinated more than 50 years ago. The fifth annual MLK Day Luncheon and Excellence in Diversity Awards celebrated the efforts of the campus and community to continue to work toward King's dream of a more racially and socially just America.
The day also included group breakout sessions where attendees had the opportunity to discuss topics geared around diversity and inclusiveness. Then, from there, numerous campus volunteers performed community service at two downtown Scranton locations — the Gino J. Merli Veterans Center and United Neighborhood Centers (UNC) of NEPA's Angel's Attic clothing and food pantry.
A day of reflection
Held in The View Café, the awards program began with a welcome by Penn State Scranton Chancellor Marwan A. Wafa.
Referring to King as a "lasting symbol of diversity," Wafa noted that the holiday should be observed with a substantial amount of gravitas.
"This is a day for us to reflect on his life and teachings," Wafa said. "Although the world is a different place than when Dr. King was alive, many of our problems remain the same."
To illustrate his point, Wafa, a Muslim American, pointed to several specific instances where his own family was subjected to religious bigotry. Such intolerance, he said with emotion, illustrates how much work still needs to be done by society.
"We have a lot to do to make the dream of Dr. King a realization. … We must learn to accept people who are different than us," said Wafa, noting the campus is doing its part to help further those goals locally through its growing Diversity Circles program.
"We have the qualities to make a significant impact in our society," Wafa added. "There is no problem we can't solve if we work together."
A genuine commitment
Continuing another tradition, the campus gave out its Excellence in Diversity Awards to two individuals — one from the campus and one from the community — who have demonstrated a genuine commitment to diversity and inclusiveness.
This year's award recipients were: Raymond Petren, assistant professor of human development and family studies (HDFS), who has been involved in a number of campus diversity initiatives; and Scranton resident Glynis M. Johns, founder of the Black Scranton Project.
The program's guest speaker, Johns contextualized King's significance in American history. Among his many noteworthy accomplishments, King averaged over 200 speeches per year, was arrested more than 20 times for civil disobedience, received five honorary degrees, wrote an advice column for Ebony magazine, and received Time magazine's "Man of the Year " award in 1963 for leading the historic March on Washington.
Still, Johns noted, "We forget that he was a person, a human being, like all of us."
Also hard to believe, Johns added, was that King was just 39 years old when he was assassinated, and 26 when his civil rights career began in earnest with the Montgomery bus boycott of 1955 and 1956.
"Which is mind-blowing to me," said Johns, who is currently pursuing her doctorate in African American History at Rutgers University. "Dr. King and the folks in Montgomery were determined to be seen as human beings. It shows that if you put your mind to something, you can make real, substantial change. … We should all speak up about the things that inspire us."
Johns' Black Scranton Project expanded out of her master's thesis at St. John's University. "I wanted to investigate black history in Scranton, and I could not leave it bound to one book," she said.
Through the website, blackscranton.org, Johns is shedding light on the extensive yet overlooked contributions African Americans have made to the Scranton community. It's a history she herself didn't realize existed until delving into the project, she said, which notably achieved nonprofit status last year on Juneteenth, the day commemorating the June 19, 1865, emancipation of the country's last remaining slaves in Texas.
As a result of the project, Johns said has become an outspoken advocate for diversity and social justice in the Scranton area. During the past couple years, she has coordinated a variety of community events, from art exhibits to open mics to book clubs. In February, she'll host a series of events for Black History Month.
Right now, Johns is speaking out on behalf of the 2020 Census and the need for an accurate count of the region's minority population. With that in mind, she told the story of a group of black men from Scranton who fought to be included in the 1900 Census.
"One hundred and twenty years later, I want to make sure we're not undercounted," she said. "I don't want us to feel like this community isn't ours."
Philosophy into practice
Later in the afternoon, numerous campus students, faculty and staff put King's philosophy into practice through community volunteerism. While one group played bingo with elderly vets at the Merli Center, another contingent sorted clothing and stocked the food pantry at UNC's Angel's Attic.
The assistance was very much appreciated, said UNC case manager and Angel's Attic manager Mariely Colin, as she admired the pantry's freshly stocked shelves of canned goods and other non-perishable items.
"We don't have a lot of volunteers, so we can always use more help," Colin said. "We're all a community, made up of people who need help and people who can help. And we need the people who can help to come out more."