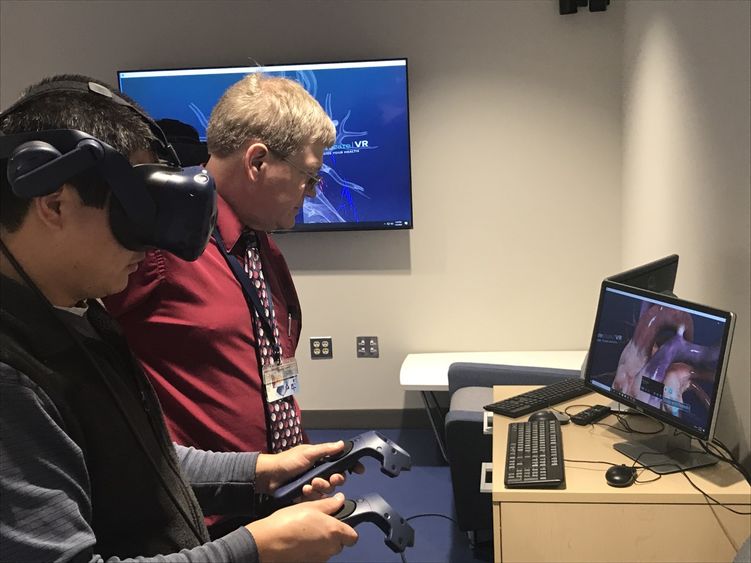 DUNMORE, Pa. — Penn State Scranton continued its commitment to bolstering the technological capabilities of its faculty at the campus' sixth annual Faculty Development Day.
Held earlier this month in the campus' new Information Sciences and Technology Active Learning and Innovation Lab, the program featured three presentations geared around evolving technologies now available to faculty.
The presenters were: Griff Lewis, campus instructional designer; Amy Kuntz, instructional designer with Penn State Teaching and Learning with Technology at University Park; and Marilee Mulvey, campus director of information technology and an adjunct lecturer in information sciences and technology.
The afternoon kicked off with "Integrating Kaltura into Canvas," presented by Lewis. The interactive tutorial centered around Kaltura, the media management system that allows faculty and students to create, stream and share video content directly within Penn State's Canvas learning system.
At last year's Teaching and Learning with Technology Symposium at University Park, Lewis was part of a group of faculty and IT professionals who gave a presentation on Kaltura. While the presentation was well received by the crowd, the service has yet to go widely into practice across the University landscape, Lewis said.
But, that should change once faculty realize the many capabilities of Kaltura, said Lewis as he demonstrated to the full room of attendees how to upload and embed videos using Canvas' "My Media" and "Media Gallery" functions.
"Kaltura looks as if it's right in your course," Lewis said. "It's set up as a learning tool with Canvas."
With Kaltura, faculty can use existing content like YouTube videos and TED talks, or create their own lectures, instructions and quizzes, Lewis said. Students also can produce content for assignments.
From a practical standpoint, Kaltura makes for a handy way to get around things like canceled classes, Lewis said. And, the analytics track whether students are watching the videos, he noted.
"There's so many resources to it," he said.
Some Penn State Scranton faculty members are already making great use of Kaltura, Lewis said. Agnes Kim, associate professor of physics, has uploaded dozens of lecturettes (videos should be broken up into short, digestible chunks, Lewis said) recorded in the campus One Button Studio. Dale Holen, associate professor of biology, uploads his lectures recorded with the Swivl robotic video recording system. And James Wilkerson, assistant teaching professor of business and coordinator of the business and project and supply chain management programs, records lectures right at his desk using the Kaltura Capture function.
Kuntz's presentation, "Virtual Reality at Penn State," focused on the exciting and ever-changing world of immersive technology within the classroom.
She broke down the different types of immersive realities — virtual, augmented, mixed and 360-degree — available at Penn State, and how their applications allow students to explore various environments (foreign countries, the ocean, the paintings of Salvador Dalí, etc.), time periods and perspectives.
Like Lewis, Kuntz mentioned several Penn State faculty members putting immersive reality into practice. They include a University Park professor who uses Google 360 to direct his students' eye movements as they gaze at the stars, and a Lehigh Valley professor who had her students do virtual tours of historic sites rather than a standard PowerPoint presentation.
"It engaged them more," Kuntz said.
Theresa Black, lecturer in chemistry, discussed how she recently provided her students with a virtual tour of the Lehigh River thanks to a camera mounted to her kayak. Then, from there, attendees headed over to the campus Immersive Lab to get an inside look at the human body via the room's VR goggles.
Finally, the day concluded with Mulvey's presentation on the University's myriad options for storing digital files in the cloud, "Storing and Sharing Files — So Many Solutions, Which One to Pick?"
Mulvey started her talk by asking if anyone in the crowd still stored files using a USB drive. Several hands went up.
"At one point in time, we were so happy to have those," Mulvey said. "Now, we don't have to worry about that stuff anymore."
That's because cloud storage now allows us to have access to our files "anywhere you have an internet connection," she said. Penn State has several options available to faculty and staff, including UDrive, PASS, Box, Microsoft OneDrive and Google G Suite for Education.
When storing data, Mulvey said, one should consider several factors beforehand, particularly its level of sensitivity. In fact, the University has policies in place classifying the sensitivity of data, and where files can and cannot be stored.