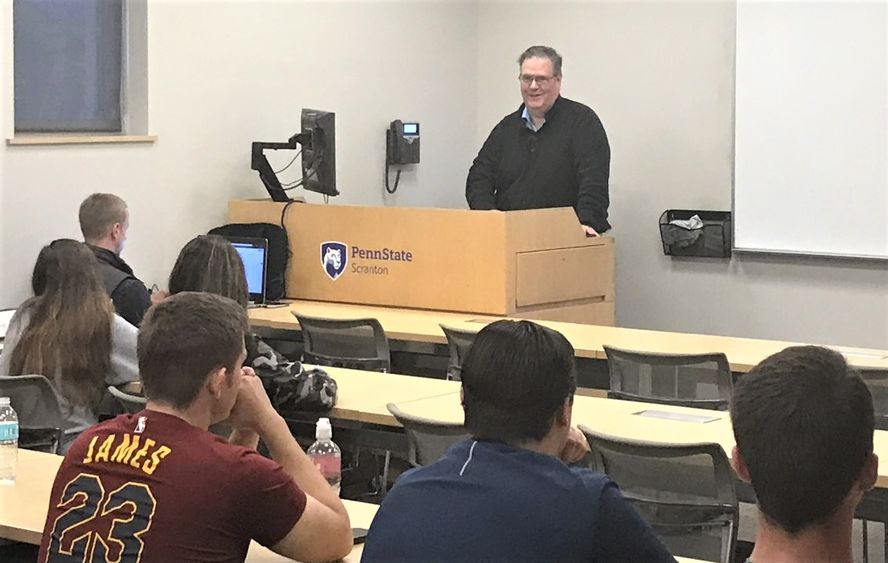 DUNMORE, Pa. — Joseph Walsh has acquired a wealth of useful skills in his 35 years as an attorney, not the least of which is the art of negotiation.
Walsh, an administrative law judge for the Pennsylvania Department of Human Services, recently visited Penn State Scranton to discuss negotiation skills and other assorted aspects of his career with students in lecturer Bradford J. Foley's Negotiation Skills for Business Professionals course.
An administrative law judge for the past few years, Walsh presides over an average of 16 to 20 daily hearings for appeals and disputes related to a wide range of issues, among them medical assistance, Supplemental Nutrition Assistance Program (SNAP) benefits, and child abuse expunction.
A graduate of the University of Scranton and Catholic University of America's Columbus School of Law, Walsh told the class his interest in the law came out of his empathy for the underdog.
"I have a lifelong hatred of bullies, and I thought that as an attorney I could help those being bullied," said Walsh, whose job often takes him to far-flung corners of the commonwealth.
Given the objectives of the course, Walsh spent a portion of his presentation discussing the value of negotiation skills, both in a legal context and in general.
"You always need to determine a strategy as a negotiator. You can't go into any negotiation without knowing what you want your desired outcome to be," Walsh said. "For instance, when I was an attorney handling a property transaction, I'd ask the buyer, 'What's the most you're willing to pay?' As an attorney, my goal is whatever my client's is."
"You have to do your homework," Foley said.
"It's preparation," Walsh responded. "The more you know going in, the better off you'll be."
Negotiation continues to play a role in his life as an administrative law judge. The parties that come before him are often given the option of negotiating a settlement rather than entrusting him to make a final decision on the matter.
"Life experience is going to teach you a lot as far as how to negotiate. Any transaction you do in life, there's some sort of negotiation involved. It's a skill you'll need forever."

— Joseph Walsh, administrative law judge for the Pennsylvania Department of Human Services
In that regard, compromise is the goal, he said, even if everyone isn't getting exactly what they want.
"As an attorney, I would tell my clients that it's easier for you to deal with a situation you negotiate rather than having it done for you," he said. "Obviously, power is a big factor, and it's important to understand who has the power relative to your position."
From there, the discussion veered into ethics and morals. Lawyers tend to be demonized as less than truthful, but Walsh stressed that the profession is an honorable one.
"Honesty is very important — I can't negotiate successfully if I'm lying," he said. "You have to show yourself to be an honest player. I've run into people who are not honest, and it's affected my dealings with them."
In addition, Walsh gamely answered questions from Foley and the students on a litany of other topics.
One student wanted to know if Walsh ever gets nervous before speaking in public.
"I've been talking in front of people for 35 years, and I still get nervous," Walsh said. "I was nervous before coming here today. It's normal to feel that way."
Another student asked Walsh if he preferred being a judge to his work as an attorney.
"Being a judge is a lot less stressful," Walsh said. "Because I don't have clients anymore, I don't have an issue one way or another on who wins or loses."
Of course, Walsh has other interests outside of the law. A longtime musician, he can often be found singing and playing guitar at local events and weddings.
He was amused when some students showed genuine interest in this facet of his life.
"It feels odd to be referred to as a musician. To me, it sounds a bit grandiose," Walsh said with a chuckle.
Near the end of the presentation, the topic of negotiation came back around again when a student asked Walsh if he took any college courses to help develop his skills.
"Life experience is going to teach you a lot as far as how to negotiate," Walsh said. "Any transaction you do in life, there's some sort of negotiation involved. It's a skill you'll need forever."