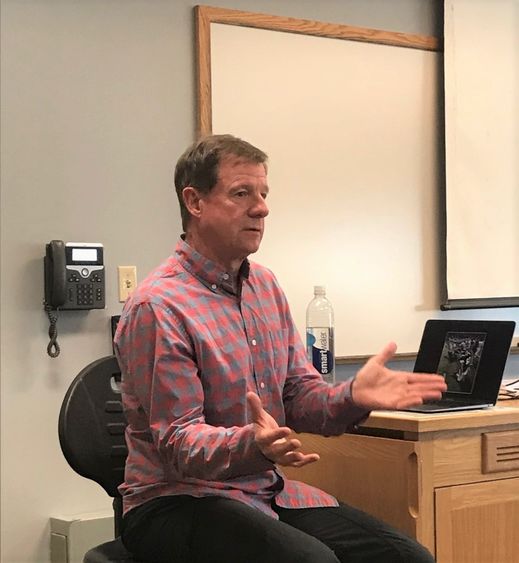 DUNMORE, Pa. — Local photojournalist Michael J. Mullen recently visited Penn State Scranton to share stories and accumulated wisdom from his distinguished four-decade career at Scranton's daily newspaper, The Times-Tribune.
A Penn State alumnus, Mullen was invited to the campus to speak to students in the Small Group Communication course taught by James Hart, lecturer in communication arts and sciences.
As a course requirement, Hart is placing the students in two-person teams and having them collaborate on a photojournalism project of their choosing. The students' finished photo essays will ultimately be exhibited as part of a juried show on campus.
The students will focus their lenses on the people and places of northeast Pennsylvania — precisely the kind of work Mullen specialized in during his 40-plus years as a staff photographer at The Times-Tribune.
Thanks to smartphones and social media, young people are now using cameras more than ever before, Mullen said. To be a good photojournalist, though, "you need to find out how to tell stories with a camera," he said.
"You can change lives with photography, if it's done correctly," said Mullen, who retired from the newspaper in 2016 but still makes time to shoot just about every day.
Of course, great photography starts with a great subject. Picking students' brains, Mullen threw out a few potential topics of his own, including organic farms, abandoned local factories, and the unique and intricate work of a luthier — also known as a guitar maker.
As part of his slideshow, Mullen displayed iconic photographs depicting the Vietnam War; the Sept. 11, 2001, terrorist attacks; and northeast Pennsylvania's anthracite coal-mining past.
He also brought plenty of examples of his own first-rate work to illustrate his points, from candid shots of legendary boxer Muhammad Ali training in the Poconos to scenic tours of the Scottish countryside to the harrowing nighttime patrols he went on while embedded with local members of the Pennsylvania Army National Guard during the Iraq War.
Lighting, exposure, depth of field and positioning are all important skills for a good photographer, Mullen said. But there are other intangible skills that are just as crucial, such as taking copious notes, storyboarding and developing a rapport with the subject.
"You've got to convince people you're sincere in what you're doing," he said.
Mullen advised students to use paintings as inspiration for their photos. Indeed, many of his photos have that quality, thanks to exquisite natural lighting.
"If the sky looks great, use it," said Mullen, imploring the students to become well acquainted with the "golden hour" (sunrise) and the "blue hour" (sunset).
By the time their photo essays are completed, Mullen said, the students should have a primary shot that reels the viewer in, as well as several complementary photos that fill in the story's details.
"My focus was always on finding an image that attracts attention — something that's going to grab you," he said. "If you can draw some empathy or sympathy from the viewer, you're doing your job."