B.S. Degree in Science
NOTICE: THE B.S. DEGREE IN SCIENCE WILL NO LONGER BE OFFERED AT PENN STATE SCRANTON AFTER THE SPRING 2019 SEMESTER. STUDENTS ALREADY IN THE MAJOR WILL BE ABLE TO COMPLETE THEIR DEGREE. STUDENTS ARE ENCOURAGED TO CONSIDER MAJORING IN BIOLOGY:
https://scranton.psu.edu/biology-degree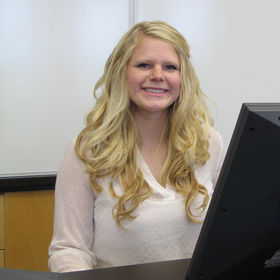 "One of the advantages of the science program is the flexibility to tailor your classes and experiences to your career goals. I was able to earn credit for an internship at a dental office and complete an honors project on the evolution of teeth to help prepare me for dental school."
- Renee Deacon, recent graduate; former Science-Life Science Club President Honors Program
Science Program Overview
The Bachelor of Science degree in Science (SCICC) provides a multi-disciplinary science education that is intended for students who desire broad training in scientific thought and methods.
The degree provides a foundation for careers in a variety of scientific disciplines such as pharmaceutical, biotechnical, chemical, allied health, environmental, or agricultural industries.
Students can also tailor their courses to meet the specific requirements of professional programs such as medical, dental, or pharmacy schools and graduate study in the life sciences.
Students complete foundational courses in calculus, chemistry, physics, and the life sciences and then can specialize in upper level courses based on either the Life Science or General Science option. A large number of supporting credits permit students to readily include significant breadth or specialization into their undergraduate curriculum including credits for undergraduate research.
Science Major Options offered at Penn State Scranton:
General Option
This is a terrific option for students interested in science-related careers but not intending to go into a scientific field itself. Half of the upper-level courses must be in science, but the other half can be in other areas. For example, one could take IST courses to prepare for a career in science-related programming or software development, or business or marketing courses to prepare for marketing scientific products or pharmaceutical sales.
Recommended Academic Plan for BS in Science, General Science Option

Life Science Option
Students interested in graduate school or professional school should choose this option. Upper-level courses in biology prepare students for application to dental school, medical school, or other allied-health training. It can also be a starting point for environmental jobs or entry-level laboratory jobs in a variety of fields including agriculture and bioscience. 
Recommended Academic Plan for BS in Science, Life Science Option