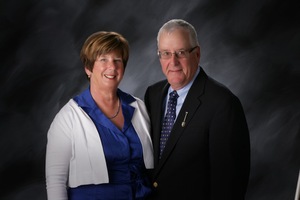 Program support allows the campus to enhance both its academic as well as its co curricular and student centered programs. In addition, faculty and staff have benefited from the generosity of donors who have targeted their gifts toward areas that promote faculty research, professional development, and leadership skills.
Pictured at left are Mary Anne and Eric Linde, who established the Linde Family Business Mentoring Program Fund at our campus, which gives junior year students enrolled in the baccalaureate degree in Business to enhance their educational experience through advanced instruction and participation in special programs and projects. Students obtain first-hand knowledge of the business world by being paired with a professional in their field of choice.
Examples of Penn State Scranton program endowments and annual program support include:
The Eric P. Anderson Growing Leaders Student Development Fund
Dolis International Studies Program Support
The Greater Scranton Penn State Chapter Faculty Research Fund
The Linde Family Business Mentoring Program Fund
The David and Joyce Mack Tressler Professional Development Fund
The Richard and Sally Matthews Endowment for Faculty Research and Scholarship
The Lynn E. Moran Fund for Student Counseling Services
The Penn State Scranton Alumni Society Program Endowment
K. Bruce Sherbine Penn State Proud Award
The Suzanne M. Thomas Chancellor's Discretionary Fund
UNICO Scranton Chapter Endowment in Italian Studies, Heritage, and Culture
Alumni and friends can play an important role in supporting various programs such as athletics; student activities; cultural programs; and more through their annual support. All gifts are appreciated and put to excellent use.