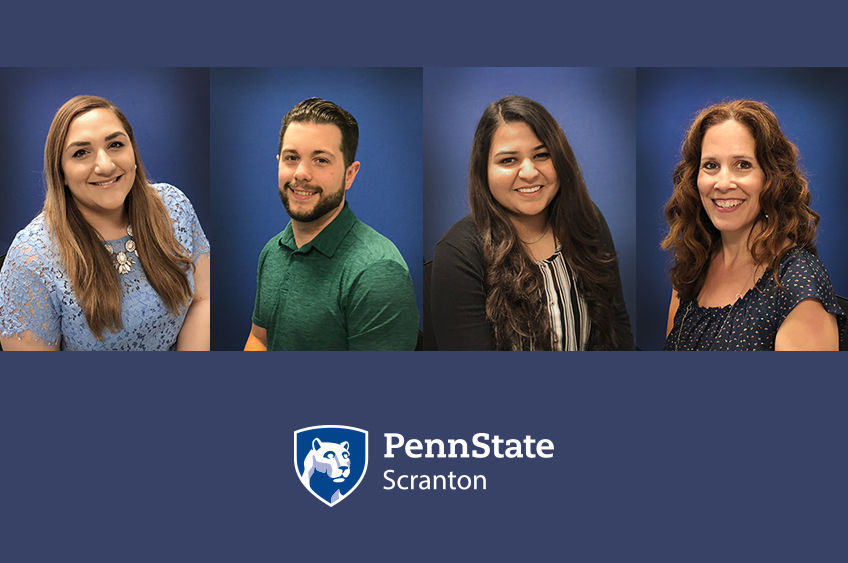 DUNMORE, Pa. — The Penn State Scranton campus community has gotten a little bigger with the recent addition of several new full-time staff members.
The list of new hires includes: Alyssa Forlenza, administrative support assistant in the Enrollment Management office; Jeremy Palko, information technology support specialist; Dharti Ray, coordinator of diversity and inclusion; and Shannon Williams, web designer.
Alyssa Forlenza, administrative assistant
A campus alumna, Forlenza graduated from Penn State's Smeal College of Business in 2012 with a bachelor's degree in business management. She spent the past three years working as the associate bursar at Lackawanna College. Before that, she was a corporate accounting assistant at Honesdale National Bank.
In her current role, Forlenza will serve the admissions staff in a number of ways, from routing campus calls and managing department workflow, to planning and coordinating admissions and financial aid projects and events, to assisting with various recruitment and retention needs.
The decision to return to her alma mater was an easy one for Forlenza, who intends to eventually complete her master's degree with hopes of advancing her career at the campus.
"Penn State is a community of students and staff that are committed to keeping this school alive and vibrant, and I've always been proud to be a part of that, first as a student and now as an employee," she said. "The position itself appealed to me because I wanted to work with students who are on the exciting journey of starting their college careers and help them in any way possible to achieve their goals."
Since coming on staff, Forlenza has found the campus atmosphere to be "even better than I remember."
"It is such a welcoming environment centered around our students. I have yet to encounter an individual on campus who would not immediately stop whatever they are doing to help a student in need," she said. "There have also been so many changes to the appearance of the campus. There's a clear transformation that not only helps motivate the staff and students, but it also enables the school to deliver the highest-quality learning experience, and that doesn't go unnoticed."
Forlenza resides in Dunmore with her fiancé, Jeffrey Cook. In her free time, she enjoys cooking, spending time with family, painting, drawing and, she said, "anything else craft-wise I can get my hands on!"
Jeremy Palko, information technology support specialist
Palko earned a bachelor's degree in communications from the University of Pittsburgh-Bradford. He comes to the campus after spending the last seven years at Keystone College, where he worked as an educational technology specialist/media services specialist since 2014. Previously, he worked for local television stations WBRE and WVIA.
In his role as IT support specialist, Palko helps the campus community better utilize available technology and manages the department's student workers.
"The biggest thing that interested me about coming to work for Penn State is having the opportunity to work for one of the most prestigious institutions in the country with the opportunity to build a career here," Palko said. "What appealed to me about my position was that I would be working in an area that I was already kind of familiar with, but I would have the opportunity to work in new areas that would help to broaden my skill set."
A month into his job, Palko has found the campus to be a particularly warm and welcoming place.
"In my department, everyone is willing to share their knowledge of things so I can learn the lay of the land, and they want me to succeed," he said. "Also, I was surprised at how approachable everyone has been so far. For example, when I had my interview, Dr. Wafa was so friendly and welcoming. He made me feel like I could come to him and chat about anything."
A Carbondale resident, Palko is an avid hunter and angler, as well as a big sports fan.
Dharti Ray, coordinator of diversity and inclusion
Ray graduated from the Smeal College of Business at University Park in May with a bachelor's degree in marketing. Like Forlenza, she started her academic career at Penn State Scranton.
An active presence during her years on campus, Ray co-founded the Indian Student Association, served as a Lion Ambassador, Student Activities Fee (now the Student Initiated Fee) committee member, and a New Student Orientation leader, and she worked as a front desk assistant in the Learning Center.
"I have experienced the diversity and inclusive environment on the campus as a student, which truly made me feel at home," she said.
Those experiences will no doubt inform her work as coordinator of diversity and inclusion, in which she'll develop and coordinate programs that foster a more diverse and inclusive campus environment. She'll also work closely with the international students and will coordinate the campus' well-received Diversity Circles.
Eventually, she hopes to develop a diversity curriculum for students, staff and faculty, and would like to engage more community members to take part in the Diversity Circles.
"The coordinator of diversity and inclusion allows me to further the University's 'All In' mission," Ray said. "This position was appealing to me because I can make a difference in our students' co-curricular experience and the overall campus community through programs and educational events. The position allows me to create awareness of critical topics. And, I can work with students and encourage them to be leaders."
Ray said she feels lucky to be able to start her professional career at Penn State Scranton.
"I love the atmosphere and culture of Penn State Scranton," she said. "The team in Student Services and Engagement is very welcoming. The overall campus community is highly encouraging and always shows support for my position."
A Scranton resident, Ray is an active volunteer at the BAPS Swaminarayan Mandir (Temple) in Scranton. There, she teaches and mentors youth members, among other duties.
Shannon Williams, web designer
Williams arrived at the campus after a decade as the web marketing and content manager at Keystone College, where she earned a bachelor's degree in communication arts and humanities. Previous to that, she worked as a graphic artist for Dex One (formerly R.H. Donnelley).
Williams' job as web designer is a varied affair. One day, she might be writing or updating content for the website. Another day, she might be doing social media outreach, or designing a publication. She also takes photos and stays on top of the latest search engine optimization and keyword trends.
A big believer in teamwork, Williams has been very pleased with the campus' collaborative spirit.
"Everyone really seems to like their jobs and are happy to come to work," she said.
She's also been impressed with the one-on-one attention students get from faculty and staff.
"I see it every day, in every department," Williams said. "Even Dr. Wafa is so friendly and approachable with the students. He wants everyone visiting our campus to feel welcome, and he sets a great example. I like the way he inspires the faculty and staff. He doesn't want employees to just put in their time, but wants them to really enjoy coming to work."
A resident of Factoryville, Williams' hobbies include photography and kayaking. A volunteer for the United Way of Wyoming County, she built and maintains the organization's website. She also is an active member of Parker Hill Church, where she assists with cleaning duties and is part of the technical team that livestreams Sunday morning sermons.