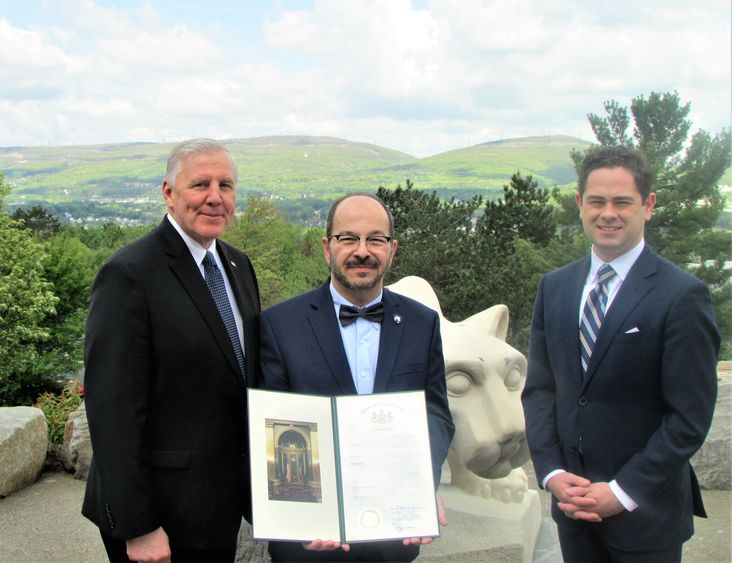 DUNMORE, Pa. — State Sen. John Blake used his recent visit to Penn State Scranton as an opportunity to honor the campus' 50th anniversary.
The campus played host to the final event for Blake's annual Student Ambassador Program, a legislative competition featuring 14 high school seniors from across Blake's 22nd Senatorial District.
Started six years ago, the program gives students the chance to attend numerous meetings, tours and networking events designed to give them a better understanding of government and how state legislators craft policy.
During the event, Blake took a moment to present Penn State Scranton Chancellor Marwan Wafa, with an official Pennsylvania Senate citation commemorating the 50th anniversary of the campus, which opened in the fall of 1968.
"I am honored that Sen. Blake used this occasion to recognize the history of our campus and the significant contributions it has made to the Scranton area," Wafa said. "And, it is very flattering that he and his staff chose Penn State Scranton to participate in the Student Ambassador Program."
At the event, the two-person Student Ambassador teams gave presentations on legislative and policy issues to a panel of judges comprised of Blake; Wafa; state Rep. Kyle Mullins; and Michael Allison, associate professor and chair of the political science department at the University of Scranton.
For their presentations, the students had to envision themselves as a state senator tasked with proposing a new law or policy in any of the following areas: transportation, education, emergency preparedness, environmental protection or human services.
The judges scored the presentations based on the substance of the students' proposal and the strength of their rhetorical argument.
"The Student Ambassador Program is a really wonderful opportunity for our high school seniors, and each year I am genuinely impressed by the quality of our students and the education they are receiving at our school districts," Blake said. "The program also allows me to learn about how the issues we are debating in Harrisburg are affecting our schools, our students and their families."
The winning team was Forest City senior Chloe Calabro and Carbondale Area senior Kristina Gorel, whose presentation centered on standardized testing. Coming in second were Dunmore senior Kaitlin Ahern and Pocono Mountain West senior Jamise Sealey.
Blake will award the members of both teams with scholarship assistance for their postsecondary academic pursuits.