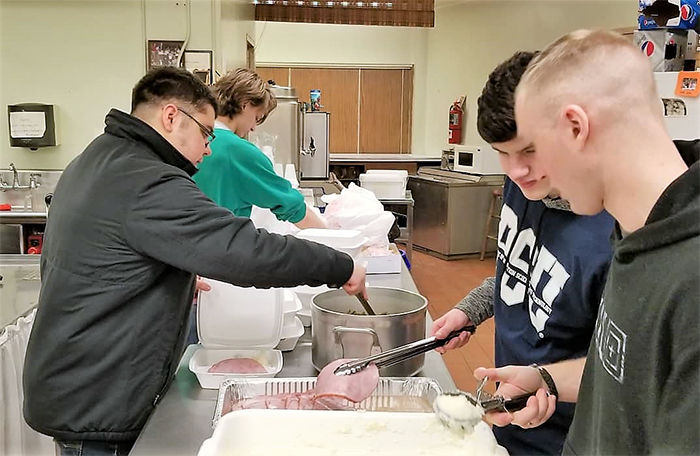 Clubs play an integral role in campus life at Penn State Scranton. But they also make their presence felt out in the community at large, as students in the campus IST (Information Sciences and Technology) Club recently demonstrated.
A few Saturdays ago, IST Club members Tom Miller, Luke Andrukitis, Sklyer Santiago and Bailey Rumsford spent a few hours volunteering at the One Hot Meal program at the St. Stanislaus Cathedral Youth Center in South Scranton.
Started more than a decade ago, One Hot Meal takes place the first Saturday of every month and is open to any person in need of a meal, fellowship or both. The program has grown over time to include a food pantry that's affiliated with the Weinberg Northeast Regional Food Bank.
"The volunteers are very passionate about our mission and our goals, and it truly means a lot to us when new people want to be a part of our program," said Carol Nasser, the program's coordinator.
Fred Aebli, IST lecturer and program co-coordinator, has been a One Hot Meal volunteer for many years and thought it would be a great service opportunity for the club.
He first broached the idea with club members back in the fall, but busy schedules made it difficult to coordinate. Finally, Miller, Andrukitis, Santiago and Rumsford were able to come out to the program's April meal.
Aebli and the students arrived early at St. Stanislaus to set up tables and place settings. From there, they moved into the kitchen to assist with a number of chores, from moving equipment to opening cans to packing 50-plus takeout containers with the day's meal – ham, green beans, potatoes, sweet potatoes and a cookie.
"We were then allowed to have them help out on the food line, where they got to meet and interact with the visitors," Aebli said.
For Miller, it was a deeply fulfilling experience.
"It was very rewarding to help out people who need it," he said. "And the fact that we were there and showed that we cared I think meant a lot, not only to those receiving the food but also those who were volunteering as well. I would love to continue helping out with it because it was a very positive experience and a good time."
Nasser said she received a lot of positive feedback about the students from the other volunteers.
"The students seemed to fit right in. They were so friendly and polite," she said. "Their motivation and enthusiasm were very evident, and it was remarkable to see them take the initiative to help out in any way necessary. They are welcome anytime!"
Aebli said he's committed to having the club members return to One Hot Meal in the fall. In his view, it's extremely important to expose them to these types of experiences, because they'll in turn become more caring and compassionate adults.
"Too often, we don't realize how 'close this is' to us. We drive through neighborhoods and downtown areas not realizing we are among those who have been tossed a curve ball in life," Aebli said.
"The one thing they learned was that these are not 'bums,' but people much like them. Some were injured and lost a job, some simply alone, and others who lost their way along with their family. Everyone needs help, and just maybe we lend that helping hand to that person and they then turn around and do the same. Then it keeps paying forward."