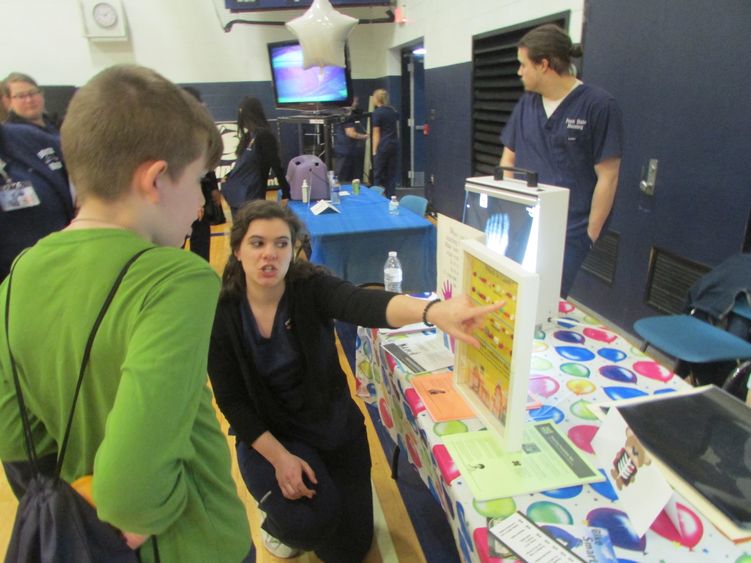 It's never too early to get kids thinking about making good, healthy choices in life. That's the philosophy behind Penn State Scranton's free Nittany Lion Children's Health Fair, a yearly showcase for the campus nursing program and some of the region's marquee health and public safety organizations.
The seventh annual fair took place April 27 in the campus Multi-Purpose Building, drawing close to 100 area children along with their parents.
Funded in part by the Robert Y. Moffat Family Charitable Trust, the event featured a variety of interactive informational booths manned by campus nursing students and representatives from numerous nonprofits and businesses. Topics covered everything from First Aid and dental hygiene to foot care and skin safety.
Participants this year included: Geisinger, Lackawanna County Community Traffic Safety Program, St. Joseph's Center, LaPorta and Associates, Children's Advocacy Center, Fortis Institute, Pleasure of Your Company Therapy Dogs, Commonwealth Health System, the Dunmore Police and Fire departments, the Wright Center for Community Health and Fidelity Bank.
All children participants received a complimentary backpack and First Aid kit by earning stamps at each booth. The festivities also included special prizes, face painting and healthy snacks.
"I love it. It's just become a great community event," said Michael Evans, associate teaching professor of nursing and assistant chief academic officer. "And for the students, it's a terrific way to teach them about community service and giving back."
Junior nursing student Becky Theobald has manned several different booths during the past few years. This year, she was stationed at the popular hand-washing table, where kids learned about germs by putting a special goo on their hands, shaking hands with the nearest person, and then placing their hands under an imaging machine that showed the spread of goo from one hand to the other.
"They see their hand glowing and they go, 'That's disgusting.' But it gives them an idea of the germs they could be getting," Theobald said. "Having been at other tables, it's always interesting to see how the kids react to different things."
Meanwhile, at the nearby X-ray station, junior nursing student Kelly Arnold went over a chart showing the scary similarities between candy and medications, and how mistaking them could lead to a trip to the emergency room. The table's jarring visuals also included actual X-ray images of a nail going through a hand and a nickel lodged in a chest.
"This is my fourth year doing the fair, and I really like it," Arnold said. "I feel like the kids are really learning something."
Not every booth was health- or safety-related. One table was full of popular children's books for the taking. South Abington Township resident Erica Dvulit, 10, and her mom, Elina Boychuk, a local nurse, spent several minutes looking through the titles before Erica settled on Jon Walter's "Close to the Wind."
Erica, who has intentions of one day becoming a cardiac surgeon, was particularly impressed with the "Choking Charlie" dummy that allowed kids to practice the Heimlich maneuver.
"It's nice to be able to bring her to an event like this where she can see and learn about different things. I can tell her some things about my work, but I can't tell her everything," Boychuk said.
Of course, few people can resist the charms of a couple of adorable canines, so the Pleasure of Your Company Therapy Dogs table was a must-stop for most attendees. There, owner Helene Skopek-Krygier showed kids how to safely pet and give treats to her two Shetland sheepdogs, Angie and Shelby, certified therapy dogs who, among other things, assist children who are learning to read and enliven the spirits of nursing home residents.
"We've been coming here since the first year. This is a really well done event," said Skopek-Krygier.
After petting Angie and Shelby, Dunmore resident Krithika Accamottan, 10, and her dad, Krishnan, moved on to the height, weight and blood pressure table administered by nursing students Samantha Onda, Ava Marchese and Megan Autonberry.
"I think it's great, because we're learning how to keep our bodies healthy," Krithika said.
Outside the Multi-Purpose Building, kids were able to check out the insides of a Dunmore fire truck and a Commonwealth Health ambulance. Inside the ambulance, Commonwealth EMS worker Michael Macedonia was showing Kyle Ripka, 11, of Northumberland, the various medications he administers to patients.
"What's nice is this introduces kids to the different professions within health care and what they have to offer," said Macedonia. "When I was a kid, they didn't have things like this for me to go to."
As he surveyed the crowd, Milton Evans III, Ph.D., RN, associate teaching professor of nursing and nursing program coordinator, noted the event takes an extensive amount of planning and logistics to carry out. But in the end, it all comes together, to the benefit of everyone involved.
"We're like wedding planners," he joked. "It keeps growing every year. Now, vendors are calling us and asking, 'Are you doing the fair again?' It's a yearlong process, but it's worth it."