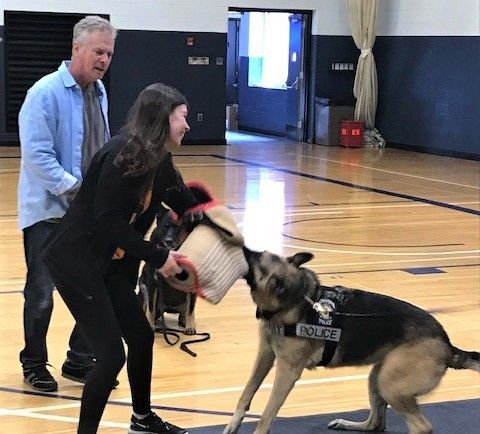 The Penn State Scranton community recently got a firsthand look at the many talents of service dogs.
On April 11, National Pet Day, the campus' new Lending a Helping Paw Club hosted a police dog demonstration in the campus' Multi-Purpose Building.
There, renowned local dog trainer Alan Finn and his German shepherd, Maddie, and Dunmore Police Officer Jack Kane and his K-9 Unit partner, Riley, wowed the assembled audience as the dogs were put through a series of impressive agility and command exercises.
At one point during the session, club member Jennifer Smith donned a large, padded mitt on her arm as Finn had Maddie bite her on command. From there, Maddie immediately reverted back to her calm, happy demeanor and headed into the bleachers so audience members could pet her.
Finn, who has trained numerous area police dogs in addition to his work with house pets, stressed that the key to training dogs is not via fear and intimidation, but through compassion and respect for their intelligence.
"I don't do dominant-submissive – you don't have to yell at or hit your dog. My dogs aren't afraid of me," Finn said. "As you can see, these dogs are energetic – they like to work. Maddie loves bite work."
During the event's question-and-answer session, an audience member asked Kane if he would rather have his gun or Riley during a tense situation.
"My dog," he said, without hesitation.
The Lending a Helping Paw Club was started this semester precisely for the purposes of spotlighting the talents of working dogs like Maddie and Riley, as well as therapy and emotional-support dogs, said campus counselor Katherine J. Stefanelli, the group's adviser.
"Our mission is to raise awareness and education about service animals, the human-canine relationship and animal welfare in general," Stefanelli said. "There's been a real shift in awareness with service and therapy dogs. We want to help educate people and give them correct information about service dogs and what they do."
Currently, the club has about 15 to 20 members, with senior psychology student Korri Hill serving as its president. Hill had become known for her presence on campus with Lira, a yellow Labrador that she raised from nine weeks to 24 months. Lira recently left her full-time care to be trained as a service dog.
"As soon as I started bringing Lira on campus, everyone knew me as the girl with the dog," Hill said with a laugh. "I really am about advocating for the rights of people who would like to use service dogs as a means to help them with their disabilities. Service dogs really are awesome. It's amazing what they can do."
At the event, the club sold orange T-shirts, with proceeds benefiting two local groups – Griffin Pond Animal Shelter in South Abington Township, and the Pottsville-based DAWGS Prison Program, which saves shelter dogs and places them with inmates at local prisons for training.
Meanwhile, the club has other events on the horizon, including a dog-walking and kennel-cleaning session at Griffin Pond and a "doga" – i.e. dog yoga – event during Stress Busters week on campus, slated for later this month.