Penn State Scranton wins competition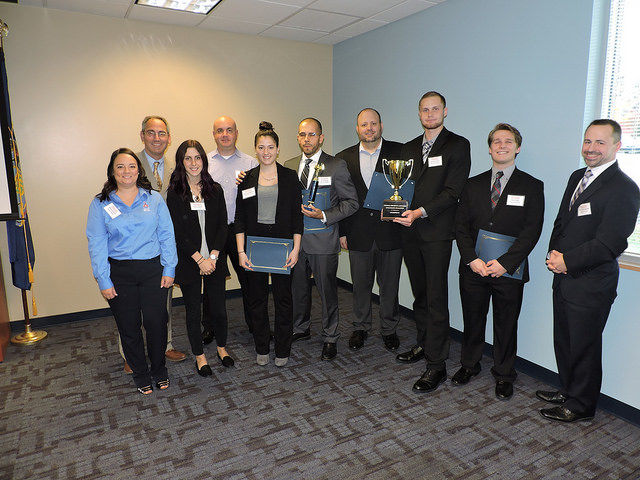 The Management of Sherwin-Williams, The Americus Group, Eastern Division, took the concept of "The Apprentice" television series and applied it to a collegiate competition in retailing. The competition involved regional college students. The challenge was for the teams to create a plan that focused on increasing sales in the residential repaint segment. The teams were judged based on the written plan, a store visit, and the presentation of the plan. Students prepared the project during the fall and/or spring semesters and presented their plans at the competition held Nov. 6 at Penn State Lehigh Valley. The competition was co-sponsored by The Council for Retail and Sales (CRS), a nonprofit organization whose mission is to bring together retail academicians, students and practitioners.
"Student involvement in these competitions prepare them for the exciting world of retail," said James R. (Doc) Ogden, chair of the CRS, noting the talent and determination of the participants.
The judges of the competition were from Sherwin-Williams: Mike Williams, Northeast PA district manager; Chris Crocker, Northeast PA district sales manager; Jeremy Schmoyer, Eastern Division collection manager; Monica Schwab, Eastern Division marketing specialist; and Jessica Furtado, area human resources generalist.
"Involvement in student competitions allow us to see a different perspective to opportunities that we think about on a daily basis," Williams said.
Five teams competed in the competition. The first-place winners were from Penn State Scranton. The team took home a traveling trophy to be housed at their campus until next year's challenge. These winners also received a $250 scholarship from Sherwin-Williams.
"This was a good experience that taught me a lot about how to present and research and figure out solutions to a problem I may not fully understand at first," said Angelica Kalsi, first-year student at Penn State Lehigh Valley. "I think it was a good experience in leadership and in working with a group."
While the judges deliberated, Elly Martin, North Area recruiter for Sherwin-Williams, spoke to students about career opportunities at the company and how to develop their resumes and prepare for an interview.
The winning teams were as follows:
1st place – Penn State Scranton
Adviser: Frank Sorokach
Jeremy Brown
Brandon Collins
Paul Forbes
Lauren Sciabbarrasi
2nd place – Sweet Briar College (Virginia)
Adviser: Timothy Schauer
Olivia Byrd
Caroline Thomas
Margaret Lamphier Meier
Lizzie Foos
This yearly event was sponsored by the Council for Retail and Sales (CRS), which is located at Penn State Lehigh Valley in Center Valley, Pennsylvania. The CRS is part of PSU-LV and works in conjunction with the PSU-LV's Lehigh Valley LaunchBox. CRS works with the retail and sales communities to stimulate interest in retail and sales careers. The council is a leading authority on issues and solutions that face the retailing and sales industries. In addition to professional education, CRS connects students to entry-level retail and sales opportunities. For more information see www.crspsu.org.
Contact
Dennille Schuler
Public Relations Specialist
Penn State Lehigh Valley