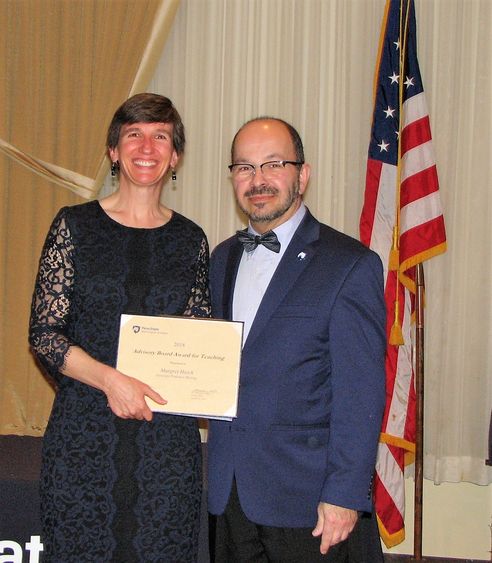 SCRANTON, Pa. — Penn State Scranton honored several faculty and staff members at its annual Spring Honors Awards Dinner this year for their contributions to the campus.
Those awards and the recipients were:
David and Joyce Mack Tressler Fund for Professional Development — Christy Healey, assistant financial officer
Penn State alumni Dave and Joyce Mack Tressler have established this fund to enrich the campus by providing monies for professional development initiatives and opportunities for faculty, staff, administration and technical service employees.
K. Bruce Sherbine Penn State Proud Award — Julie Bialkowski, enrollment specialist
This award recognizes a member of the campus community whose demonstrated qualities of leadership, scholarship and citizenship have been directed into programs and services on campus and/or in the community that have positively influenced students and employees, and have contributed to the prestige and well-being of Penn State Worthington Scranton and, hence, to Penn State.
Award for Excellence in Administrative Services — Marianne Gable, executive assistant to the chancellor
This award is intended to recognize campus administration and/or managers for innovative and creative program development.
Award for Excellence in Support Services — Nadine Ruane, technical services
This award is intended to recognize staff assistants and/or technical services employees for their contributions to the teaching-learning climate of the campus.
Gertrude Hawk Chocolates Service Award — Eileen Giovagnoli, Learning Resource Center coordinator
Honors a campus faculty or staff member whose contributions have benefited the day-to-day activities of the students, campus and community.
Dr. Richard J. & Sally Matthews Award for Scholarly Activity — Raymond Petren, assistant professor of Human Development and Family Studies
Awarded to a deserving member of the campus faculty in recognition of his/her scholarly and research activities. It was created in 1988 through the generosity of advisory board member Richard J. Matthews and his wife, Sally.
Advisory Board Award for Teaching — Meg Hatch, associate professor of biology and program co-coordinator of the science program.
This award began in 1988 by the Board to recognize a faculty member who has demonstrated innovative and dedicated teaching techniques in his/her academic endeavors.
Award for Excellence in Teaching and Service for Part-Time Faculty — Elaine O'Donnell, part-time lecturer, science
Awarded to a part-time faculty member who has positively influenced students by demonstrating innovative and dedicated teaching techniques in his/her academic endeavors ad contributing to the well-being of students through service to the campus.
Award for Excellence in Academic Advising — Karin Machluf, assistant professor of psychology
This award was established to recognize a Penn State Worthington Scranton faculty or staff adviser who demonstrates excellence in their advising knowledge and skills and a commitment to the community as a whole.
Photos of this year's student and faculty award recipients are available on our campus Flickr page.