Scranton faculty member one of only six to receive this prestigious University award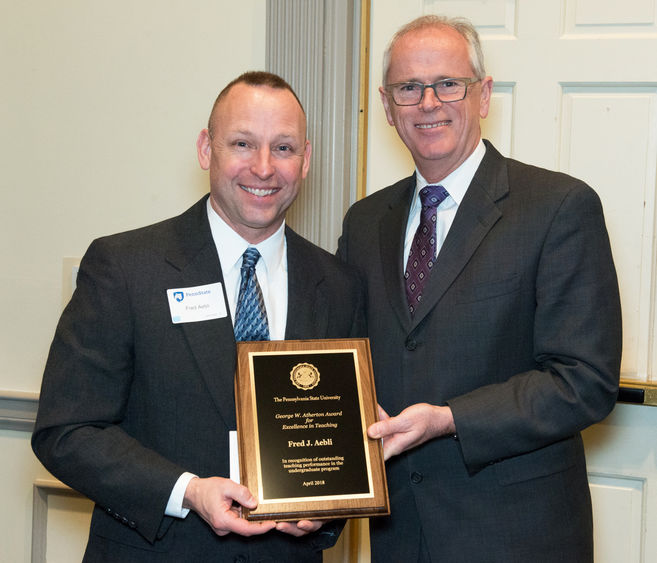 Fred Aebli, information sciences and technology program co-coordinator and lecturer at Penn State Worthington Scranton, was one of this year's recipients of the 2018 George W. Atherton Award for Excellence in Teaching.
The award, named after Penn State's seventh president, honors excellence in teaching at the undergraduate level.
Aebli said he is always striving to improve his ability to engage students and elevate their learning within the classroom. Doing this, he said, requires patience, persistence and passion. He believes every student wants to become the best version of themselves and he aims to guide them through that process.
"When students are witness to your passion, they want to learn," Aebli said. "Engagement is an awakening of interest. I have spent considerable time in looking at making the classroom an interactive experience."
Aebli uses gamification techniques to "stoke the fire" of the learning process and further engage his students. He uses a cellphone app, learning management system features and other technologies to reach his students.
"As students are immersed in challenging learning assessments, we should be prepared to see students have doubts in their abilities, field of study and themselves. I enjoy being a mentor and coach. I make myself available to students as they uncover questions, doubts and concerns. Through office hours and video chats, I'm able to 'talk and walk' with my students. It's during these times outside of the classroom that I truly learn about our students, so I can better serve and teach them."
A student said Aebli is a dedicated teacher who is always available for his students.
"His resilient dedication to a purposeful, enjoyable and enlightening experience for his students in and out of the classroom was inspiring," the student said. "His enthusiasm as a mentor radiated throughout the University, especially in the technology and cybersecurity sphere within Penn State."
A colleague said Aebli possesses the knowledge, skill and passion to provide an exceptional experience for his students.
"His commitment to student learning is evident in the value he places on creating a relaxed and engaged classroom environment and on fostering both a professional and personal relationship with his students," the colleague said.
Aebli was also the 2017 recipient of the University's College of IST Excellence in Teaching Award; the 2015-16 College of Information Sciences and Technology's (IST) Statewide Faculty Member of the Year; and served as a presenter at the 2015 Annual Online Learning Consortium International Conference in Orlando, Florida, where he gave a presentation on using Gamification Techniques in a Crime and Terrorism Course
A University and Scranton campus alumnus, he is also a U.S. Marine Corps veteran, who attained the rank of major. He received his master's degree from Webster University in St. Louis, Missouri, and prior to joining Penn State Scranton, he worked for Bell Atlantic (now Verizon), and Scientech Inc.
Aebli resides with his wife and their children in Moscow.
In total, there were six University recipients of the Atherton Award this year. The others were: Elaine S. Barry, associate professor of human development and family studies at Penn State Fayette; Mary Connerty, senior lecturer in English at Penn State Erie, The Behrend College; Dennis Decoteau, professor of horticulture and plant system health in the College of Agricultural Sciences; Fred Fonseca, associate professor of information sciences and technology in the College of Information Sciences and Technology; and Michael Janik, professor of chemical engineering in the College of Engineering.