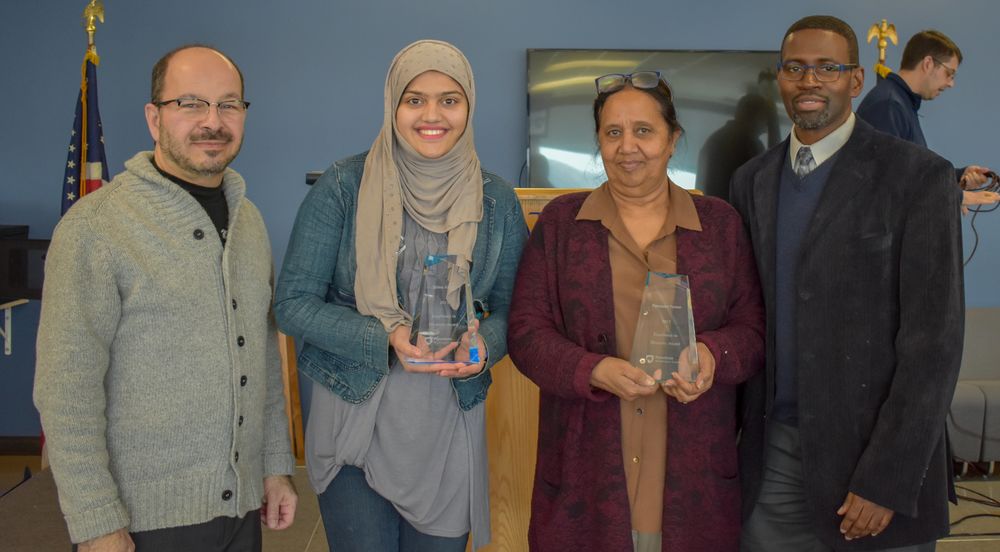 DUNMORE, Pa. — Penn State Worthington Scranton (PSWS) hosted its third annual MLK Day Luncheon and Excellence in Diversity Awards Ceremony in The View Café on Monday, Jan. 15, with the theme "A Higher Destiny".
In honor of King the campus awarded Diversity Awards to two recipients and welcomed guest speaker LaTida Smith, CEO of the Moses Taylor Foundation in Scranton.
After the ceremony, students and faculty observed the national day of community service by volunteering at several events throughout the area, including the Keystone Rescue Mission in Scranton, the Gino Merli Veterans Center, and a birdhouse-building event on campus benefiting the Lacawac environmental sanctuary.
LaTida Smith, president and CEO of the Moses Taylor Foundation in Scranton, previously spent 12 years with the St. Luke's Foundation in Cleveland, Ohio before moving to Northeastern Pennsylvania with her family.
While in Cleveland, Smith oversaw the grantmaking process within the community, and also managed the HIV/AIDS unit and served as a community educator for Planned Parenthood in the city of Cleveland.
Speaking to a packed room at the PSWS café, Smith implored everyone to not give up on the community service ideals that motivated Martin Luther King Jr. during the civil rights movement so many years ago. King, like us, also experienced uncertain and troubling political times, she told the crowd, yet he never once wavered in his commitment to uplifting society through the collective work of regular people.
"Dr. King reminded us that human progress is not automatic," Smith said, describing the importance of the local community in spurring effective and lasting legislative change that has the power to benefit people from all walks of life.
As King, quoting Theodore Parker, once said, "The arc of the moral universe is long, but it bends towards justice."
"The sum total of everyday people like you and I are what helps to bend the arc," Smith said.
This event is held annually to honor the work and memory of Martin Luther King Jr. and to recognize members of the local community who work to uphold his vision of a more inclusive and accepting society.
The Excellence in Diversity Awards, which are awarded as part of the MLK Day celebration, are given to an internal member of the Penn State community, and an external member of the greater Scranton community, who demonstrated exemplary community leadership, ambition and acceptance of different races, religions, opinions, and peoples in general.
This year's PSWS Excellence in Diversity Award was presented to Penn State faculty member Parminder Parmar, an associate professor of human development and family studies at Penn State Worthington Scranton, who is a reliable formal and informal resource for the diverse student body here on campus.
Parmar was one of the first to participate as a facilitator in the campus's Diversity Circles exercises, and has shown commendable ambition towards promoting acceptance and tolerance among all of those who call Penn State home.
She has been a driving behind teaching students about the Diwali festival, the autumnal Hindu celebration of the "festival of lights", as well as the Holi festival in the Spring, also a traditional Hindu celebration observed on the Indian subcontinent.
As a member of the Penn State family, Parmar has brought awareness and appreciation of Indian culture and communities to people of all backgrounds at Penn State Worthington Scranton.
Aneri Patel, a nursing student at PSWS, writes of Parmar: "She works tirelessly in support of the Indian community. She has spread awareness about the different festivals and/or traditions of the indian culture. An example is how she educates the non-Indian community, she does a presentation in class, explains its origin and why we celebrate it."
The community Excellence in Diversity Award was presented to Marywood University student Salma Ahmed, who works as an interfaith youth core officer, as well as an international ambassador and public relations officer for the Deen Community Center in Scranton.
Ahmed has been an active participant and organizer for interfaith and multicultural events in the community and is the leader of the Better Together program at Marywood, which aims to provide students the platform to learn about the perspectives and opinions of different cultures, as well as share their own.
She also works to welcome and prepare for refugees entering the Scranton community, and her charismatic personality and experience as a civic volunteer allow her to effectively help refugees and Scranton residents of different races, economic classes, and religions to accept and appreciate each other as vital pieces of a broader cultural mosaic.
Ahmed is also a board member of the Islamic Center of Scranton and volunteers for Marywood University's Thanksgiving Adopt-A-Family and Kids Stuff programs. In addition, she works with Hilltop Manor and the Weinberg Food Bank on a summer lunch program to provide meals for underprivileged children in the community.
Melinda Krokus of Marywood University writes of Ms. Ahmed, "One of the many remarkable attributes about her is how she can fold people seemingly effortlessly into these at times difficult conversations and yet set a tone of civility that is contagious. I have seen her do this in the classroom, in the broader community, and in her friendships as well."
The campus thanks everyone who participated in the MLK Day ceremonies and community services and hopes next year's services will be even more successful.