Professors Dolis, Hinchey and Mosley also named Professors Emeritus by the University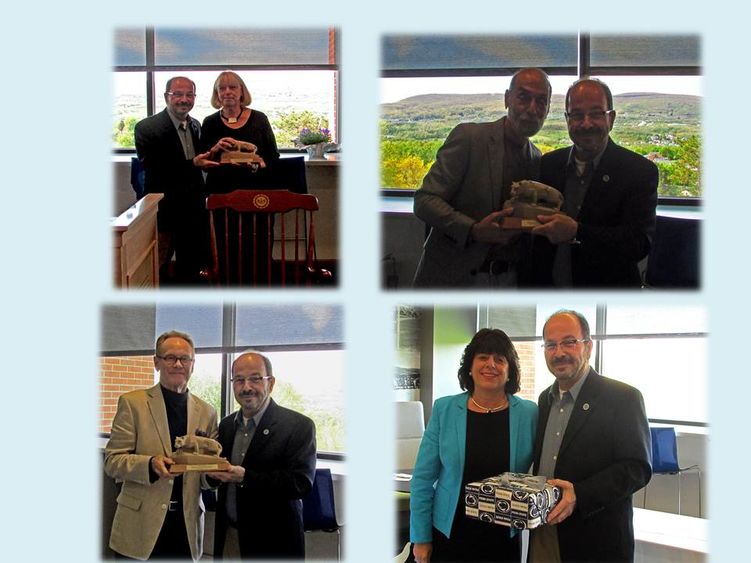 DUNMORE, Pa. — Penn State Worthington Scranton bid fond farewells earlier this month to four long-time employees — faculty members John Dolis, Patricia Hinchey and Philip Mosley, along with Director of Development Maria Russoniello.
"These four individuals represent over 120 years of commitment and dedication to this campus and our students," said PSWS Chancellor Marwan Wafa during his opening remarks to the crowd. "We are here to celebrate all that they have done over the course of their careers here."
The four were honored with a reception attended by faculty, staff and campus retirees.
Dolis, professor of English and American studies, arrived at Penn State Worthington Scranton in 1985. He was awarded the 2015-16 Fulbright Danish Distinguished Chair of American Studies at the University of Southern Denmark — the only university in Denmark with a graduate program in American studies.
He has also received previous Fulbright Professorships to the University of Turin, Italy, and the University of Bucharest, Romania; as well as a visiting professorship in American Literature at Bilkent University, Ankara, Turkey; and fellowships from the National Endowment for the Humanities to the University of Arizona and Yale University.
An internationally recognized scholar of 19th-century American literature, he serves on the editorial boards of the Arizona Quarterly, the Journal of American Culture and the Nathaniel Hawthorne Review.
Hinchey, professor of social sciences and education, joined the PSWS faculty in 1992 and is a National Education Policy Center Fellow.
Last month, she received a national award when a book she edited, "A Critical Action Research Reader" was named a 2017 Outstanding Book by the Society of Professors of Education.
Hinchey has authored several books on education, including "Finding Freedom in the Classroom: A Practical Introduction to Critical Theory"; "Becoming a Critical Educator: Defining a Classroom Identity, Designing a Critical Pedagogy"; "Student Rights: A Handbook"; "Action Research: A Primer"; and with Isabel Kimmel, "The Graduate Grind: A Critical Look at Graduate Education." She also co-edited a highly publicized book assessing quality of think-tank research, "Think Tank Research Quality: Lessons for Policy Makers, the Media and the Public."
In addition, she has addressed educators at a variety of national conferences throughout the country, including Texas, Ohio, Chicago and Puerto Rico.
Mosley, a distinguished professor of English and comparative literature, came to Penn State Worthington Scranton in 1988. He was named a 2003-04 Fulbright scholar, which provided him with the opportunity to teach in Belgium. He returned to Belgium in 2014 after receiving an Erasmus Mundus Scholarship by the European Union to participate in its international Doc Nomads course for graduate film students. While there, he taught an intensive seminar on Belgian cinema, supervised individual students' essays, and did his own film studies research at the Sint-Lukas campus of the Luca School of Arts.
He is the author of several literature translations, including: "The Intelligence of Flowers," by Maurice Maeterlinck; "October Long Sunday," by Guy Vaes; "Tea Masters, Teahouses," by Werner Lambersy; and "The Book of the Snow," by Francois Jacqmin, which was shortlisted for the 2011 Griffin Poetry Prize.
In 2008, he was awarded the Prix de la Traduction Litteraire by the French Community of Belgium and also is the author of other books, including: "Ingmar Bergman: The Cinema as Mistress"; "Split Screen: Belgian Cinema and Cultural Identity"; "Anthracite! An Anthology of Pennsylvania Coal Region Plays"; and "The Cinema Of The Dardenne Brothers: Responsible Realism."
All three professors were awarded emeritus status by the University, said H. Durell Johnson, PSWS chief academic officer. This status is given "in recognition of sustained meritorious academic service to The Pennsylvania State University" and is a testament to their exceptional academic careers.
The emeritus status also provides them with the opportunity to continue their campus and University engagement and service.
Russoniello joined the PSWS staff in 1979, working in student services. In 1987, she was promoted to director of development, and has been conducting successful fundraising programs since.
During her tenure, she has raised over $22 million for Penn State Worthington Scranton and increased the number of campus scholarships from just two, to over 100 endowed and annual funds that are awarded each year to campus students. There are also nearly 20 annual funds in support of academic programs and student services, nine awards for students and employees, and a lectureship.
Campus administrators credit her skill and perseverance in raising funds for capital projects to many new facilities and improvements at the campus, including the Business Building, Science Suites, The David and Ann Hawk Student Success Center, a nursing lab renovation with simulated patients, a new athletic fields complex and an IST Showcase.
While these four individuals will most definitely be missed, the campus community congratulates them on their achievements and impressive careers and wishes them a happy, healthy and productive retirement!