Pinwheel garden at entrance of PSWS campus honors Child Abuse Prevention Month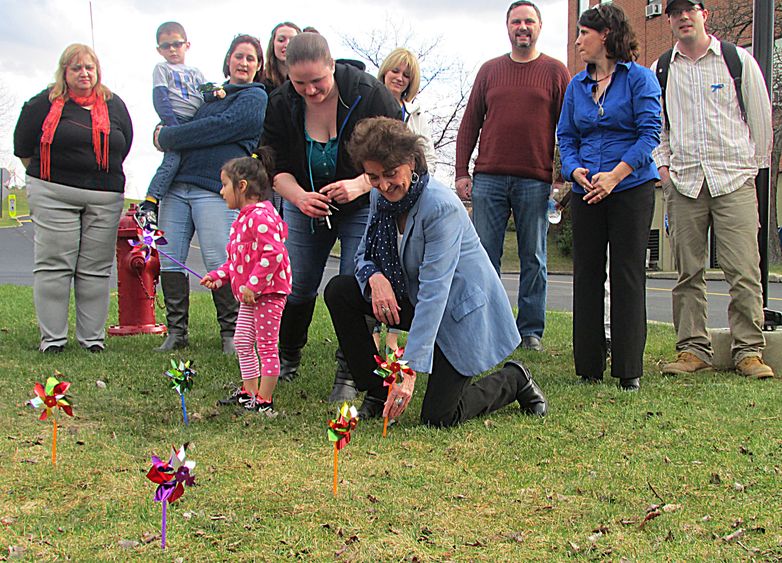 DUNMORE, Pa. — For the past month, dozens of pinwheels have adorned the area surrounding Penn State Worthington Scranton's Nittany Lion Shrine, greeting staff, faculty, students and visitors as they enter campus.
The pinwheels symbolize the campus' commemoration of April as Child Abuse Awareness Month, and are a symbol of hope for victims of child abuse. The pinwheel signifies a transformation of awareness into action.
The project was part of a community event sponsored by the campus and organized by Melissa Labuda, instructor in human development and family studies (HDFS) and an adviser to the campus' student Community Service Club. "Pinwheels of Hope: A Celebration of Children's Resiliency" was the first event of its kind at the campus and was held April 4.
The event was organized by HDFS students and faculty, students minoring in the campus' Child Maltreatment and Advocacy Studies (CMAS) program, and the Community Service Club, all of whom helped plant the pinwheel garden.
"It's not just about child abuse awareness and prevention, it's also to remind people that there is hope for the victims of abuse," Labuda said. "That's why we're calling it Pinwheels of Hope.
"Kids are resilient," she said. People need to remember that and realize that with intervention and help, these young victims can overcome this tragedy and move on from it, she added.
In addition to the planting of the symbolic pinwheels, organizers hosted an educational program featuring Mary Ann LaPorta, executive director of the local Children's Advocacy Center of Northeastern Pennsylvania, and Jennifer Aglialaro, the center's associate director, child forensic interviewer and trauma therapist.
The pair talked about their experiences over the years in dealing with children who were victims of abuse, and helping to prosecute cases against those who caused the abuse.
Attendees also learned about all of the positive work the Children's Advocacy Center has done in the Greater Scranton area. Since 1998, the Children's Advocacy Center of NEPA has helped more than 12,000 children and adolescents by effectively assessing and treating child abuse and neglect.