Penn State Worthington Scranton held its annual Ridge View Society Dinner on June 2, 2005 at the school's James D. Gallagher Conference Center. Six new members were inducted during the event. They are: Joseph M. Alu, CPA; Robert and Jan Hartman; Don, Janet and Keith Olsommer; Prudential Financial Services; United Gilsonite Laboratories and the Willary Foundation. The Ridge View Society is named for the unique and spectacular view of the Lackawanna Valley's western ridge, visible only from the Penn State Worthington Scranton Campus.
During the evening it was announced that three campus benefactors have been named to the Penn State Mount Nittany Society. Joan E. Ciotti, with David and Aleen Epstein were formally inducted into the Mount Nittany Society during ceremonies held at University Park.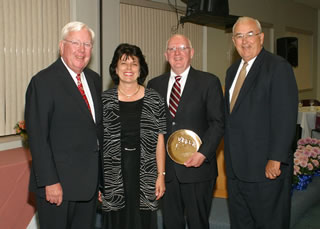 Director of Institutional Advancement at Penn State Worthington Scranton Maria Russoniello, second from left, congratulates members of the Penn State Worthington Scranton Advisory Board. From left are: Advisory Board Chairman Richard M. Walsh; Ms. Russoniello; Patrick J. Sheridan, CPA, vice chairman and David Tressler, member. Mr. Sheridan was recognized for his role as development committee chair.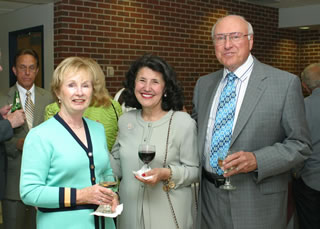 Marking a great Penn State Ridge View night are, from left: Cathie Quinnan, Jemille Zaydon and incoming Penn State Worthington Scranton Advisory Board Vice Chair Bob Quinnan.
Ridge View attendees on hand at the Penn State Worthington James D. Gallagher Conference Center, from left, are: Maureen Pesavento; Joyce Tressler; Mary Jane Sheridan and Jean Walsh.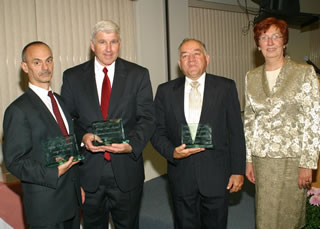 Penn State Worthington Scranton CEO Mary-Beth Krogh-Jespersen, PhD, at right, celebrates with Ridge View Society inductees, from left: Joseph M. Alu, CPA; Gavin Cerco, vice president of Prudential Financial and Thomas White, president of United Gilsonite Laboratories.