Two Penn State Worthington Scranton staff members were recently recognized by Chancellor Mary-Beth Krogh-Jespersen for their efforts in updating and maintaining their department web pages.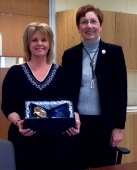 Mary Lance, a staff assistant for the campus acdemic affairs department and a member of the campus Web Team, was honored for her work on the May, 2007 Commencement web page.
Ms. Lance researched, designed and created a graphic for the commencement page that provided important event information to graduating students and their families.  The research and creative work that Ms. Lance did in developing the new Commencement page was held up as a model for all campus departments looking to improve their sections of the web.
In addition, she also worked on designing and creating a new "Contact Us" website and updating the International Studies website for Spring Break 2008.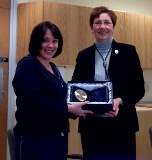 Marissa Curtin, Division of Undergraduate Studies and Learning Center Coordinator, received her Web Award for her efforts in creating and updating the Learning Center pages of the Worthington Scranton Student Services area of the Worthington Scranton website.
Specifically, Ms. Curtin added the "Blue and White Owl" graphic to several of the learning center's web pages, created and linked the Academic Coaching page and linked the "I Study for Success" site to her learning center's page.
Additionally, she was responsible for updating the 2007-08 FTCAP pages, located in the academic advising area of the website.
Ms. Lance and Ms. Curtin both received commemorative plaques from Dr. Krogh-Jespersen honoring their hard work and achievements.
The Web Awards were created by the Penn State Worthington Scranton Web Team to honor and recognize any staff or faculty member who demonstrates initiative and creativity in performing web-related functions for their particular area, and exceeds average standards.