Despite freezing temperatures, a record crowd came out to participate in Penn State Worthington Scranton's annual Turkey/Reindeer Trot on Friday, Dec. 5.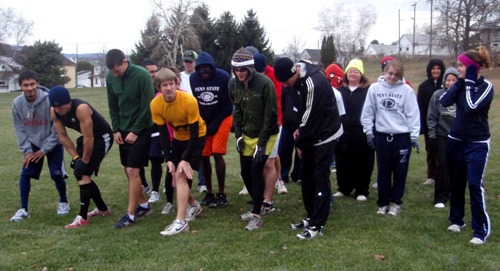 2008 Turkey Trot participants line up at the starting line.
The annual event, a tradition at Worthington Scranton since 2004 is a two-mile race held on the campus's cross country trail.  Participants can choose to run or walk, with the top runners from the staff, faculty and student body earning first-place medals, commemorating their run.
This year, the number of participants was double that of last year, said Jeff Mallas, assistant athletic director at the campus.
First place winners in each category were:
Female Student:  Samantha Snead                         
Male Student: Frankie Spear                         
Female Staff/Faculty:  MaryBeth Dougherty         
Male Staff/Faculty:  Carl Albright      
Other faculty/staff participants were Tina Merli, Marilee Mulvey and Michelle Nicoteri.  Student participants were:  Dustin Bowen, Johnnie Dang, Laura Lobritto, Mike Savastano, Elizabeth Jones, Chris Joseph, Alex Muentes, Dave Moss, Richard Robinson, Eric Rowitz, Michael Callahan, William Brew, Rebecca Kinsey, Nichole Blasi, Chris Meszler and Jeff McLaine.