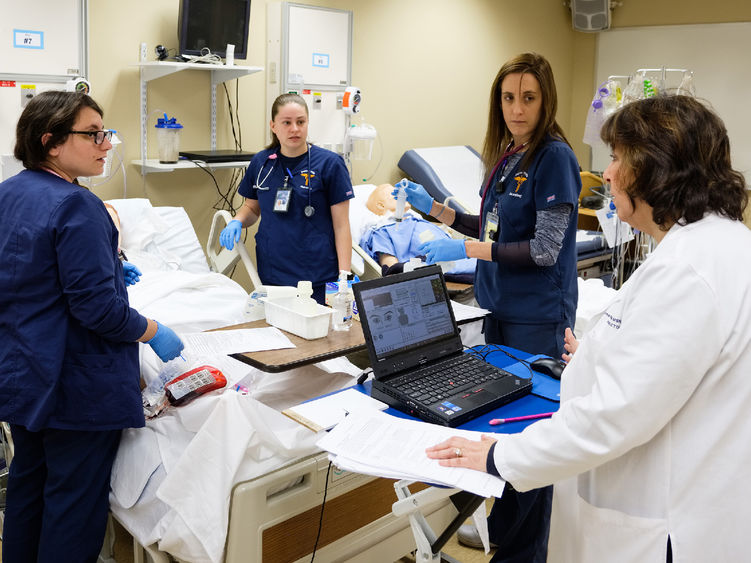 DUNMORE, Pa. — The Ross and Carol Nese College of Nursing at Penn State Scranton not only educates future nursing students, but it also provides a variety of educational opportunities and assistance to the region's working nurses and health care industry as well.
Recently, the campus hosted two different educational and hands-on workshop events, one for area school nurses and another for health care workers from Visiting Nurses Association (VNA) Home Health.
Both events were aimed at making sure nurses and health care workers in the local community feel confident in a variety of skills so that their patients are receiving quality care.
School nurses put their skills to the test
Thanks to a grant from the Moses Taylor Foundation, the campus helped more than three dozen area school nurses from the Pennsylvania Association of Staff Nurses and Allied Professionals (PASNAP) locally and across the state of Pennsylvania.
"We are very appreciative to the Moses Taylor Foundation for their continued support to Penn State Scranton and most recently our nursing program," said campus Director of Development Christine Ostrowski. "Collaboration with Penn State Scranton, the Moses Taylor Foundation, and local school districts to host this community outreach initiative is a vital opportunity to enhance local school nurses' knowledge in a school-based setting."
The event was held in a nursing lab in the campus' Gallagher Conference Center, where area school nurses joined with Penn State Scranton nursing faculty to undergo a series of five collaborative and informational stations to enhance their skills.
The nursing stations included:
Narcan administration.
Insulin administration with insulin pump demonstration.
Seizure emergency management.
Asthma emergency management.
Anaphylaxis emergency management.
Assistant Teaching Professor and Director for Undergraduate Nursing Education Justina Malinak said the opportunity to prepare an event of this scale with direct collaboration with the Moses Taylor Foundation and school nurses from PASNAP was her favorite part of hosting this event.
"Community involvement and providing opportunities for nurses in the area is integral in building a strong community," Malinak said. "It was a great night for school nurses across the state to gather, enjoy a delicious summer barbecue meal, and rotate through skill and information sessions. Nurses provided positive feedback with hopes of running a Part Two in the upcoming future."
Some potential future topics of these sessions may focus on mental health in the adolescent population, eating disorders and pharmacology, as well as other pertinent topics that may be requested.
Malinak sends special thanks and appreciation to the Moses Taylor Foundation, Ostrowski, Penn State Scranton's nursing faculty, Nursing Administrative Assistant Stephanie Campo, Metz Catering for the meal, as well as maintenance personnel for the set-up assistance.
Skills training with VNA Home Health
VNA Home Health is a campus community partner that provides home health clinical experiences for Penn State Scranton's fourth-year nursing students and Student Engagement Network Grant recipients. VNA Home Health also has allowed a Penn State Scranton faculty member to use its site for data collection for a doctoral project.
Members of Penn State Scranton's nursing department recently volunteered their time and hosted a free event to help VNA Home Health nurses brush up on a variety of skills.
Many of the skills stations consisted of enhancing the knowledge of VNA Home Health's staff in the areas of working with tracheostomies, Foley catheters and colostomies — all of which were chosen by the staff at VNA, as these skills are often seen in the home environment.
"It is important that home health nurses are competent at these skills to help build a positive rapport with patients, build patient confidence during a vulnerable period in the lives, and to promote positive patient outcomes," said Michael Evans, assistant dean for undergraduate nursing education at the Commonwealth Campuses for the Ross and Carol Nese College of Nursing.
Evans said he hopes participants left the event feeling comfortable implementing these skills in the home environment. And, by training the VNA Home Health staff, it will ultimately help ensure nursing students at the campus are observing and being taught the latest evidence-based techniques in these particular skills.
"It is critical for the Ross and Carol Nese College of Nursing at Penn State Scranton to build and foster relationships with our community partners. These partners offer our students valuable experiential learning experiences that we cannot duplicate here on campus," he said.
Evans has worked every other weekend for VNA for almost eight years, in addition to providing community lunch and learn events, in which research and educational information is shared, typically during the lunch hour, so as not to impose on work hours.
"It is wonderful to partner with nonprofit agencies such as VNA, whose mission is to provide a continuum of care with comfort and compassion for all residents of Lackawanna County and surrounding communities," said Evans. "This is a value that we try to instill in our students as they prepare to enter the nursing profession."