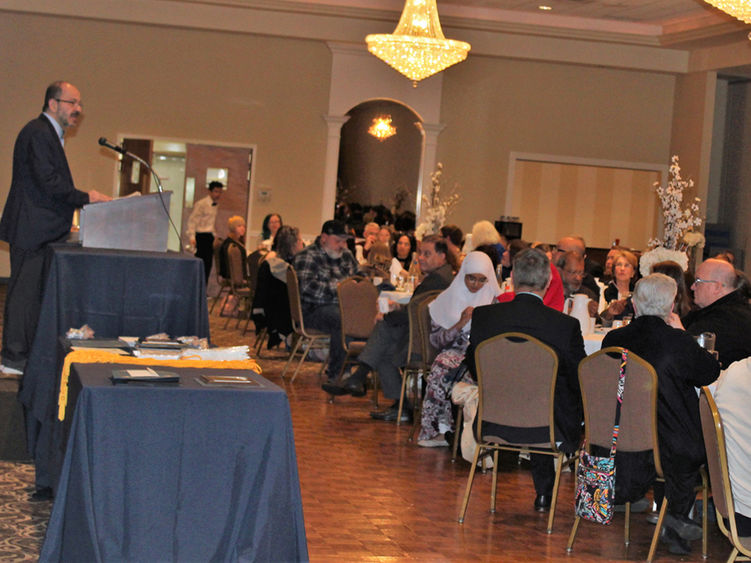 DUNMORE, Pa. — Penn State Scranton's Awards Ceremony and Convocation, held earlier this month, honors students, faculty and staff for their academic achievements and professional leadership that directly impacts the campus community. This annual ceremony, part of the campus' Honors Program, brings together students, their families, and faculty and staff members for an afternoon to celebrate the hard work and achievements over the past academic year. 
Chancellor Marwan Wafa and Todd Adams, assistant professor of philosophy, presented the awards to recipients, with assistance from Meg Hatch, co-coordinator of the campus Honors Program and an associate professor of biology.
View a photo gallery of the awards ceremony on Flickr.
Student awards
President Walker Award – This award is reserved for University students carrying a 4.0 grade-point average for the first semester of their freshman year: Kristina Concepcion, Christian Dructor, Abigail Gaebel, Carley Jankauskas, Fernando Larrea, George Legg, Lucas Macdonough, Mahathir Mahbub, Ayman Mansuri, Neel Modi, Halle O'Neil, Jessica Reed, Eric Simonson, Zamarra Vrabel, Isabella Waters, and Katie Zabrowski.
President Sparks Award – This award is reserved for students carrying a 4.0 grade-point average through the first semester of their sophomore year: Michael DeWolfe.
Evan Pugh Scholar Award – This award is presented to students whose academic achievement places them in the upper 0.5% of their class: Alexandria DeWolfe, Marie LaRosa, Marceia Tanzini, and Madison Tricarico.
Academic Excellence Awards – Awarded to students who have demonstrated outstanding academic achievement in the individual disciplines and were nominated by faculty members of the discipline:
Art: Rhiannon Depew
Biological Sciences: Daniel Grant and Alexandria DeWolfe
Business: Luke Gardiner
Communication Arts & Sciences: Hunter Gerbert
Corporate Communication: Molly Morgan
Creative Writing: Molly Morgan
Engineering: Nicholas Drago
English: Marie LaRosa and Madison Tricarico
History: Nathaniel Adams
Human Development and Family Studies: Marissa Ivanko
Information Sciences and Technology: Parkston Myers
Mathematics: George Legg
Music: Megan Schmidt
Nursing: Kayla Kozlowski
Philosophy: Halle O'Niel
Physical Sciences: Brandon Shotto
Project and Supply Chain Management: Dan York
Psychology: Felicia Sompel-Welk
Spanish: Alexandria Clarke
Research Scholar Award: Alexandria DeWolfe
Creative Accomplishment Award: Ammaarah Hassan
Outstanding Peer Tutor Award: Daniel Grant
Penn State Scranton Campus Honors Program – The Penn State Scranton Campus Honors Program was established to broaden and enrich the education of outstanding students at the Scranton campus. The campus honors students participate in a wide range of academic, social and cultural activities:
First year: Skylar Bower, Kristina Concepcion, George Legg, Kush Mistry, Halle O'Neil, Aayushi Patel, Deep Patel, Samantha Swanson, Ryan Tamayo, Samantha Warner, Madison Weinczyk, Nicole Zehner.
Second year: Angelena Allen, Tanner Begin, Catherine Bennett, Christopher Burnis, Rhiannon Depew, Matthew Howard, Olivia Osborne, Grace Rosecrans, David Stoshick, Adrea Williams, Nicole Zasada.
Third year: Aless Agojo, Alyssa Kelly, Ashley Stangline, Kelly Varcoe.
Fourth year: Debbie Acosta, Daniel Grant, Haley Leonard, Megan Lucey, Krina Patel, Madison Tricarico.
Mary-Beth Krogh-Jespersen Science Award – This award will honor and recognize outstanding achievement by an undergraduate student of junior academic standing who is enrolled at Penn State Scranton and is majoring in Science: Qussai Odeh.
Patrick J. and Mary Jane Sheridan Award for Excellence in Business – The purpose of this award is to recognize outstanding achievement by a student enrolled in the bachelor of science degree in business who obtains the highest grade-point average at the end of his/her junior year: Swapnil Bhatt.
Walter Weber Memorial Award in Theatre and Speech Communications – The purpose of this award is to honor and recognize an outstanding student with an overall grade-point average of 3.0 or higher who has excelled in theater or speech communications courses: Katie Zabrowski.
Richard F. Dempsey Award in Information, Sciences and Technology – Ed Lucy Jr., a 1976 graduate in computer science, has established this award in honor of Richard F. Dempsey, who was an assistant professor of computer science and department head at the campus until his retirement in 2006. Lucy, who has decades of experience at such companies as IBM, Compaq Computer and Microsoft, credits Dempsey's approach to teaching and students' involvement with helping him succeed in both his college and professional careers: Erica Davis.
Michael and Stephanie Evans Nursing Grant – Assistant Dean for Undergraduate Nursing Education at the Commonwealth Campuses for the Ross and Carol Nese College of Nursing and Penn State Scranton Instructor of Nursing Michael Evans and his wife, Stephanie, fund annual grants to assist nursing students with a GPA of 3.0 or higher who have a demonstrated financial need. These funds are directed to costs associated with the Assessment Technology Institute testing requirement for nursing students: Megan Lucey.
Morgan and Annie Marie Evans Award in Nursing – This award is presented to a nursing student who has completed between 70 and 100 credits, is enrolled for a minimum of 6 credits, has a GPA of 3.0 or higher, and has a proven financial need: Frank Turnbaugh.
Tabatabaie Family Math and Science Award – This award is given to full-time undergraduate students who are majoring in a math or science degree program at Penn State Scranton who are at least second semester freshmen and who have achieved a minimum grade-point average of 3.2 on a scale of 4.0: Zackery Gray.
Outstanding Peer Tutor Award – This award was established to recognize peer tutors committed to provide extraordinary service to student and the campus community support of student success: Daniel Grant.
Research Scholar Award – This award is given to a recognize a student who has demonstrated excellence in scholarly research: Alexandria DeWolfe.
Creative Accomplishment Scholar Award – This award is given to recognize a student who has demonstrated excellence in creative accomplishments: Ammaarah Hassan.
Faculty/staff awards
David and Joyce Mack Tressler Fund for Professional Development: Emily Glodzik
K. Bruce Sherbine Penn State Proud Award: Theresa Baker
Award for Excellence in Administrative Service: Matthew Nied
Award for Excellence in Support Services: Wayne Reesey
Gertrude Hawk Chocolates Service Award: Justina Malinak
Dr. Richard J. & Sally Matthews Award for Scholarly Activity: Nonna Sorokina
Excellence in Teaching and Service Award for Part-time Faculty: Yomi Ojo
Excellence in Academic Advising: Meghan Cruciani
Advisory Board Award for Teaching: Angela Bassani
Penn State Scranton Athletics Chris Lewis Intramural Sportsmanship Award: Todd Adams