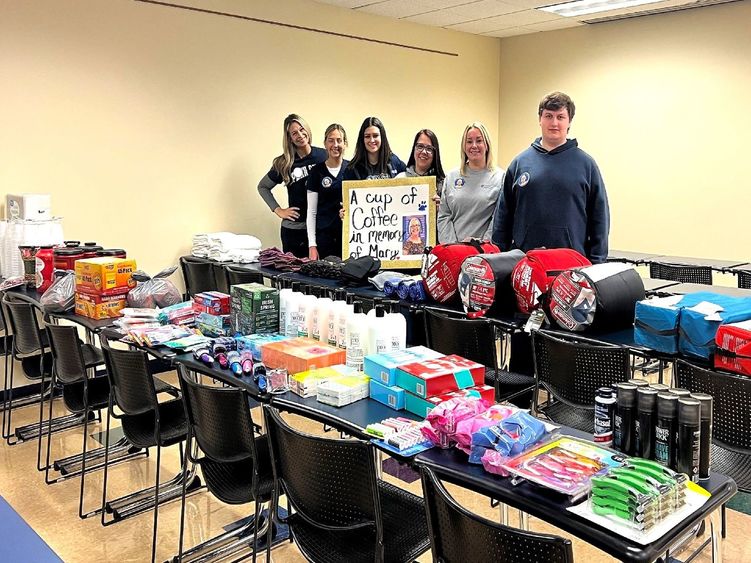 DUNMORE, Pa — Last month, the Penn State Scranton community suffered a devastating loss when Mary Runco, who had worked at the campus for over 30 years, died unexpectedly. A devoted mentor, colleague and friend, she was a very prominent presence in the campus' nursing department, where she had worked since 1990, providing instrumental support to nursing students, staff and faculty.
According to coworkers in the nursing program whom she worked with most closely, Runco maintained the daily departmental flow of operations and assisted everyone — from visitors to faculty and staff across campus — with unwavering compassion, support and friendship, personally impacting everyone she came into contact with. 
It was her personal touch and commitment to all of the nursing students and staff that inspired her colleagues and some current nursing students to do something in her honor that would help others — just as she always helped them. 
Students in the clinical classes of Instructor of Nursing Courtney Shingler and Assistant Teaching Professor/Program Coordinator Justina Malinak shared how upsetting it was not see Runco's smiling face every day, and wanted to do something impactful in her honor.
They came up with "A Cup of Coffee in Memory of Mary," volunteering at the Community Intervention Center in Scranton, an organization that functions as a day shelter for the homeless in the local community and offers everything from telephone and computer access, a hot shower, hot meals, crisis intervention, drug and alcohol treatment and assistance with housing.
They also donated personal hygiene items including toothpaste, toothbrushes, soaps, shampoo, conditioner and razors; hats and gloves; coffee, coffee filters, cups, stirrers and hot cocoa; towels and wash cloths; and tarps, tents and sleeping bags.
When asked about their memories of Runco, senior nursing students Isabella Calabrese, Summer Franklin and Ariana Petrillo all compared her to a mother — always caring and checking in on them. "Mary would always check up on us to make sure that everything was in line for us," Petrillo said. "There were many days you [could] hear her laughing down the halls which brightened everyone's day. So, we decided to give back to brighten the day of those who need it most."
Calabrese was also directly impacted by Runco. "Mary was a big part of my experience at Penn State nursing, and it was nice to be able to do something to honor her," Calabrese said. "Mary truly cared about all of us and was always there for us in any way she could. Mary was the first person you would see every morning and she always welcomed us with a smile on her face."
Bringing Joy
"Mary was always so lively and joyful, even bright and early in the morning when the rest of us were still trying to get it together," Franklin said. "She was always willing to give that helping hand with no hesitation. I think that was our driving factor in giving back to CIC in honor of Mary, as that is something Mary would have done."
Although Shingler had only known Runco for a few short months, she recalls that Runco was often the first face she would see when entering the nursing suite. "She always greeted me with a smile and would ask if I wanted a cup of coffee or treat of some kind," Shingler said.
"We decided that the best way to honor her memory would be to find a way to bring some joy to others," she said.
"Talking to the nursing faculty who have been here for much longer than I, they all agreed Mary was always taking care of everyone she crossed paths with," Shingler said, adding that Runco ensured staff took a short break, ate lunch, or would offer to make them a cup of coffee.
She hopes this experience not only helped the students honor Runco's memory, but also opened their eyes and hearts to the local community in need.
"Too often we are quick to complain about bills, work, chores, and the never-ending 'to-do' lists. It's easy to forget about our day-to-day blessings when a lot of stressful things are happening at once," Shingler said. "This was a great opportunity to show the students that even through tragedy will occur in each of our lives, it's what we do after that can help us heal. Bad things will always happen, but it's up to us to see and be the good that still exists."
Serving at the CIC was an eye-opening experience for Calabrese. "We were able to interact with people in need and hear their stories. It was great to see that no matter the size of the donation, these people are really appreciative of anything," Calabrese said.
"Down at the CIC, the staff and those from the community who rely on the services they offer were very thankful for all we donated to help them during the holiday season as it gets colder out," Petrillo said. "From this experience, we were given the chance to interact with some of the community members and learn about the struggles and challenges they face daily and have overcome in their lives. The CIC gives so much to the community in regard to mental wellness, addiction support, housing, shelter help, and daily hygiene care which I never knew was offered to the less fortunate in the community."
Giving back to CIC was a bittersweet moment for Franklin because it highlighted the abundant number of individuals in the community that are in need of that kind of help. "Though it was rewarding to know that we were helping in making a difference — just like Mary did," Franklin added.
Malinak had worked with Runco for the past 10 years and witnessed first-hand the impact she had on everyone in the department and the students who went through the nursing program. As the newly named nursing program coordinator, they worked even more closely together, which forged a greater bond between the two. "Mary's work was so valuable and she will always be with us in nursing."