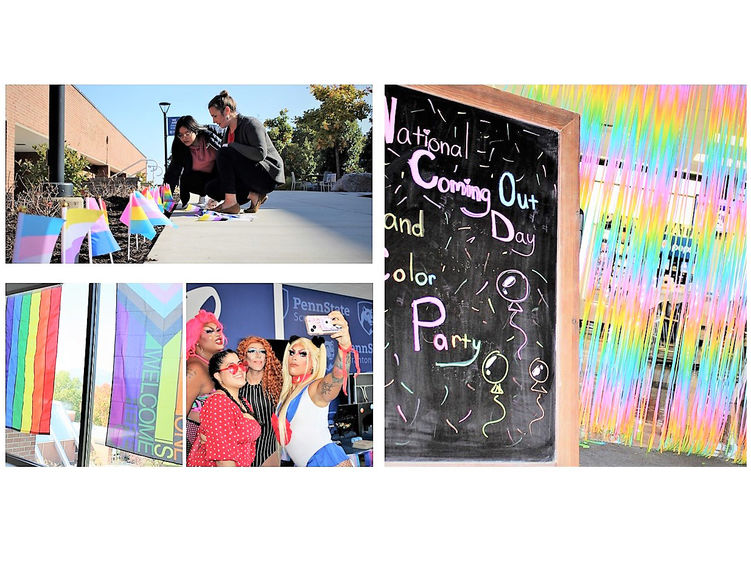 DUNMORE, Pa. — With the goal of creating a welcoming environment for its LGBTQ+ community, Penn State Scranton recently hosted a series of events on National Coming Out Day to commemorate LGBTQ+ History Month.
Events included a "color party"; educational information; an open mic for students to share their personal stories, experiences and feelings; a drag show; and a LGBTQA+ bingo game.
National Coming Out Day originated on Oct. 11, 1987, when 500,000 people participated in the 1987 National March for Lesbian and Gay Rights in Washington, D.C., generating momentum that lasted four months after the march had ended. A year later, on the first anniversary of National Coming Out Day, Robert Eichberg, head of the National Gay Rights Advocates in Los Angeles at the time, and Jean O'Leary, a psychologist and openly lesbian political leader and activist in New York, inaugurated National Coming Out Day, and chose Oct. 11, the anniversary date of the march, as the official calendar observance date.
Celeste Juarez, a second-year accounting major, had gotten the idea of a hosting a "color party" on campus from TikTok and the Festival de Colores. A color party has become a trending festivity in which an individual or group of people are assigned a designated color and then come to the event wearing outfits in that color, as well as serve food and drinks that are the same as their specified color.
Juarez shared the idea with Emily Glodzik, campus coordinator of diversity, equity, and inclusion, who loved the idea and worked with Juarez and other student organizers to make it happen. In addition to getting established campus student groups to participate and come up with fun ways to represent their colors, the event also incorporated an educational component for those who attended, communicating the history of National Coming Out Day and the meaning of colors of the pride flags, in a fun and casual way.
For the displays, student groups used the following colors:
Black – symbolizing people of color
Brown – symbolizing people of color
Red – symbolizing life
Orange – symbolizing healing
Yellow – symbolizing sunlight
Green – symbolizing nature
Indigo -- symbolizing serenity
Violet – symbolizing the spirit of LGBTQ+ people
"The most rewarding part I've taken away from this event was actually witnessing students feeling comfortable enough to come out to their classmates, staff and faculty," said Glodzik.
"This event came together beautifully, thanks to the help we received from everyone, especially Emily," Juarez said, adding that "it was more than I could have imagined."
A fun and unique component of the day-long celebration of events was a Drag Show that featured Latinx Drag Queens: Velvet Sweet, Hexxa, and Magistee.
This was Sweet's first time performing at Penn State Scranton. "When I was contacted about the idea of performing for this event, I was super excited," said Sweet. "I always like to perform at colleges, but when I heard it was National Coming Out Day and I saw the flyer for the event, it definitely added more meaning and significance to it. I think it was a super cool learning experience, not only for the students, but for myself as well, all at the same time."
Sweet admitted that coming out to her parents was a "very difficult time," and added "I honestly didn't think it would get better, and I really thought it was going to be like that forever." However, seven or eight years later, her parents came around, and now support her at her Drag Shows.
"I would love to live in a world where nobody had to come out — where we didn't have to go through that awkward moment to tell somebody, 'I'm not the way you want or expect me to be,'" said Sweet, adding, "when the world becomes used to everybody being themselves and we don't have to come out anymore, I think that would be a great day.
"National Coming Out Day opens a door of opportunities to uplift those who suffer from discrimination. I think it's important for a lot of people who take this day to relieve their stresses and be able to be free for once," Sweet said.
Sweet advised anyone who is struggling with the idea of whether they should come out, or are not prepared to come out, that "the time will be clear to them — they will feel a sense in their body that says, 'it's time now.'
"That moment when you feel like the whole world might change if you say one thing is an extremely nerve-wracking moment, but I feel like for people who are thinking about coming out, it's important to not let anybody push you into doing it or feel like you have to. When you feel as though it's time to be your true self, that's when everything will begin for you," Sweet said.
Sweet said she hopes the students had fun at the event and that they learned what drag is all about.
"Most importantly, I hope students took away that it's going to be okay, even if it doesn't feel that way at first," Sweet said. "I hope one day we can all experience everybody being themselves in a judgment-free world, but I think it was wonderful that just for right now, we were all able to experience a day full of acceptance and love towards everybody."
Glodzik added, "Unfortunately, homophobic, transphobic and biphobic cultures still exist, so celebrating a day like today helps to flush this out and bring encouragement and support to those who suffer from that type of discrimination."
One of Glodzik's goals, she said, is to help build up the LGBTQ+ community and club on campus, since some of the members have graduated.
"I'm happy to say that I have already been receiving interest within the student body," she said, "so I have high hopes for many great events to come!"
"I would love to live in a world where nobody had to come out – where we didn't have to go through that awkward moment to tell somebody, 'I'm not the way you want or expect me to be,'" said Sweet, adding, "when the world becomes used to everybody being themselves and we don't have to come out anymore, I think that would be a great day."