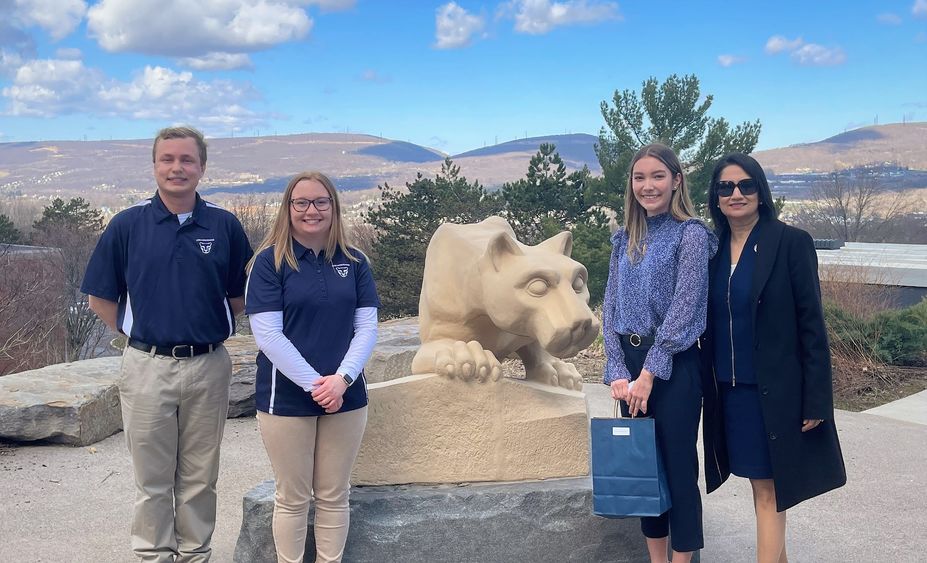 Editor's note: This spring, Penn State President-elect Neeli Bendapudi is traveling the commonwealth as part of a listening and learning tour to meet and engage in conversation with students, faculty, staff and community members at each Penn State campus.
SCRANTON, Pa. — Penn State President-elect Neeli Bendapudi visited Penn State Scranton on April 8 as part of her listening tour to meet with students, faculty and staff across Penn State's campuses.
Bendapudi met with faculty and staff during a town hall-style program in the Study Learning Center's Sherbine Lounge. Afterwards, she met with Penn State Scranton's external constituents and campus advisory board members, as well as a small group of Penn State administrators, Congressman Matthew Cartwright and National Science Foundation Director Sethuraman Panchanathan.
One of the things she spoke to was the importance of the Commonwealth Campuses. "The gems that you have, one is the Commonwealth Campuses. There is nothing like it in the entire country," she said, explaining that some other universities have branch campuses, but Penn State has Commonwealth Campuses.
"So you can see, the Commonwealth Campuses are genuinely a priority," Bendapudi stated, adding that those campuses support the University's land-grant mission, "which is all about social mobility and giving every human being the opportunity to achieve their potential."
When asked about her feelings on adult learners by a staff member who earned her degree at Penn State Scranton as an adult student, Bendapudi enthusiastically replied, "It is a passion of mine." If you look at the competitiveness of the country and the commonwealth, she explained that Penn State needs to be invested in adult education and professional development, especially since projections are that from the year 2025 on, particularly in Pennsylvania, higher education will experience challenges with changing demographics.
"We all will be under tremendous pressure," she said. "But the point is, we have to really work on it. And we have to actively cultivate adult learners. Pennsylvania overall is not a net gainer of population, so we have to be more competitive with the population we do have. Everywhere I've been, I've made it a point to prioritize it."
Bendapudi also went on a walking tour of the campus, led by student Lion Ambassadors, and met one-on-one for a luncheon with a select group of student leaders before departing. 
Bendapudi will begin her tenure as Penn State's 19th president on May 9. She previously served as president of the University of Louisville and as provost and executive vice chancellor at the University of Kansas. In addition to her nearly 30-year career in academia, she was the executive vice president and chief customer officer for Huntington National Bank. She earned her bachelor's degree in English and an MBA from Andhra University in India and holds a doctorate in marketing from the University of Kansas.