Alumni Association-sponsored award presented at Advocate Penn State Capital Day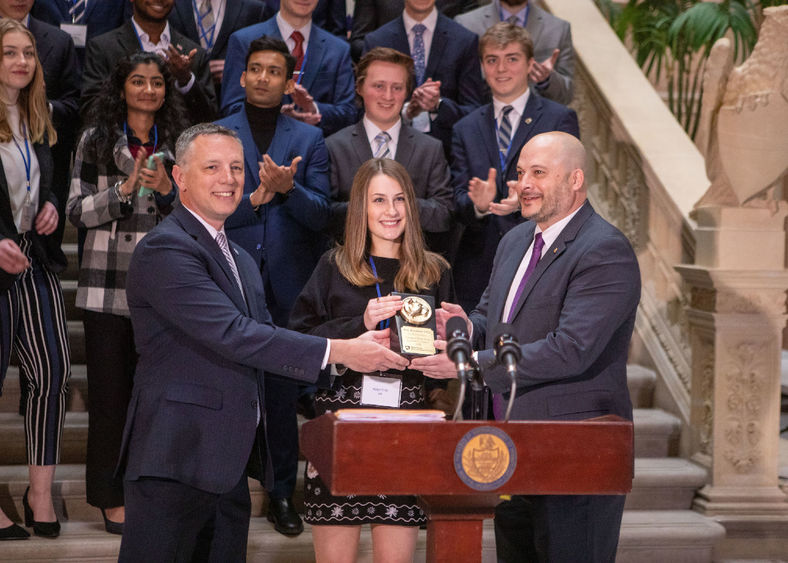 UNIVERSITY PARK, Pa. — Pennsylvania Rep. Jonathan Fritz, R-111th District, received the 2022 Friend of Penn State Legislative Award from the Penn State Alumni Association at a ceremony today (March 30) in Harrisburg during Advocate Penn State Capital Day.
"I am honored to be recognized by the Pennsylvania State University; not only my alma mater, but a place where I grew as a person, was empowered by exceptional professors, and created memories that I still recall with a smile," Fritz said. "Penn State holds a special place in my heart."
Fritz earned a bachelor's degree in business administration from Penn State in 2001. He is both a product and champion of Penn State's Commonwealth Campuses, having attended Penn State Scranton. Fritz has been a key supporter of the University's annual state appropriation. Previously, Fritz served on the Penn State Scranton Advisory Board. In 2019, he delivered the commencement address for Penn State Scranton's spring graduation ceremony.
"I am so pleased to have the opportunity to present the Friend of Penn State Legislative Award to Rep. Fritz," said Zack Moore, Penn State vice president for Government and Community Relations. "Rep. Fritz is a true friend of the University in the state Capitol — assisting our Office of Government and Community Relations team with challenges big and small. He is always positive about his Penn State experience and shares that experience with students and his constituents. My sincere congratulations to Rep. Fritz on receiving this award."
Fritz has represented the 111th Legislative District, which includes parts of Susquehanna and Wayne counties, since 2017. He served two terms as mayor of Honesdale and two terms as a Wayne County commissioner, including as vice chair. In November 2019, legislation sponsored by Fritz to eliminate outdated government boards and commissions was signed into law.
Within his role as a state representative, Fritz serves on the House Appropriations, Finance, Gaming Oversight and Insurance committees. Previously, he was honored with the Guardian of Victims' Rights Award from Marsy's Law for Pennsylvania.
"Rep. Fritz has distinguished himself and sets an example for others through his support of Penn State and higher education," Alumni Association CEO Paul Clifford said. "The Penn State Alumni Association is proud to recognize his efforts with this award."
Sponsored by Advocate Penn State and Penn State's Office of Government and Community Relations, Advocate Penn State Capital Day serves as the University's largest single-day advocacy event. It offers an opportunity to demonstrate the impact of Penn State on the commonwealth while advocating for an accessible and affordable world-class education.
The Friend of Penn State Legislative Award, first awarded in 2006, is a continuing project sponsored by the Penn State Alumni Association. The award recognizes a member of the Pennsylvania General Assembly or U.S. Congress who has played a significant role in the continued improvement of Penn State, the commonwealth's sole land-grant institution.