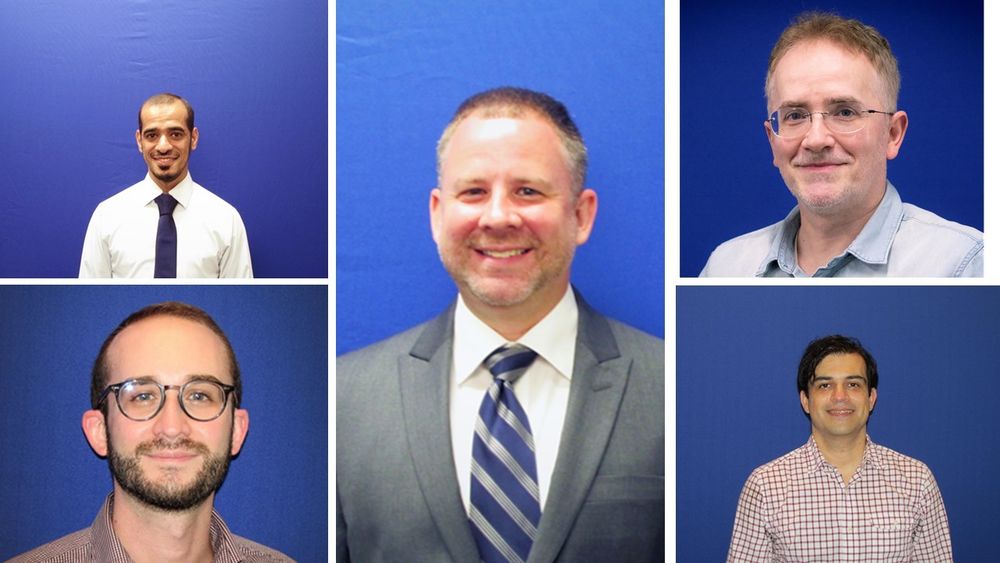 DUNMORE, Pa. — Penn State Scranton Chancellor Marwan Wafa has announced the hiring of five new full-time faculty. New hires include Khalid Almasloukh, assistant teaching professor of nursing; Kevin Feifer, lecturer in business; Mario Freamat, assistant teaching professor of physics; Arash Nayebzadeh, assistant professor of mechanical engineering; and Andrew Provenzano, assistant professor of psychology.
Khalid Almasloukh — assistant teaching professor of nursing
Almasloukh received his bachelor's degree in nursing from Al-Farabi College in Saudi Arabia in October 2012, and later his master of science in nursing from Mount Mercy University in Iowa in June, 2016. Very recently, in May 2021, he received a doctoral degree in nursing from Binghamton University in New York.
During his professional career, Almasloukh has worked as a registered nurse in numerous hospitals, most recently the Regional Hospital of Scranton, has been a nursing instructor for eight years, and founded his own online educational Twitter account, Nurse Khalid Academy, which he ran for three years. His primary research focus is on the role of nursing in equine-related activities. He has spoken about his research at conferences including the International Rural Nursing Conference and conferences for the Professional Association of Therapeutic Horsemanship (PATH), many of which he has attended over the years.
He has been the first author on several publications, including: "Are Nurses Joining the Ride? Equine-assisted activities and therapies review" in People and Animals: The International Journal of Research and Practice; "Rural status of equine assisted activities and therapies and cancer survivors" in the Online Journal of Rural Nursing and Health Care; "Quality of life Through the prism of the Roy adaptation model" in Nursing Science Quarterly; and was a co-author on "Opioid use among rural dwellers – A systematic review" in the Journal of Nursing and Occupational Health.
In 2015, Almasloukh became a member of the Sigma Theta Tau nursing honor society at Mount Mercy University, and also has reviewed a paper for the Online Journal for Rural Nursing and Healthcare. He has been a trainer at many conferences and events over the years, traveling to such places as Los Angeles to the United Arab Emirates for these events and symposiums. An avid horseman, Almasloukh is a registered therapeutic horse riding instructor from PATH.
Kevin Feifer — lecturer in business
Feifer is a Penn State alumnus, having earned his bachelor of science in business management, with a minor in labor and industrial relations, from the University Park campus in May 2002. He later went on to earn his master of business administration from Misericordia University in 2013.
Feifer has had an extensive professional career, serving as an adjunct professor at Misericordia University prior to joining the Penn State Scranton community. He has also worked as Misericordia's director of service – learning and expressway student services coordinator over the years and in various roles at the United Way of Wyoming Valley and Mercy Health Partners.
He has also taken part in different conferences and professional development experiences throughout his career, including the Google Analytics Academy, the HubSpot Academy, HarvardX Entrepreneurship in Emerging Economies, and HarvardX Exercising Leadership: Foundation Principles, to name a few. Feifer has also been very active in the community, volunteering with organizations such as the Alzheimer's Association, Habitat for Humanity, and the American Red Cross. At Misericordia, he served as the Phi Beta Lambda (Business Club) advisor, a student leadership mentor, and a member of the Sexual Assault Response team.
Feifer resides in Mountain Top with his wife, Alexandra, and his children, Kate and Brandon.
Mario Freamat — assistant teaching professor of physics
Freamat was born in Romania and graduated with a bachelor of science degree in physics from the University of Bucharest. After graduation, he worked as a complex-systems theorist in an institute of physical chemistry before coming to the United States for graduate studies at the University of Kentucky. There he did research in high-temperature superconductivity, and earned master's and doctoral degrees in experimental solid-state physics.
After a stint in postdoctoral research studying charge density waves in the vein of his interest in highly correlated electron systems, Freamat held visiting faculty positions at West Virginia University and Miami University of Ohio, where he published articles popularizing advanced instructional experiments and coauthored a book about energy in science and society. He then attained a tenure track position at SUNY Morrisville in the Syracuse area where he spent his last seven years teaching and doing research.
In the wake of the pandemic the position was cut, which, Freamat said, gave him "the opportunity to move ahead and join the faculty of Penn State Scranton where – to quote Kurt Vonnegut – 'all seems beautiful and nothing hurts.'" He said he is planning to build on his experiences and help enhance the high-quality physics instruction on the small but vibrant campus.
One feature he has been impressed with is the instructional physics lab: "In particular, the instructional physics lab is one of those ever-rewarding realms where the diligent instructors cannot but grow, both professionally and vicariously through the amazement of their students," Freamat exclaimed. "This is why I spend an inordinate amount of time thinking about new instructional experiments — I reckon that it is a form of art — and I am grateful for the chance to share them with my colleagues and students."
He resides in Manlius, New York, which is where his daughter Teodora is a high school senior, but said he plans to move to the Scranton area in the future. He also shares his home with two indoor cats, Salt and Pepper. A cyclist, he owns a Specialized Allez road bike, and also enjoys painting and sculpting.
Arash Nayebzadeh — assistant professor of mechanical engineering
Nayebzadeh graduated in 2005 with a bachelor of science in aerospace engineering from the Amirkabir University of Technology in Tehran, Iran. He later went on to receive two master of science degrees: one in aerospace engineering with a focus in aerodynamics from the Sharif University of Technology in Tehran, and one in mechanical engineering with a focus in thermofluids from the University of Central Florida. He earned his doctorate in mechanical engineering with a focus in thermofluids from the University of Central Florida in 2019.
Nayebzadeh has been in higher education for 11 years, most recently holding the post of guest lecturer of heat transfer at the Georgia Institute of Technology. While at the institute he was also a postdoctoral fellow and has been a part of research at such universities as Cornell University and the University of Central Florida.
Outside of research, he has been a STEM (Science, Technology, Engineering, and Math) assessment assistant at the University of Central Florida, as well as a journal reviewer for journals such as the Thermal Sciences Journal and the International Journal of Fluid Mechanics Research. He has also co-chaired two national conferences in Iran.
Nayebzadeh currently resides in Dunmore with his wife, Hannah, and their daughter, Eva.
Andrew Provenzano — assistant professor of psychology
Provenzano received his bachelor of science in psychology from the University of North Florida in 2013 and a master of arts in psychology from the University of North Florida in 2015. Afterwards, he attended the University of Arkansas and received a doctorate in experimental psychology in 2021.
At his time at the University of Arkansas, Provenzano worked in the law and memory processes lab under the supervision of Jim Lampinen. He has published articles and book chapters on topics including prospective person memory and eyewitness memory. His primary research interest is the role of attention and memory processes on the recovery of missing and wanted persons.
At the University of Arkansas, Provenzano served as a board member of the institutional review board and assisted in organizing a specialty conference in diversity science.
A member of APA Division 42 (American Psychology-Law Society) and the Society of Applied Research in Memory and Cognition, he serves as an ad-hoc reviewer for Psychology, Crime, and Law and the American Psychological Law Society Annual Meeting.
Provenzano grew up in Jersey City, New Jersey and is an avid New York Yankees and Juventus FC fan, and a fan of Razorbacks athletics. In his free time, he enjoys hiking, traveling, fantasy hockey and playing FIFA. He resides in Scranton with his dog, Gable.