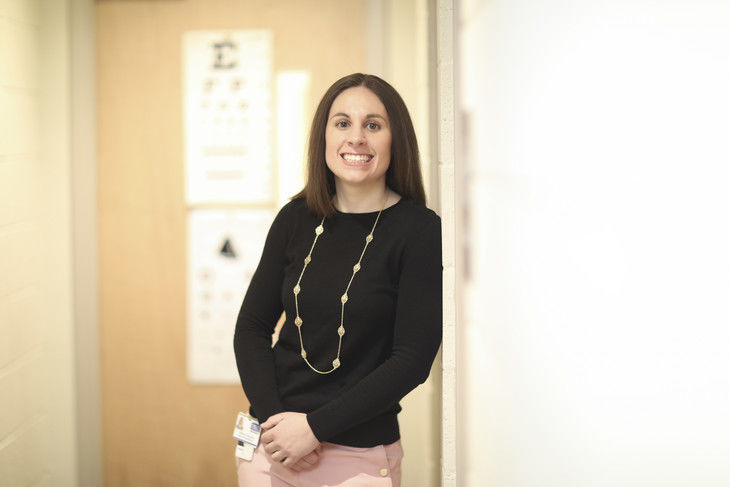 Allyson Favuzza is no stranger to Penn State and the advantages that the University's degrees provide. Favuzza is one of few to receive an associate's, bachelor's, master's, and doctorate all from the College of Nursing within 10 years.
Favuzza first began her collegiate journey at the University of Scranton in 2008, and then transferred to Penn State Scranton in 2010. Because Favuzza was both a full-time student and a full-time waitress at a local Scranton restaurant, she had to adjust her class schedule, often taking night classes. This prompted Favuzza to take her required statistics class at night, which coincidently was the same statistics course all nursing majors were required to take.
This one class undoubtedly altered the entire course of her life, as the stories she heard from her nursing classmates inspired her to switch her major and pursue a career of caring and fulfillment.
"Just hearing about their experiences in the hospital and their hands-on work even in their education was what drew me to nursing," said Favuzza. "The two-year associate's program was very appealing. Because I had to support myself through college, the ability to have a license that I could practice with and then continue to further my education in two years was very important to me."
After transitioning to nursing and while still at Penn State Scranton, she earned her associate of science in nursing while working full time as a waitress in 2012. Immediately after receiving her associate's, she returned and earned her bachelor of science in nursing while working full time as a registered nurse in 2013.
"The programs were a great experience. It was really nice to have that continuity and have some of the same professors multiple times. I had a lot of inspiration from the professors at Penn State Scranton, especially Mike Evans." Favuzza revealed.
Favuzza credits Evans, now assistant dean for undergraduate nursing education at the Commonwealth Campuses, for encouraging her to apply for the master's in Family Nurse Practitioner program, which she admits wasn't even on her radar at the time. Favuzza secured complete funding from the Health Resources and Services Administration and earned her master's of science in nursing in 2015, once again working full time as a registered nurse.
"At that point, I fell in love with nursing. What's so great about nursing is that although you're a nurse, there are so many things you can do with it. You could work in a hospital, home health, nursing homes, primary care, the OR, or medical billing and chart auditing." Favuzza explained.
After 10 long years of nursing school and full-time work hours, Favuzza earned her doctor of nursing practice degree online through Penn State World Campus in 2018.
"She is a wonderful, kind, and intelligent nurse and one that I'm proud to call a friend and colleague." Mike Evans said fondly.
Since her graduation, Favuzza continued working as a primary care nurse practitioner and director of youth services for the Scranton-based Wright Center for Graduate Medical Education, which serves students, staff at the school, and the outside community.
"I wanted to continue to progress to become a nurse practitioner, which is when I fell in love with primary care," said Favuzza. "In primary care, it's about building the relationship with the patient and being with them throughout their life, and that's something I've really enjoyed."
This past January, Favuzza opened her own primary care clinical practice, Hometown Health Care of NEPA located near Scranton, Pennsylvania. But, opening a new practice didn't come without its struggles, especially during a global pandemic health crisis.
The clinic has since been inundated with COVID-19 patients and recently vaccinating as many community members as they can. To aid in the fight, Favuzza opened the clinic's doors for Penn State Scranton nursing students in their last semester and nurse practitioner students to get hands-on clinical experience as well as important insight into COVID-19 work they will likely experience once they graduate.
"I wanted to expose the nursing students to primary care and advanced practice nurses who function at the master and doctorate level, hopefully piquing their interest in having them further their education," explained Favuzza. "It's a wonderful experience for the students, especially since clinical sites have become very limited given the COVID-19 pandemic."
The clinic recently launched two large vaccination clinics, where they immunized over 1,000 members of the Scranton community and had 22 Penn State nursing students assist in the entire patient process, including administering vaccine injections.
"I think it's so important that we support the next generation of nurses as they navigate through being a new nurse amidst a global pandemic," Favuzza said. "It's incredibly rewarding to see how excited the students get when they do something for the first time, and to be the reason they're able to grow and learn as young professionals."
Despite her busy 90-hour work week, Favuzza remains positive and motivated to keep her community safe and continue to build her practice through providing COVID-19 care and immunizations.