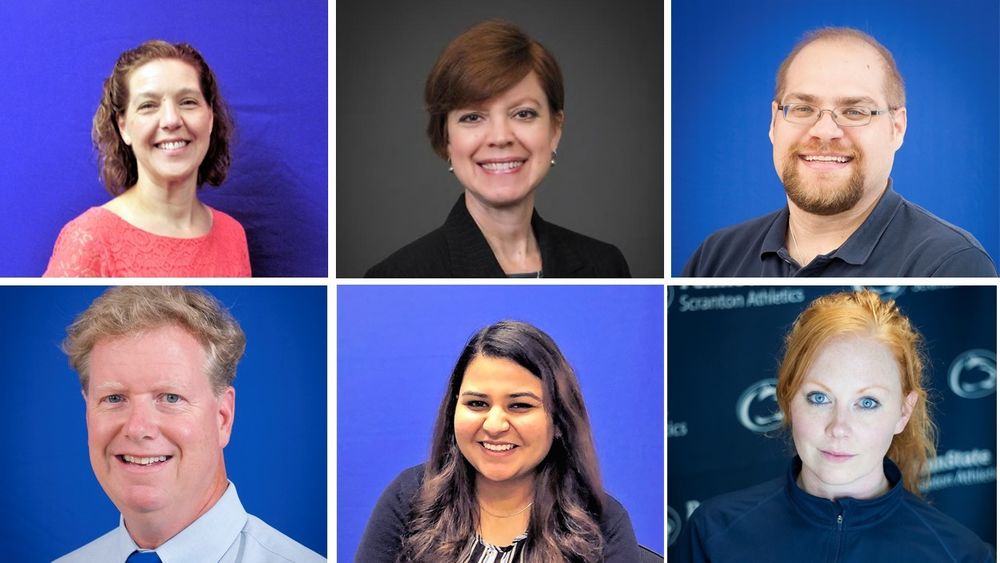 DUNMORE, Pa. – Five members of the Penn State Scranton community recently received promotions, while the campus' Academic Affairs office welcomed a new colleague to its ranks.
Campus faculty members Paul Frisch, lecturer in history, and James Hart, lecturer in communication arts and sciences, have been promoted to the rank of assistant teaching professor. And, on the staff side, Jo Ann Durdan has been promoted to education program specialist in the Center for Business Development and Community Outreach (CBDCO), Dharti Ray is taking on the new role of coordinator of co-curricular programs in Student Services and Engagement, and Sara Rinkunas has been elevated to assistant athletics director.
Meanwhile, Sharon Ebert recently joined the campus as the new assistant to H. Durell Johnson, director of academic affairs. She replaces Mary Lance, who recently retired after more than two decades of service to the campus.
Frisch and Hart spent the past few years working closely with Johnson on their annual Faculty Activity Reports (FAR) in hopes of meeting the needed requirements to achieve their new rank.
"In the words of the Grateful Dead, 'What a long, strange trip it's been,'" said Hart with his customary wit. "At times, I felt I would never attain this goal. But, with the guidance of Dr. Johnson evaluating my work in my FAR meetings each year and setting up a plan, I finally reached the rank of assistant teaching professor. I am grateful to him and all who assisted me."
An Archbald native who now resides in Hillcrest, New York, Hart will begin his 15th year at the campus in July. The campus' tight-knit collaborative spirit is among the reasons he enjoys his job so much.
"It takes a village to run Penn State Scranton," Hart said. "The administration, faculty, staff and student body all rely on each other to make the educational process work and to assist our students in achieving a Penn State diploma. We all wear many hats, but we are as one."
Frisch, a faculty member since January 2014, also finds the small-campus feel highly appealing.
"I am a department of one, so I can teach pretty much what I like and can change what I teach each semester without having to coordinate with others," said Frisch, a Peckville resident. "And I do get to see many students multiple times since they seem to like my classes and take more of them, even though it is not a requirement for their majors."
Durdan joined the staff four years ago, initially serving as an education program assistant in CBDCO while simultaneously pursuing her bachelor's degree in corporate communication, which she received in 2019.
In her new role as education program specialist, the Clarks Summit resident develops, coordinates and delivers educational programs for adult learners and professionals seeking certificates and career-building opportunities. She also provides customized training programs for regional businesses and organizations, plans and coordinates marketing materials, and serves as a unit liaison.
For Durdan, the promotion is a real validation.
"It feels like my work at Penn State Scranton is appreciated and valued. Hard work is recognized here," Durdan said. "I really like working for a welcoming campus that lives Penn State's mission. It's wonderful being on a campus where the chancellor has an open door and really cares about staff, faculty and the students above all. There is a great working culture here."
A campus alumna and 2019 graduate of University Park's Smeal College of Business, Ray was hired two years ago as coordinator of diversity, equity and inclusion. In her new role as coordinator of co-curricular programs, she'll assist students with mentoring opportunities and internships, among other responsibilities.
"I am thrilled to have the opportunity to serve the students of Penn State Scranton in another role," said Ray, of Scranton. "In the past few years, I was able to provide social support to our students through diversity and inclusion programs. Now, I get to support them in their career development. I'm excited to help students navigate their career by encouraging them to be more involved in career development opportunities. And I look forward to working with the program coordinators of all the majors on campus to provide support."
"Penn State Scranton is a community-orientated place, and I enjoy working here because of the students and amazing colleagues," Ray continued. "This is a great place to build a career because of the constant support provided by all on campus."
A University Park alumna, Rinkunas has been an integral part of the athletics department since arriving at the campus a decade ago.
Her new role as assistant athletic director comes with numerous important duties, including: hiring and supervising personnel; managing budgets; promoting events; coordinating schedules; securing and/or approving travel; ensuring compliance with NCAA, PSUAC and University rules and regulations; and representing the department on committees and at events.
"I'm excited for the opportunity to use my experience in the department to be an effective leader within it," said Rinkunas, of Dickson City. "The department is small, and there was definitely overlap in my previous position with some of the day-to-day promotion and compliance aspects. However, I'm looking forward to now being in a role where I can evaluate systems and procedures and work with the campus to improve and enhance them."
Rinkunas equates working in athletics to "being part of a family full of motivated, hardworking and dedicated individuals." And, she feels privileged to be in a position that allows her to mentor and guide the campus' student-athletes.
"Penn State provided me the groundwork I needed to build my professional life and opportunities to succeed and grow along the way," Rinkunas said. "Now, as a Penn State alum, I couldn't imagine a more rewarding job than supporting other Penn Staters as they learn and grow in their athletic and academic careers."
Ebert, of Archbald, comes to the campus with an impressive background that includes 27 years of experience in higher education in the areas of academics, development, institutional research and human resources. She also has four years of banking industry experience, with managerial roles in human resources and marketing.
In addition to her bachelor's degree in business, Ebert has earned certifications from the Society for Human Resource Management (SHRM) and the Human Resource Certification Institute (HRCI). She is also a second-degree black belt in karate.
As assistant to the director of academic affairs, Ebert's coordination duties are focused on a number of different areas, among them the faculty promotion and tenure process, search committees, budget management, faculty compensation and professional development.
"It has been quite interesting starting in this position during the pandemic. I wasn't sure how I would be familiarized with the role under these circumstances, but it has been a very positive experience," Ebert said. "Also, the systems and programs utilized by Penn State make collaboration with co-workers very easy and seem to have allowed everyone to continue in their roles and serve the students without missing a beat."
As it happens, Ebert grew up near the campus, noting it "always felt like it was in my backyard."
"Additionally, my grandfather worked for Penn State in the early 1980s as a groundskeeper, and my grandmother would often walk my sister and I to the campus to see him on his lunch break," Ebert said. "He was very proud to be able to take care of the campus."
All these years later, Ebert is thrilled to be back at the campus in a professional role, crediting Johnson, Lance and Suzanne Morgan, administrative support assistant, with making her transition a seamless one.
"Durell, Mary, Suzanne and all of the Academic Affairs staff have been wonderful," Ebert said. "Mary has been nothing but amazing over this past month as she introduced me to all that this role entails, which is quite a bit. Her patience, guidance, thoroughness and friendliness have been second to none. I'm appreciative of all she has done to help with my transition and blessed to be a part of Penn State Scranton."