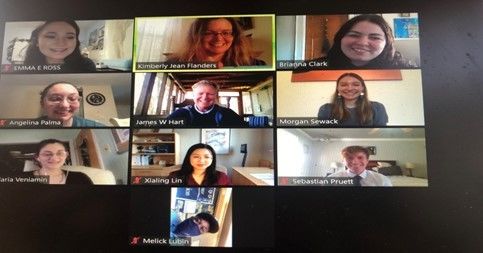 DUNMORE, Pa. — Penn State Scranton's Lambda Pi Eta Chapter, the official honors society of the National Communication Association, now has four new members.
Upperclassmen Marissa Boyd, Melick Lubin, Morgan Sewack and Maria Veniamin were inducted into the honor society on April 8 during a virtual ceremony hosted by the Scranton chapter officers.
Chapter officers Brianna Clark, president, and Emma Ross, vice president, officially inducted the new members into the chapter following a ceremonial reciting of Lambda Pi Eta's history and core values.
Following the induction, the new members were recognized and applauded by fellow peers and corporate communication faculty: Kim Flanders, corporate communication program coordinator, assistant teaching professor, and club adviser; Xialing Lin, assistant professor of corporate communication; and Jim Hart, program internship coordinator and lecturer in communication arts and sciences.
The students also received their official membership certificates and pins upon induction, along with seniors Clark and Ross receiving their graduation cords. An official ceremony will be held later this month to officially present the seniors with their cords and elect new chapter officers.
To qualify for Lambda Pi Eta membership, undergraduate students must have declared an interest in the field of communication while also having achieved a high level of academic excellence.
Eligible members must have completed 60 hours of undergraduate credit courses with 12 of those hours being in communication courses, while being enrolled full-time and being in good academic standing. In addition, students must have a cumulative GPA of 3.0 or higher, maintain a 3.25 GPA in their communication courses, and be in the top 35% of their graduating class.
Lambda Pi Eta was founded by communication students within the University of Arkansas and was later endorsed by the faculty and founder Stephen A. Smith. It was named as the official national honor society for undergraduates by The Speech Communication Association in 1994.
The Association of College Honor Societies inducted Lambda Pi Eta in 1996 and now there are 344 active chapters worldwide.