Penn State Scranton's next virtual class, featuring a Hispanic-themed menu, will take place on April 20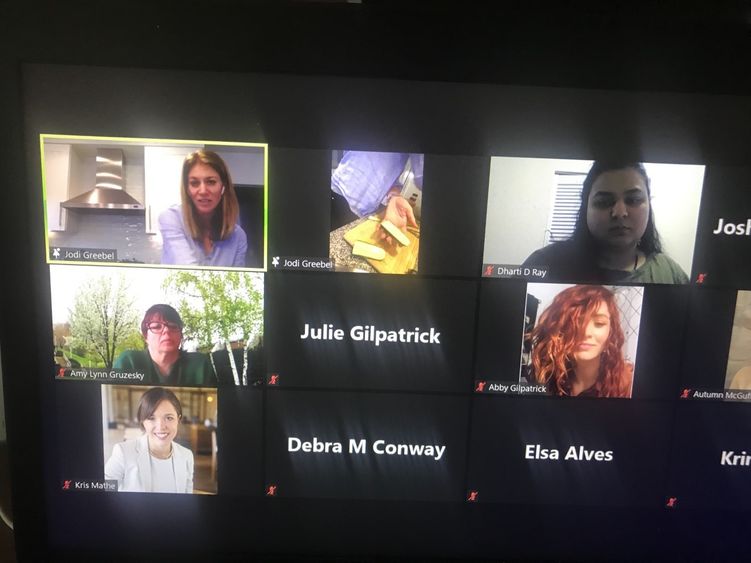 DUNMORE, Pa. — Members of the Penn State Scranton community have a terrific opportunity to enhance and diversify their culinary skills, thanks to the campus' Virtual Cultural Cooking Classes.
At 5:30 p.m. on Tuesday, April 20, registered dietitian nutritionist Jodi Greebel will present her final cultural cooking demonstration of the semester — a Hispanic-themed meal of sheet pan chicken fajitas, guacamole and homemade tortilla chips. Register for the interactive Zoom class at this link.
The most recent in the ongoing series featured Greebel showing students, faculty and staff how to prepare a nutritious Indian-themed meal of tandoori chicken, lentils and rice, and raita.
The free cooking classes were inspired by the campus' Cultural Cuisine Tours, which gave students the opportunity to eat at a different Scranton-area ethnic restaurant each month during the 2019-20 academic year.
"It became a popular program amongst the students, so we brought it back through the virtual cooking classes," said Coordinator of Diversity, Equity and Inclusion Dharti Ray. "Degy Entertainment offered these classes with Jodi Greebel and we thought it would be a perfect engaging activity for the students to do. The goal of these cooking classes is to allow students and others who participate to experience different cultures through food."
A regular speaker on the college circuit, Greebel has spent more than 15 years helping children, teenagers and young adults develop a healthy relationship with food. She's appeared on ABC's "Good Morning America," as well as radio stations across the country and in publications such as InStyle, Reader's Digest and Eat This, Not That.
Greebel's first campus presentation in February was an Italian menu of spaghetti, meatballs and garlic bread.
For the Indian-themed class, some attendees, among them Student Activities Coordinator Julie Gilpatrick, followed Greebel's instructions from their own home kitchens, having been given the list of ingredients a few days prior. Others were content to watch the affable Greebel effortlessly prepare the meal while offering clear instructions and informative commentary throughout the hour-long session.
"I'm so excited to be cooking with you guys," said Greebel, who had two cameras focused on her during the demonstration — one on her face, and the other on her hands as she prepped the dishes.
"Indian cuisine is known for its spices and herbs. There are so many different cooking styles and foods across the country," she continued. "And in Indian culture, there's this mind-body wellness connection with food, where people aren't just eating for nourishment."
Greebel started out preparing the lentils & rice portion of the menu. In a sauté pan, she combined brown lentils with frozen spinach — high in nutrients due to being frozen at peek freshness, she noted — as well as red curry paste, tomato paste and coconut milk.
"This dish can stand on its own as a meal, because with the rice and lentils you're getting both a grain and a protein. The lentils are an amazing vegetarian source of protein, and they're very shelf-stable," Greebel said. "And it's a very inexpensive meal — great for a college student on a budget."
From there, she prepared the tandoori chicken legs, which were marinated in a sauce consisting of Greek yogurt, lime juice, fresh ginger, garlic and several spices prevalent in Indian cooking — turmeric, cayenne pepper and garam masala, which is actually a combination of several ground spices, among them coriander, cumin and cardamom.
Mindful of the non-carnivores who might be on hand, Greebel also did a vegetarian version of the dish, substituting tofu in place of the chicken.
As a way to replicate the tandoori oven experience, Greebel baked the chicken and tofu on a wire rack placed on a foil-lined baking sheet. For the dish's final couple minutes in the oven, she turned on the broiler "to give it a nice char."
To finish off the meal, Greebel prepared the raita, a yogurt-cucumber sauce similar to a Greek tzatziki. It also included cilantro, scallions, coriander and cumin.
"In India, hot dishes are often paired with cold dishes like this," Greebel said. "And the yogurt is believed to be good for digestion. It's filled with probiotics."
As the demonstration came to a close, Greebel presented the very enticing completed meal to attendees.
"I think Zoom needs a function for smell, because it smells amazing," she said.
For additional information on the Virtual Cultural Cooking Classes, email Ray at [email protected].