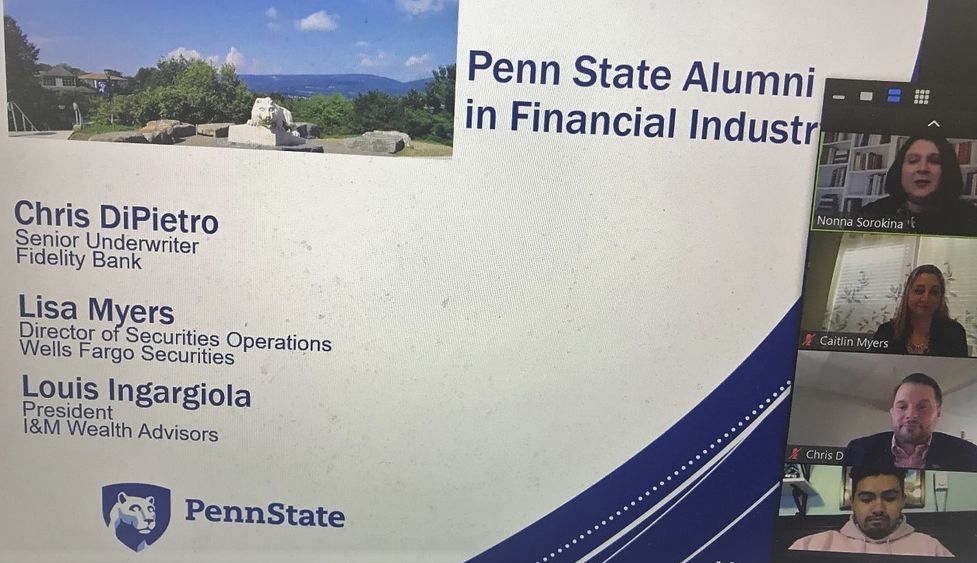 DUNMORE, Pa. – Penn State Scranton students enrolled in Assistant Professor of Finance Nonna Sorokina's Corporation Finance course recently received some sage career advice from three campus alumni who have found long-term success in the financial world.
On Tuesday, Dec. 8, Sorokina welcomed Penn State graduates Chris DiPietro, Louis Ingargiola and Lisa Myers to her Zoom classroom to discuss their respective careers.
For Sorokina, the speakers were a great way to demonstrate to students how the campus business program's financial services degree option can lead to a variety of career paths.
"It was a pleasure seeing our very own alums who came to share their stories and advice. Financial services offer a world of opportunities for anybody, anywhere and anytime," Sorokina said. "Our students can go from our cozy campus nested between the hills as far as they want to go."
A 2005 campus graduate, DiPietro currently works as a senior underwriter at Dunmore-based Fidelity Deposit and Discount Bank. He arrived there after working for several other banking institutions, including First National Community Bank and Peoples Security Bank & Trust.
"I've always liked the more local focus of banking," DiPietro said. "A lot of my work is meeting the needs of local borrowers and giving them the guidance they need. We're a local bank, so our customers are always going to be able to get on the phone and talk to one of us that day."
Myers, a 2001 graduate, worked locally for several years before taking a job with Bank of America in Charlotte, North Carolina. From there, she moved on to leadership roles at LPL Financial and Wells Fargo, where she now serves as director of client data & life cycle management.
Having seen her own career branch out into various sectors of the financial industry, Myers encouraged students to be open-minded once out in the professional world.
"Sometimes your career will change in a way that you hadn't planned for, but be prepared to take advantage of those changes," said Myers, noting her burgeoning interest in banking eventually led her to her current position.
A 1992 University graduate, campus Advisory Board member and active member of the Penn State Scranton Alumni Society, Ingargiola found his passion when he left the corporate world and founded his own investment and wealth management company, Dunmore-based I&M Wealth Advisors.
In addition to protecting and growing people's investments, Ingargiola views his job as one of building and maintaining relationships.
"For me, it's about treating people well. If you say, 'Who do you work for?' It's the client. You're not just doing the work for the commission," said Ingargiola, the Alumni Society's 2011 Alumnus of the Year.
Ingargiola implored students to use the sprawling Penn State alumni network to their advantage when job searching.
"It's the connections – the people you know – that will help you in your career. The Penn State network is everywhere," he said. "There are jobs out there, so use Penn Staters to help you get them."
DiPietro agreed, noting students should already be honing their networking skills.
"Find those centers of influence," DiPietro said. "Establish relationships with people, so that they remember you. Because you never know when that relationship is going to be beneficial to you down the road."
"Always network. And let your bosses be advocates for you," Myers added.
The speakers also cited the value of real-world work experience. Myers said Wells Fargo offers a paid internship that allows students to work in various departments to help them determine what facet of the industry suits them most. And DiPietro, who as a student interned at Ingargiola's firm, said there's nothing wrong with taking a low-level position at a company, considering the experience gained and relationships made in those jobs often lead to internal advancement.
In addition, Ingargiola stressed that even the part-time retail jobs common among college students are valuable, because they allow one to develop the type of soft skills coveted by employers in all industries.
"In those types of jobs, you're learning how to deal with customers and how to deal with bosses and managers. If you learn how to deal with people, you can go anywhere," Ingargiola said. "And, no matter what job you get, treat it as if it's your own business."
"Know your starting point is not your ending point," added Myers, who had several more pieces of wisdom to share with students before the presentation's conclusion.
"Find your passion, because work is much easier when you find your passion," she said. "Also, just keep learning -- always be a learner. And never compromise your principles."