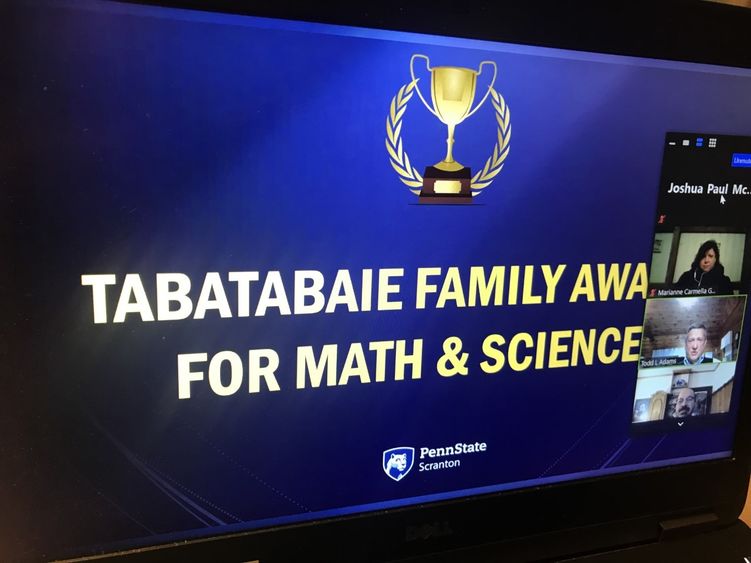 DUNMORE, Pa. – The onset of the COVID-19 pandemic last spring disrupted several annual campus events, including the annual Student Awards dinner and program, which typically takes place at the end of April each year, prior to commencement.
With the pandemic still a fact of daily life, and large in-person gatherings not possible currently, Penn State Scranton leaders wanted to recognize and reward student excellence for the 2019-20 academic year.
On Tuesday, Nov. 10, the campus held a virtual version of its annual Student Awards celebration. Staying with tradition, the ceremony was hosted by Assistant Professor of Philosophy and Honors Program Co-Coordinator Todd Adams, and included remarks by Chancellor Marwan Wafa.
A number of students, faculty and staff members attended the event, as did award benefactors and campus alumni Patrick J. Sheridan, an adjunct lecturer in accounting and emeritus member of the campus' Advisory Board, and Jahan Tabatabaie, a current Advisory Board member. Both also have established awards that were awarded to students at the ceremony.
"We're delighted to be here tonight. This is an occasion I like a lot, because it allows us to celebrate our really fine students," Adams said.
While looking forward to again being able to celebrate the event in its traditional dinner format, Wafa was nonetheless thrilled that the campus was able to recognize the students for their exemplary work.
"You should all be very proud of your success," he said. "Your success is something that makes us all very fulfilled and our jobs so rewarding."
The awards and recipients were:
President's Freshman Award — recognizes University students carrying a 4.0 grade-point average for the first semester of their freshman year: Katelyn Bosket, Markuss Bruveris, Alexandria DeWolfe, Nicholas Drago, Gauri Gurumurthy, Evangelia Hrissohoidis, Megan Lucey, Harsh Patel, Kaylee Salony, Madison Tricarico and Cory Walsh
President Sparks Award — recognizes University students carrying a 4.0 grade-point average through the first semester of their sophomore year: Lucy Adams and Vanessa Mazur
Evan Pugh Scholar Award — recognizes University juniors and seniors who are in the upper 0.5% of their respective classes and have completed at least 48 graded Penn State credits at the end of the fall semester of the academic year in which the award is given: Lauren Sciabbarrasi, Kimberly Stout-Kramer and Kyle Wind
Outstanding Peer Tutor Award — recognizes student peer tutors committed to providing extraordinary service to students and the campus community in support of student success: Kalei Kowalchik
Outstanding Research Scholar of the Year Award — Aron M. Tregaskis, awarded first prize for research poster in science (biology) for his research project, "The Presence of Glyphosate Resistance and Corresponding Pathways in Ipomoea purpurea"; and Lauren Sciabbarrasi, awarded first prize for oral presentation in social science for her research project, "Assessing, Understanding, and Combating Writing Anxiety in the Penn State Scranton Writing Center"
Walter Weber Memorial Award in Theatre and Speech Communications — named in honor of the late campus instructor to recognize an outstanding student with an overall grade-point average of 3.0 or higher who has excelled in theatre or speech communications courses: Kaylee Salony
Patrick J. and Mary Jane Sheridan Award for Excellence in Business — recognizes outstanding achievement by a student enrolled in the bachelor of science degree in business who obtains the highest grade-point average at the end of his/her junior year: Ryan Choa
"The Sheridans have invested heavily in this campus over the years. We can't thank you enough," Adams said while presenting the award.
Michael and Stephanie Evans Nursing Grant — established by campus alumnus and current Assistant Dean for Undergraduate Nursing Education at the Commonwealth Campuses and Associate Teaching Professor in Nursing Dr. Michael Evans and his wife, Stephanie, to assist nursing students with a GPA of 3.0 or higher who have a demonstrated financial need: Becky Theobald
"I guess what goes around comes around. Michael was one of my honors students, and now my daughter Lucy is one of his students," Adams said.
Morgan and Ann Marie Evans Award in Nursing — reserved for a nursing student who has completed between 70 and 100 credits, is enrolled for a minimum of six credits, has a GPA of 3.0 or higher, and has a proven financial need: Christine Patrick (Fall 2019) and Oksana Mazur (Spring 2020)
Richard and Lois Ostroski Family Award for Adult Learners — established by the in-laws of Director of Development Christine Ostroski to recognize outstanding achievement by an adult learner who has the highest grade-point average upon completion of his/her freshman year: Colleen Gavin-Austin
Richard F. Dempsey Award in Information Sciences and Technology — established by campus alumnus Ed Lucy Jr. in honor of Richard F. Dempsey, former assistant professor of computer science, to recognize student excellence in the IST major: Gautam Patel
Mary-Beth Krogh-Jespersen Science Award — named for the former campus chancellor to recognize outstanding achievement by a junior student majoring in science: William Modesto
Tabatabaie Family Award for Math and Science — recognizes full-time students majoring in a math or science degree program who are at least second-semester freshman and have a minimum grade-point average of 3.2: Heba Elrawashdy and Jordan Symonies
Outstanding Scholar Award — sponsored by the Penn State Scranton Alumni Society to recognize students achieving the highest grade-point average in the associate and baccalaureate curricula:
Second year: Lucy Adams and Vanessa Mazur

Third year: Lauren Sciabbarrasi

Fourth year: Kimberly Stout-Kramer
Honors Program Certificates — recognizes student members of the campus Honors Program, which was established to broaden and enrich the education of outstanding students through offering a wide range of academic, social and cultural activities:
First year: Debbie Acosta, Reese Anderson, Mindy Biren, Amanda Brundage, Johnnah Carr, Nimrod Chapo, Shannon Czekaj, Andrew Faist, Breanna Grace-Frazier, Gauri Gurumurthy, Daniel Grant, Eva Hrissohoidis, Alyssa Kelly, Haley Leonard, Megan Lucey, Krina Patel, Mariah Petrucci, Sophia Saavedra, Jamise Sealey, George Stojakovic, Patrick Thorpe, Madison Tricarico, Courtney Varcoe and Cory Wals

Second year: Lucy Adams, Juliana Aulisio, Hilary Blake, Betty Capozzi, Summer Czekaj, Samuel Chindemi, Logan DeSanto, Gabby McFey, Elizabeth Olivares, Lauren Owens, Britney Reinhart, Lauren Rzucidlo and Rachel Veniamin

Third year: Robert Murphy and Lauren Sciabbarrasi

Fourth year: Kelly Arnold, Kalei Kowalchik and Taylor Bronson