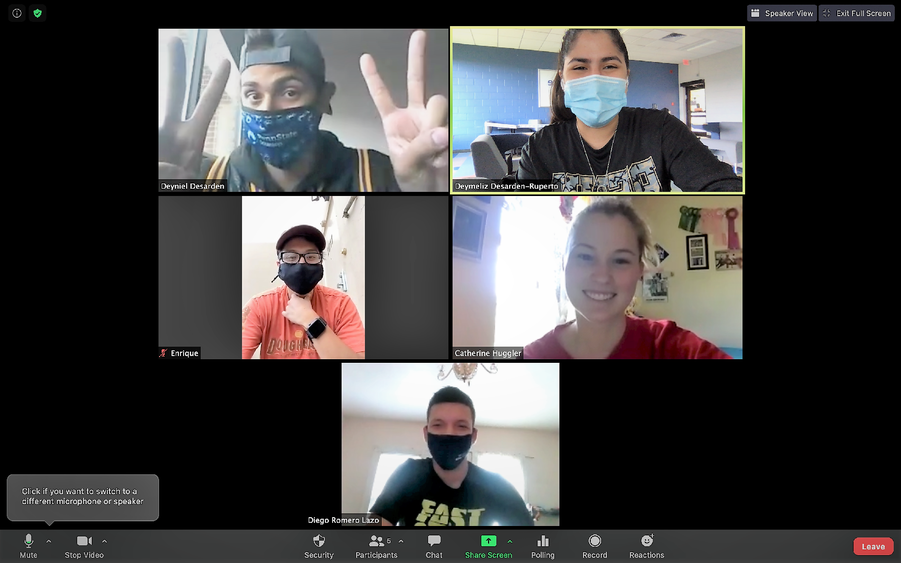 DUNMORE, Pa. — Over the past several years, Penn State Scranton's Latino student population has grown significantly. Now, as a further testament to that growth, those students have a formal group to call their own — the Student Organization of Latinos (SOL).
Since its formation last year, SOL has quickly become one of the most popular groups on campus, with a membership of 60-plus students and growing.
Last month, SOL co-sponsored a successful virtual celebration of National Hispanic Heritage Month, which goes through Oct. 15. The event featured a guest speaker, campus alumnus and Brazilian immigrant Allan Souza, as well as a presentation by the group's officers.
SOL President Deyniel Desarden-Ruperto attributes the club's early success to its highly engaged membership and its inclusive approach.
"The SOL club, in my opinion, is one of the best clubs at Penn State Scranton because we are the most active when it comes to community service and other activities around campus, and we are always willing to help anyone," he said. "Diversity has to be the main priority for colleges, and I think that when Penn State Scranton started hiring more diverse faculty and staff members, we started seeing changes. It makes other Latino students want to enroll at Penn State Scranton because they feel more comfortable when they see other people like them."
"SOL goes above and beyond in planning different activities, both on campus and in the community," said Henry Matute Coello, coordinator of co-curricular programs and SOL staff adviser. "It is very satisfying working with this group of students. I'm proud to be their adviser."
The idea for SOL was first conceived in Spring 2019 by Matute Coello, campus alumna Lucines Polanco and Deyniel's sister, Deymeliz Desarden-Ruperto. That summer, the club officially launched, with a simple yet important mission — to spread awareness of Latino culture while also learning about other cultures.
Now a little more than a year into its existence, SOL's membership continues to grow steadily. A number of different Hispanic countries are represented within the group — Puerto Rico, Dominican Republic, Mexico, Peru, Guatemala, Honduras — as well as non-Latino cultures like Egyptian and Indian.
"It is very important that the campus has a group that represents the Latinx community in order to feel that we do matter, that our voices are being heard and that awareness is being brought to the campus," said Deymeliz, the group's first president and currently its public relations officer. "What's also nice about the group is that you can join even if you are not a Latinx student, and you will be respected. In my opinion, we are a big family that supports each other and welcomes everyone who wants to be there."
"All genders and ethnicities, colors and races are welcome to join this club. No one is excluded."

— Deyniel Desarden-Ruperto, SOL president
The group typically meets twice a month. In addition to the Desarden-Ruperto siblings, the current SOL officers are: Enrique Olmedo, vice president; Diego Romero, treasurer; and Catherine Huggler, secretary.
Meetings are productive and new initiatives and events are always in the works. And the overall vibe is joyful, according to Deymeliz.
"It is a fun group to be in," she said. "We're always having fun talking about new cultures and traditions, and playing music as a way to welcome everyone and get to know each other. We also like to get involved on campus and with other clubs or events, both for fun and to learn."
Due to the ongoing restrictions put in place by the COVID-19 pandemic, SOL is currently holding all events virtually, including the Hispanic Heritage Month celebration, which was well-attended by students, faculty, staff and Chancellor Marwan Wafa.
"I am always happy to see SOL's involvement in campus and community programs," said Dharti Ray, coordinator of diversity and inclusion. "The students of SOL are very proud of their heritage and are so willing to share their experiences. And it's great that SOL has a place for all students."
Deyniel said the group wouldn't have gotten to this point had it not been for the guidance of the Student Services and Engagement staff.
"Dharti made the Hispanic Heritage Month celebration happen. Brad Kovaleski (director of student services and engagement) gave us tips on how to get other people more involved in our activities and developing our leadership skills. And without Henry, there wouldn't be a Latino club," Deyniel said. "I am very grateful for all of them helping me be better and helping SOL do better."
More campus events and initiatives are in the works, and SOL is beginning to look beyond Penn State Scranton's borders. Among the potential future projects being discussed is a service trip to a developing country.
Meanwhile, the group will continue welcoming new members with open arms, said Deyniel, noting interested students can join SOL through its Engage webpage.
"We are like a family in our club, so my best advice would be to communicate with us, sit down with us, help us out with activities," Deyniel said. "The board members and I are not hard to find; we are always around campus talking and joking around. We will gladly accept anyone, because everybody is important."